Premiere: Eesti muinasjutt for large Orchestra (Songfest 2019)
Premiere: Juudit by A. H. Tammsaare. Directed by Airat Abusakhmanov. Original music: Ardo Ran Varres Produced by RAAAM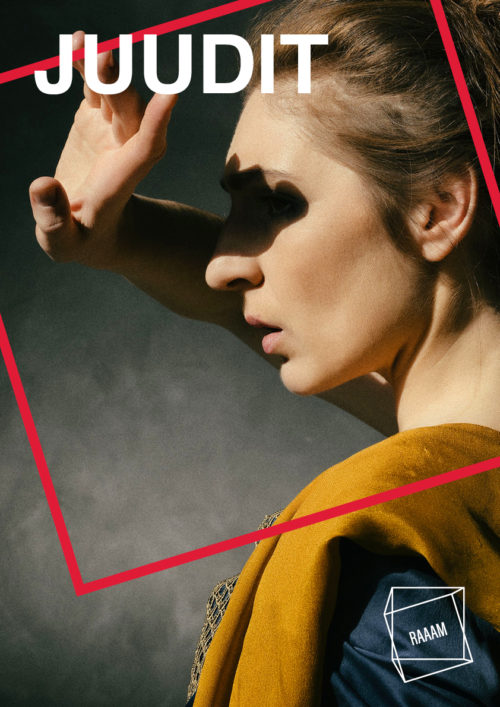 The Tragedy of the Commons. (For Wind Orchestra) World premiere. World Music Days 2019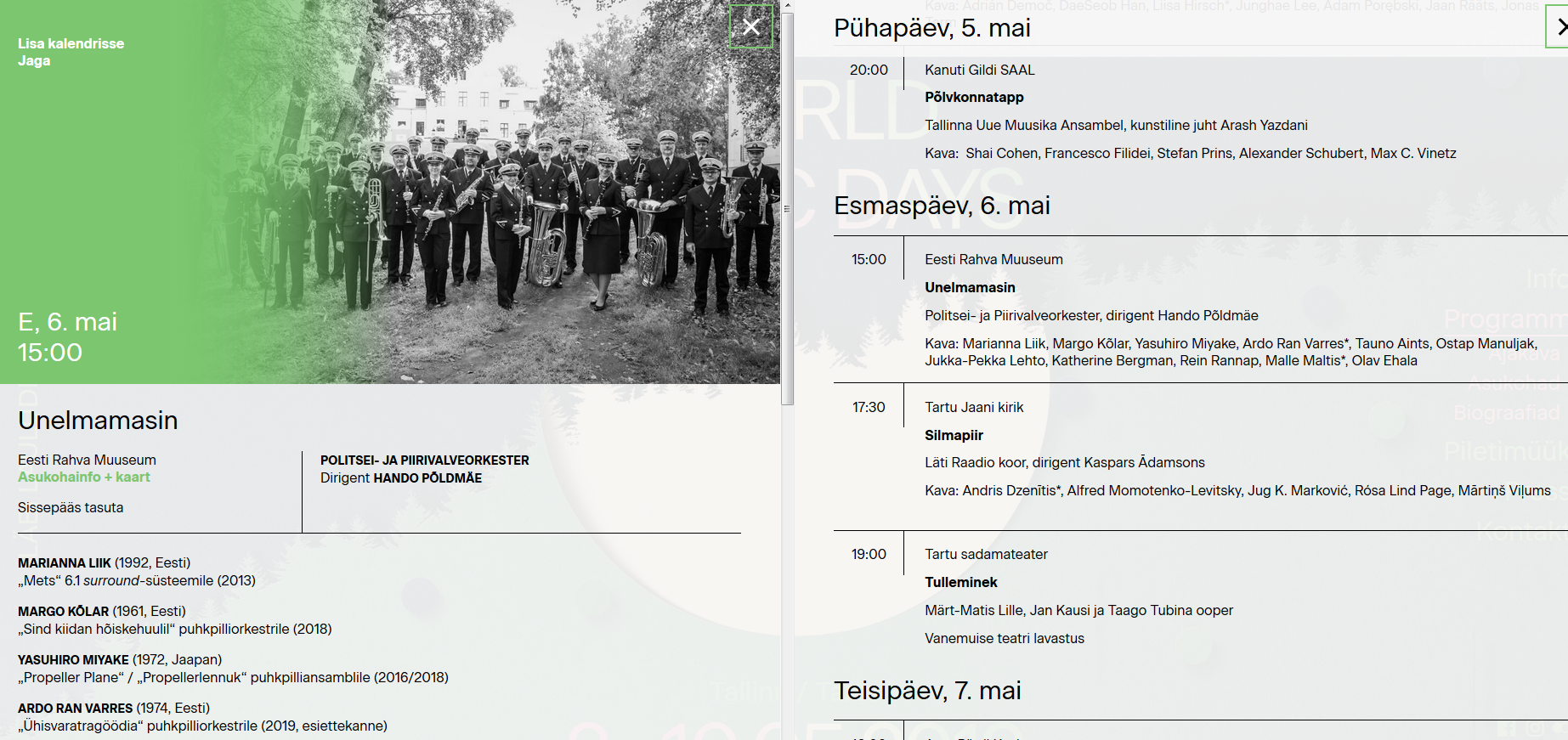 https://www.worldmusicdays2019.ee/en/
Estonian National Museum
Estonian Police and Border Guard Orchestra
Conductor Hando Põldmäe
Estonian Police and Border Guard Orchestra is a collective body of 34 professional musicians representing the Police and Border Guard Board. The Orchestra was established in 2010 by joining the former Police Orchestra and Estonian Border Guard Orchestra.
The range of performances of the Orchestra is wide and the calendar of concerts is many-sided in style. It includes performances on events of the Police and Border Guard Board as well as on national events, concerts on music festivals and in concert halls.
https://www.ppaorkester.ee/about

My Estonian Grandmother. Play by Julia Aug. Music by Ardo Ran Varres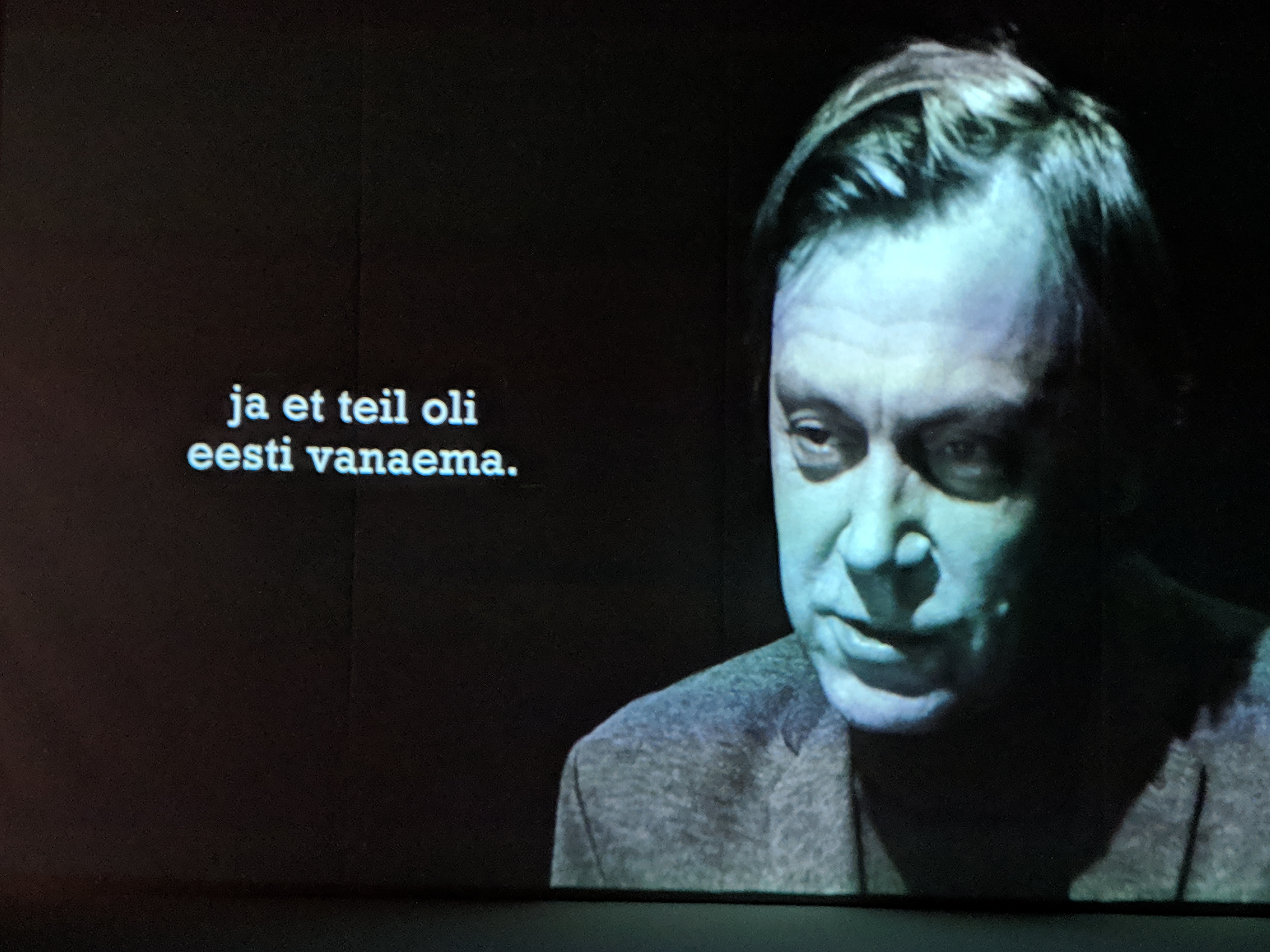 RAAAM/Vaba Lava

Original music for the play Persona by Ingmar Bergman.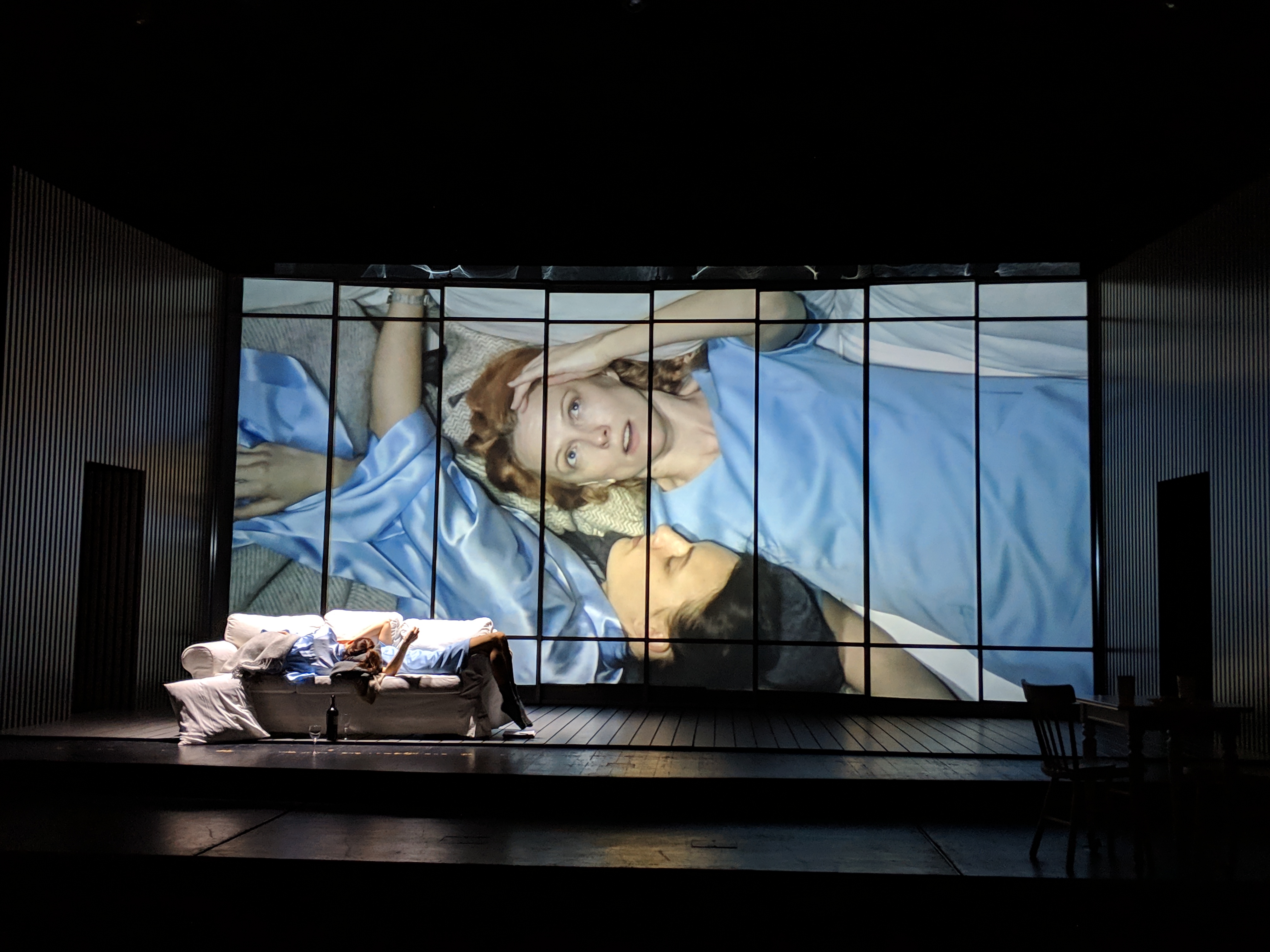 Persona
Psychological drama by Ingmar Bergman
Famous actress Elisabet Vogler has a nervous breakdown during a performance of Electra and stops speaking Therapy does not yield the hoped-for results and the doctor opts for unconventional treatment: sends Elisabet and young nurse Alma to a nice summer house by the seaside. Elisabet is still silent but gradually Alma starts revealing her inner self to her mute patient…
Persona was released in 1966 starring Bibi Andersson and Liv Ullmann. It has spawned countless analyses, interpretations and debates since it was first screened. Persona contains many favourite Bergmanesque elements, including insanity and identity crisis, and it's often been seen as a study in Jung's split personality theory as seen through cinema or theatre. Critics have called the work the Mont Blanc of film and have opined there is no one correct interpretation.
Premiere on 26 January 2019 at the Small Building, Vanemuine theatre
Director Ain Mäeots
Translator Ülev Aaloe
Designer and lighting designer Kristjan Suits
Video designer Emer Värk
Original music and sounddesign Ardo Ran Varres
In roles Linda Kolde, Ragne Pekarev, Marika Barabanštšikova, Jüri Lumiste or Ain Mäeots

Interview: Filmus.ee Filmmusic composer Ardo Ran Varres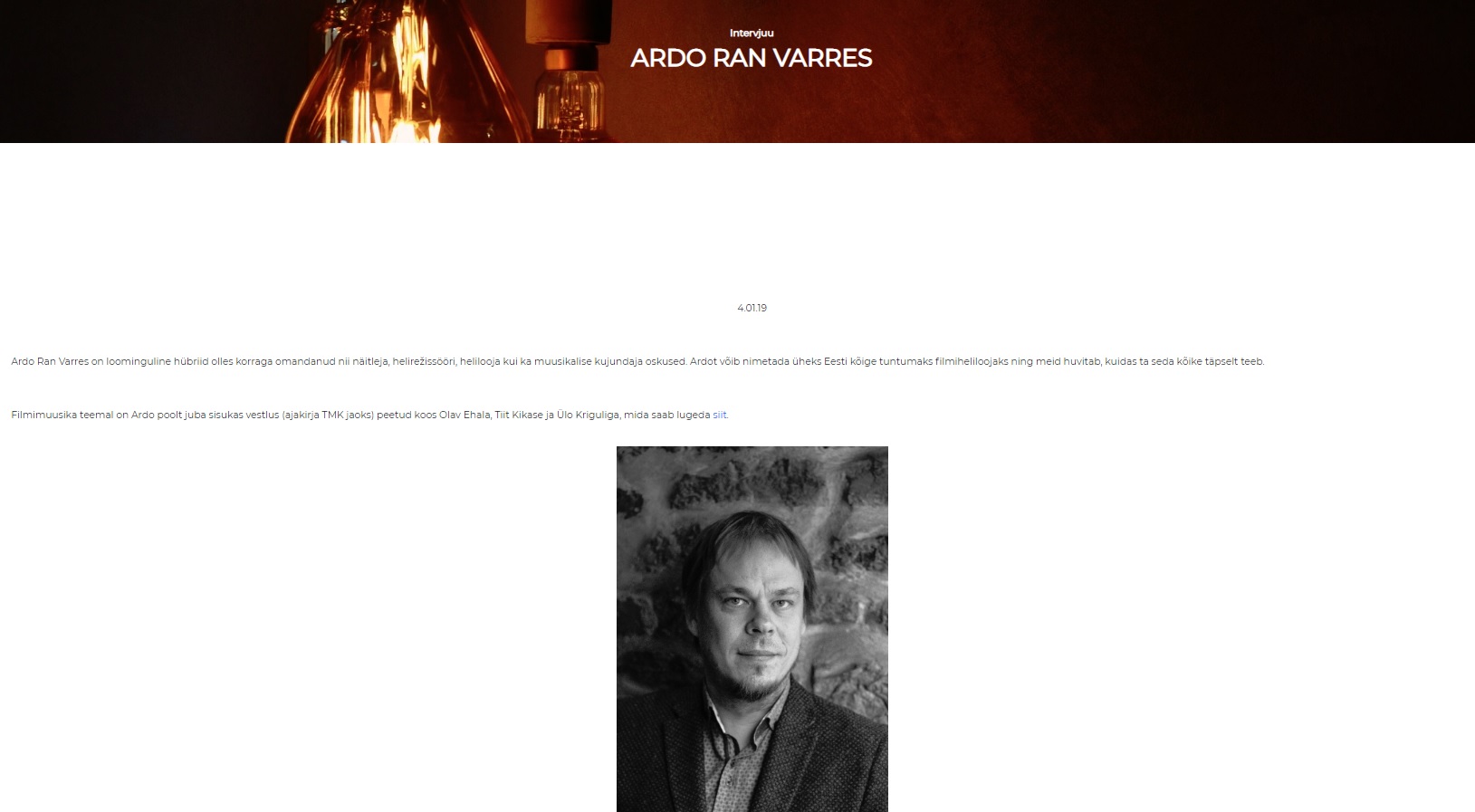 https://filmus.ee/interview-ardo-ran-varres.html

Original music for feature film The Real Life of Joh. Pääsuke
Dir. H. Volmer
Kopli kinokompanii 2019

Ardo Ran Varres plays Oskar Kallas in the feature film by Hardi Volmer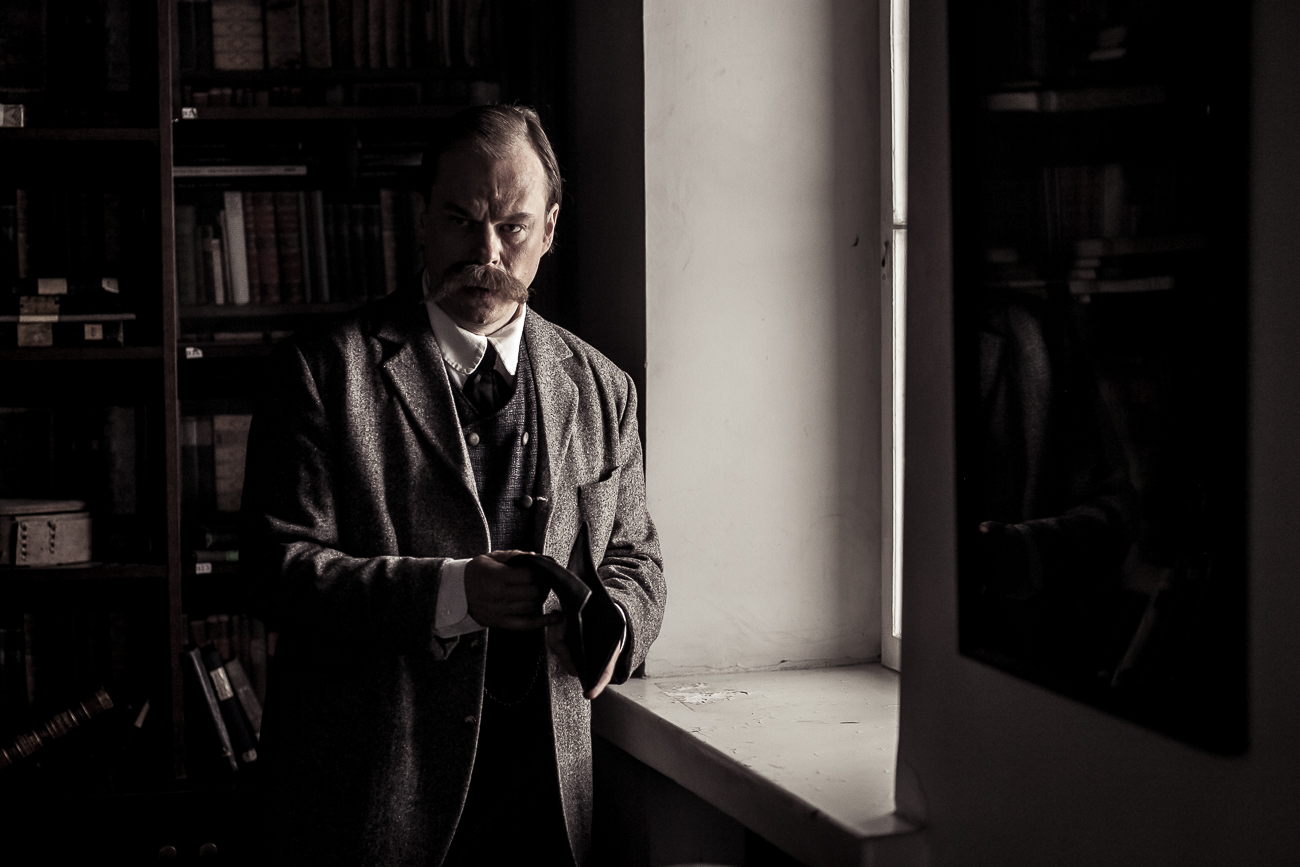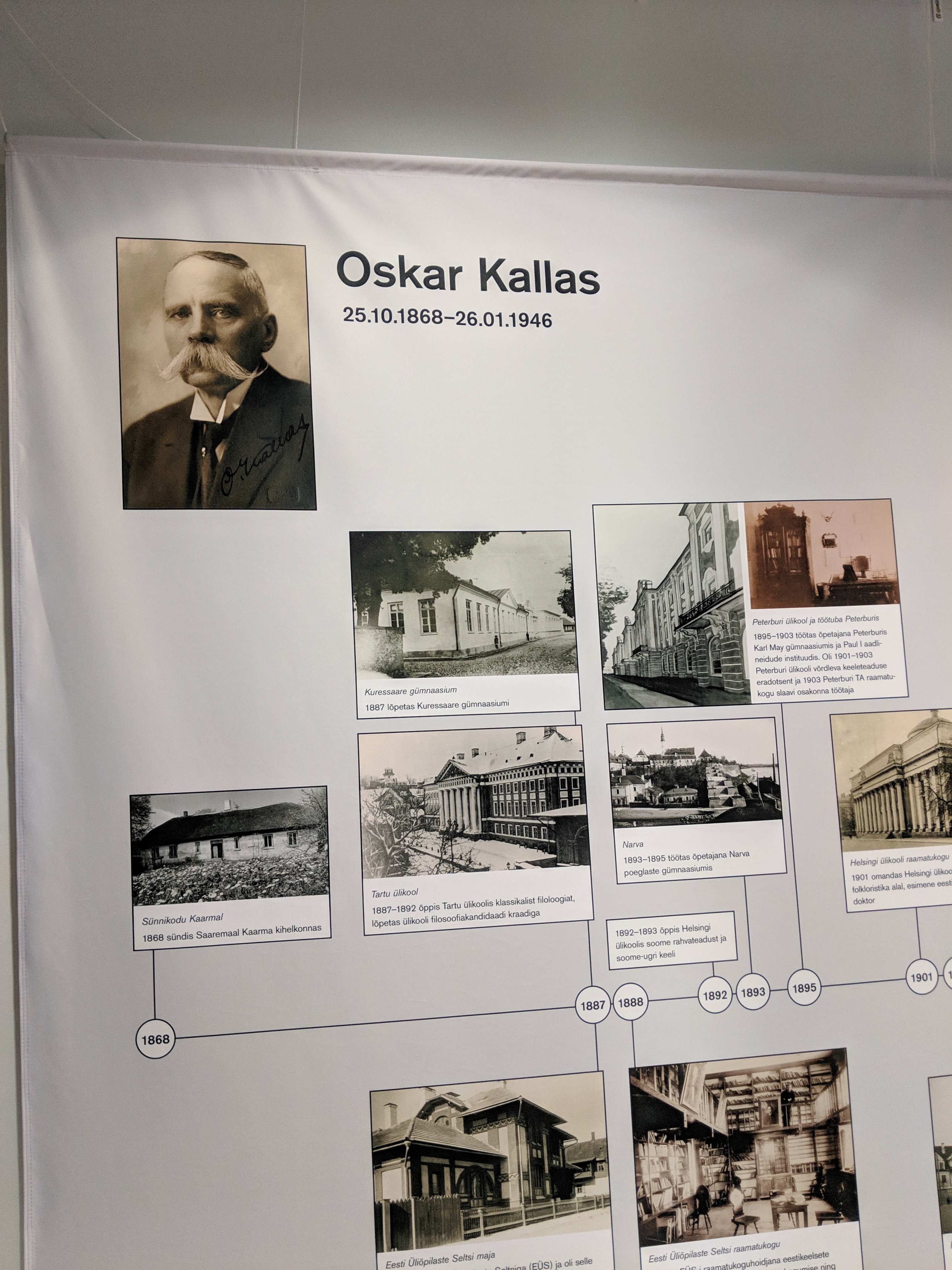 Ardo Ran Varres got a recognition prize 2018 for original music and sounddesign.
Colleagues of Endla (Pärnu, Estonia) theatre nominated Ardo Ran Varres with a recognition prize for original music and sounddesign.
Music was composed for the performances Dreamworks (Dir. I. Vihmar) and Life and Love (Dir. A. Toikka)

Ardo Ran Varres Film Music Band live video
Curse of the Dragon. Original music

Based on a book with the same title by Helen Käit.
Janne and Joosep find a mysterious book of charms that takes the sister and brother along with it to a magical world. The children find themselves in the strange Kingdom of Regnum, where rejoicing crowds receive them. Yet shortly, the dreadful truth comes to light – the Kingdom of Regnum has suffered for centuries under the curse of an awful dragon. Every year, the dragon demands the most beautiful girl in the kingdom for himself and if it does not get its victim, it destroys entire cities and villages. Now the entire population hopes that Janne and Joosep are the ones who will end the curse! A frightening adventure full of the arts of magic and fantastic creatures awaits the sister and brother, where they exceed their own previous limitations.
Premiere: 30 November 2018 on the Big Stage. Estonian Dramatheatre
Director: Kersti Heinloo
Art Director: Kristjan Suits (Tallinn City Theatre)
Lighting Designer: Airi Eras
Music Composer and sound design: Ardo Ran Varres
Motion Director: Raho Aadla
Cast: Teele Pärn, Christopher Rajaveer, Viire Valdma, Liisa Saaremäel, Aleksander Eelmaa, Inga Salurand, Pääru Oja, Sander Roosimägi.

Heaven upon Narva. Videomapping
Scenario: D. Tomberg, video: T. Varm, music and sound: A. R. Varres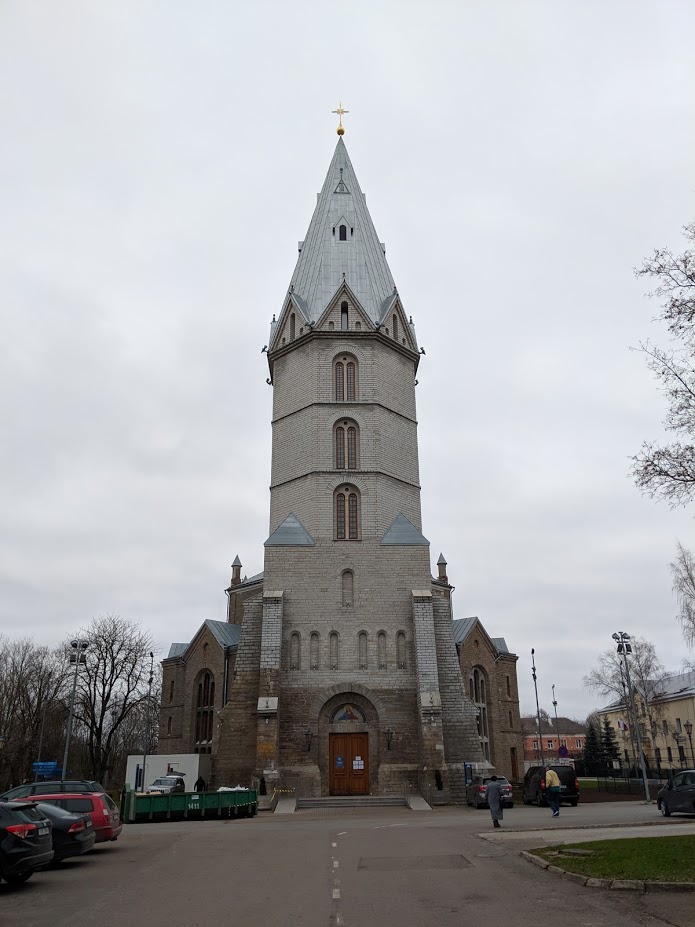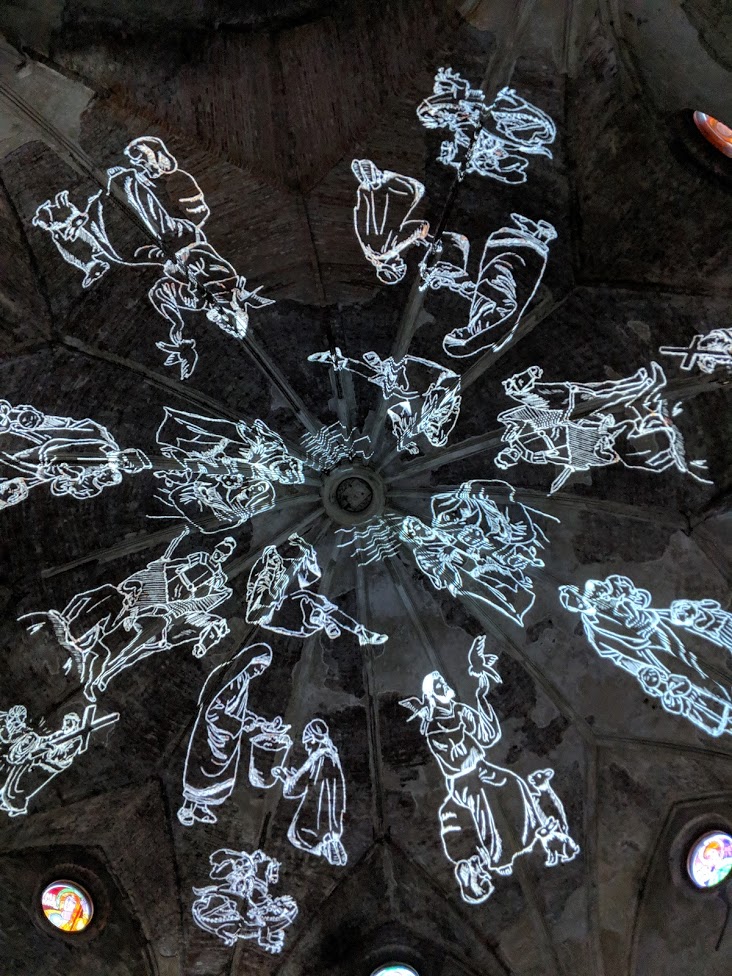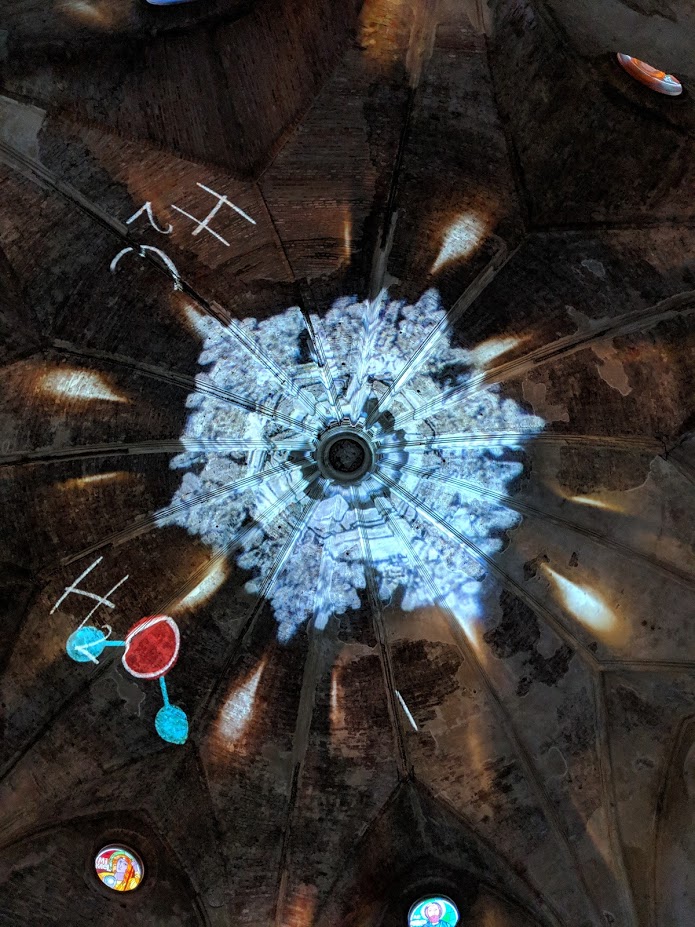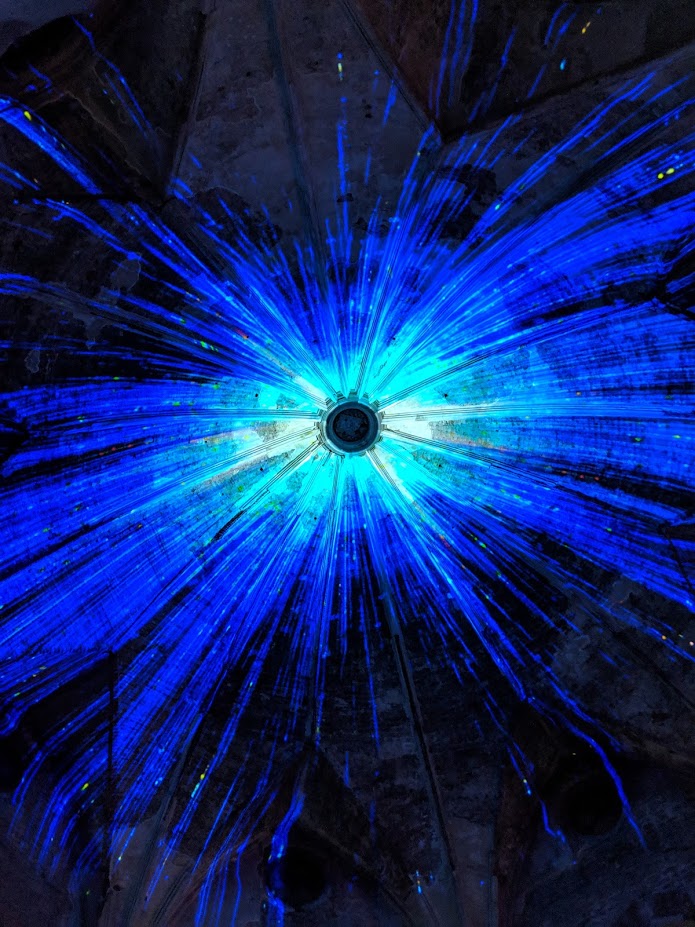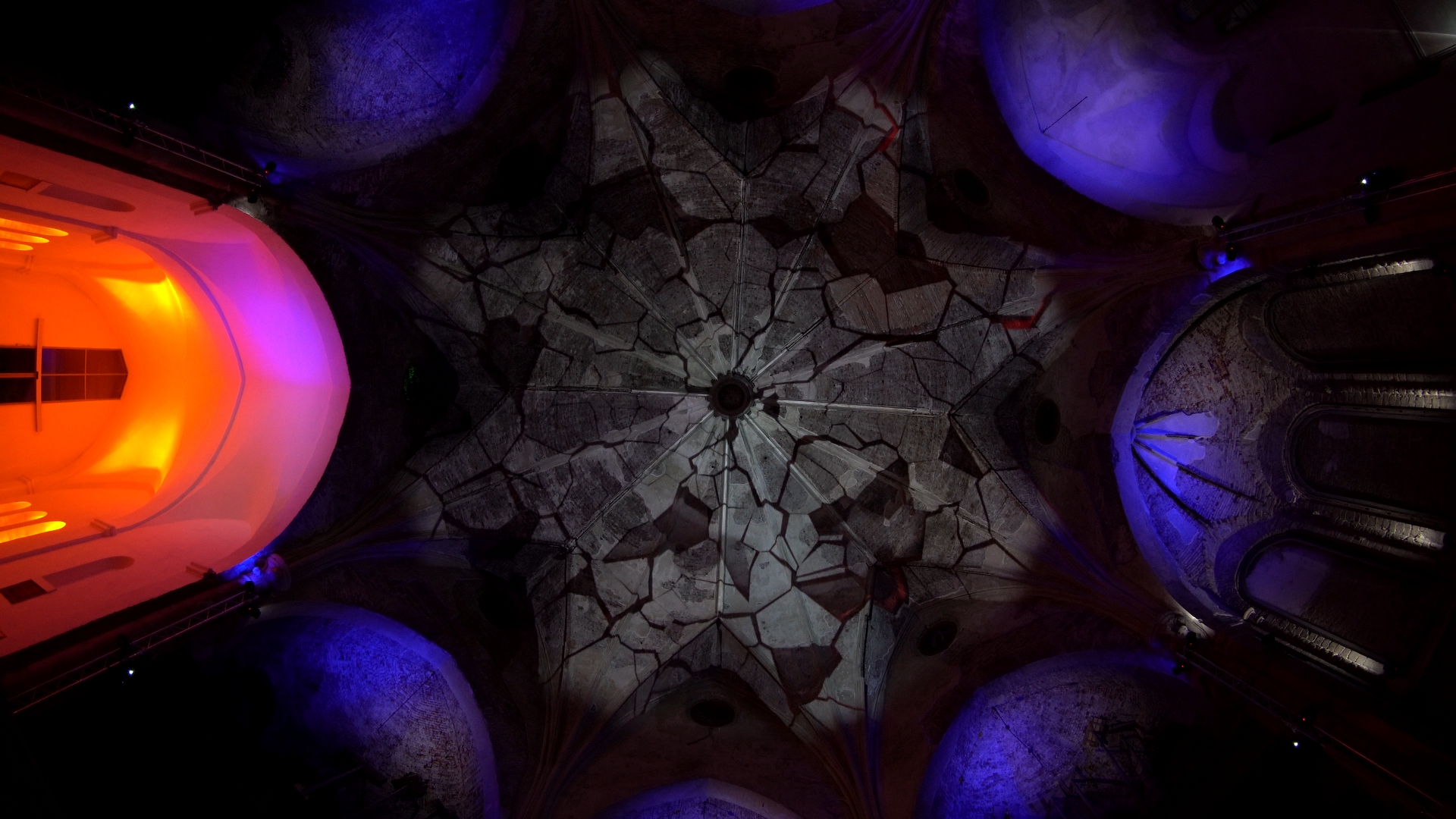 Original score for drama Life and Love (A. H. Tammsaare/A. Kivirähk) Pärnu theatre. Dir. A. Toikka.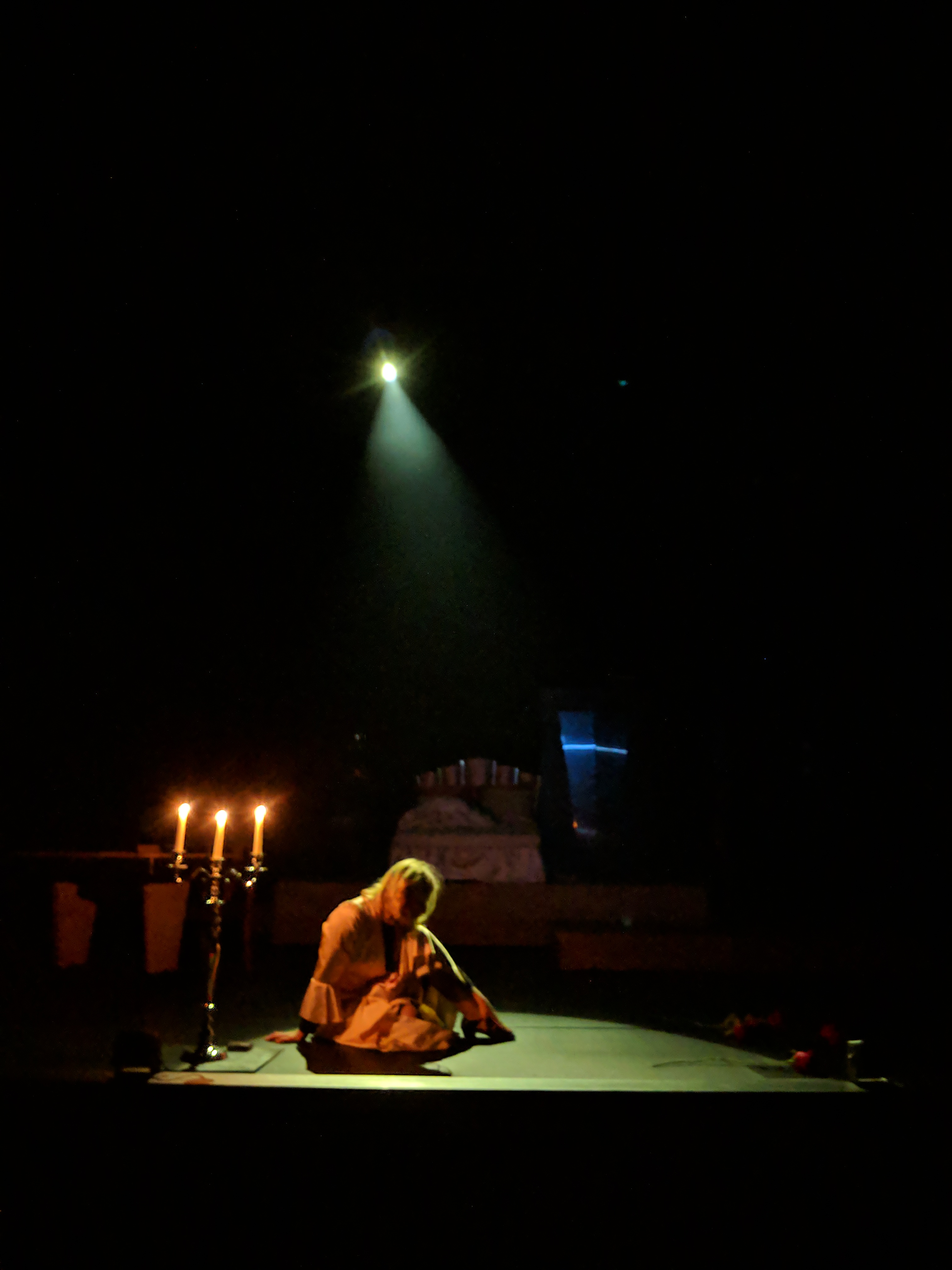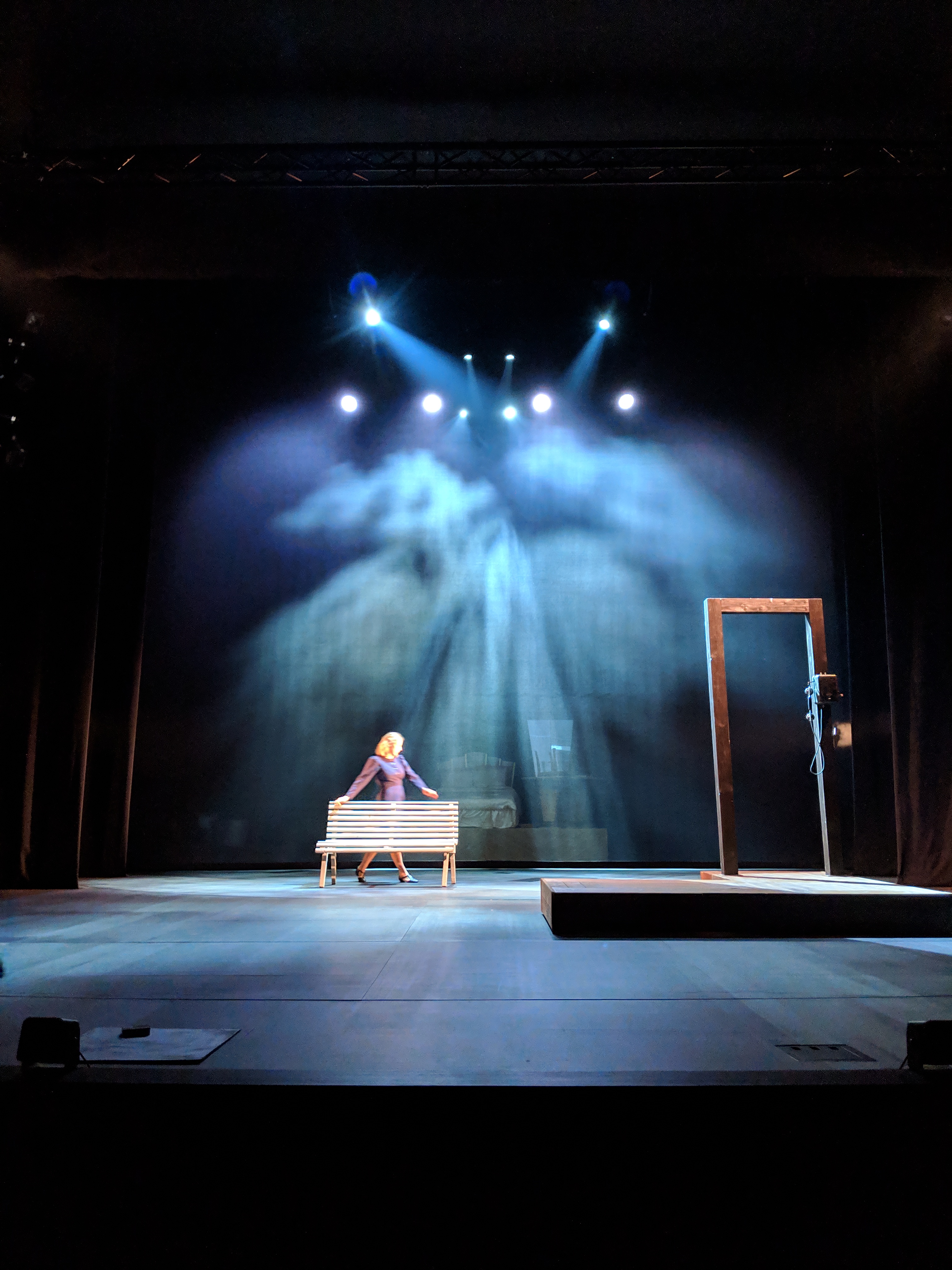 DAYS OF ESTONIAN CULTURE IN BERLIN 2018 Symphony For One. Allegro con moto
KAMA3 PROGRAMME ON OCTOBER 6TH
Brotfabrik, Caligariplatz 1, 13086 Berlin
5 pm – 6 pm Professor dr Cornelius Hasselblatt's lecture "Random thoughts on new Estonian literature" (only in Estonian)
6 pm – 7 pm Break
7 pm – 9 pm Performance of Tartu New Theatre "Symphony For One. Allegro con moto" (only in Estonian)
After the performance Q&A with director and musical designer Ardo Ran Varres and actor Aleksander Eelmaa (only in Estonian)
9.15 pm – 10 pm Break
10 pm – 11 pm Viktor's Joy's concert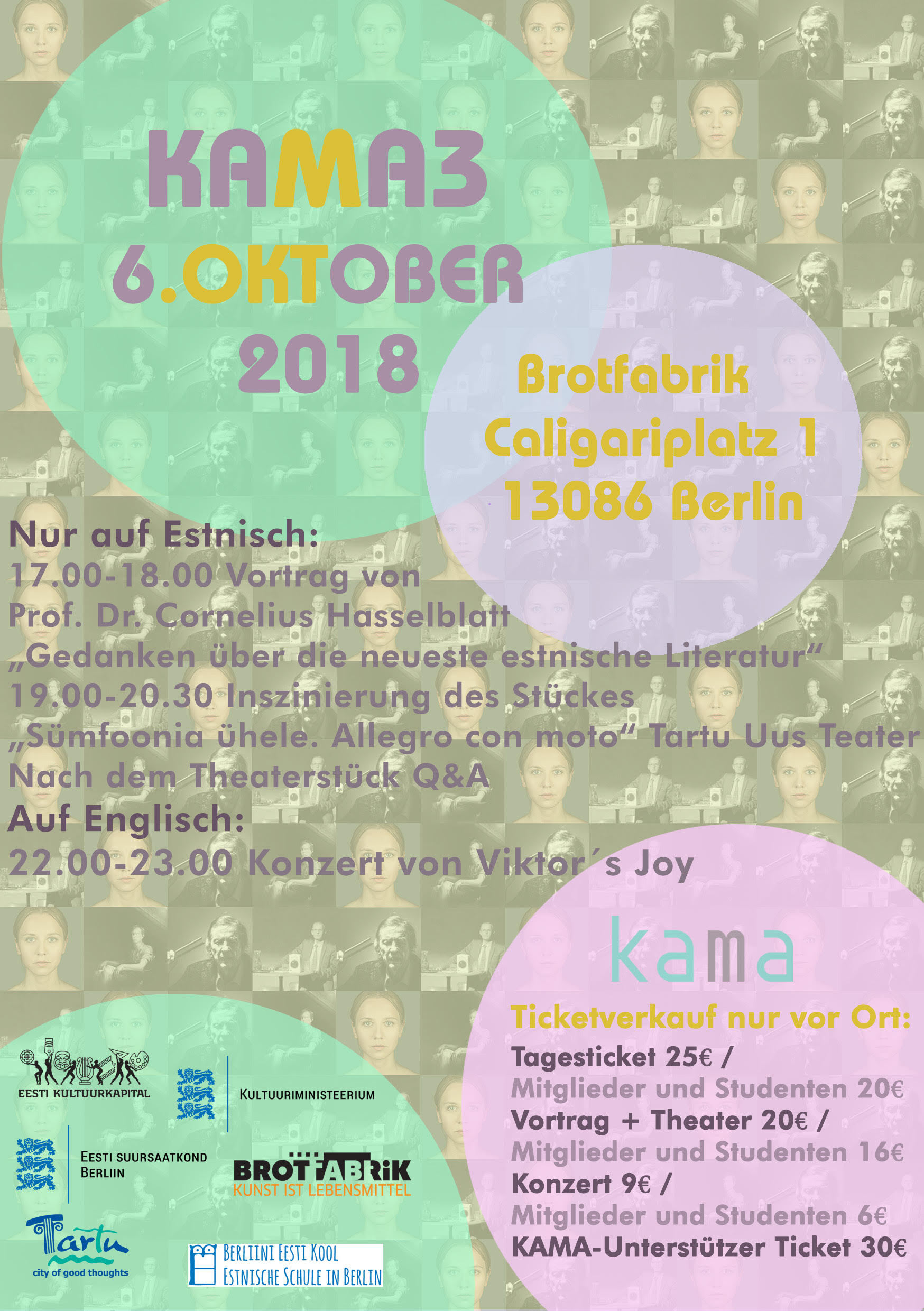 33 variations. Sounddesign by Ardo Ran Varres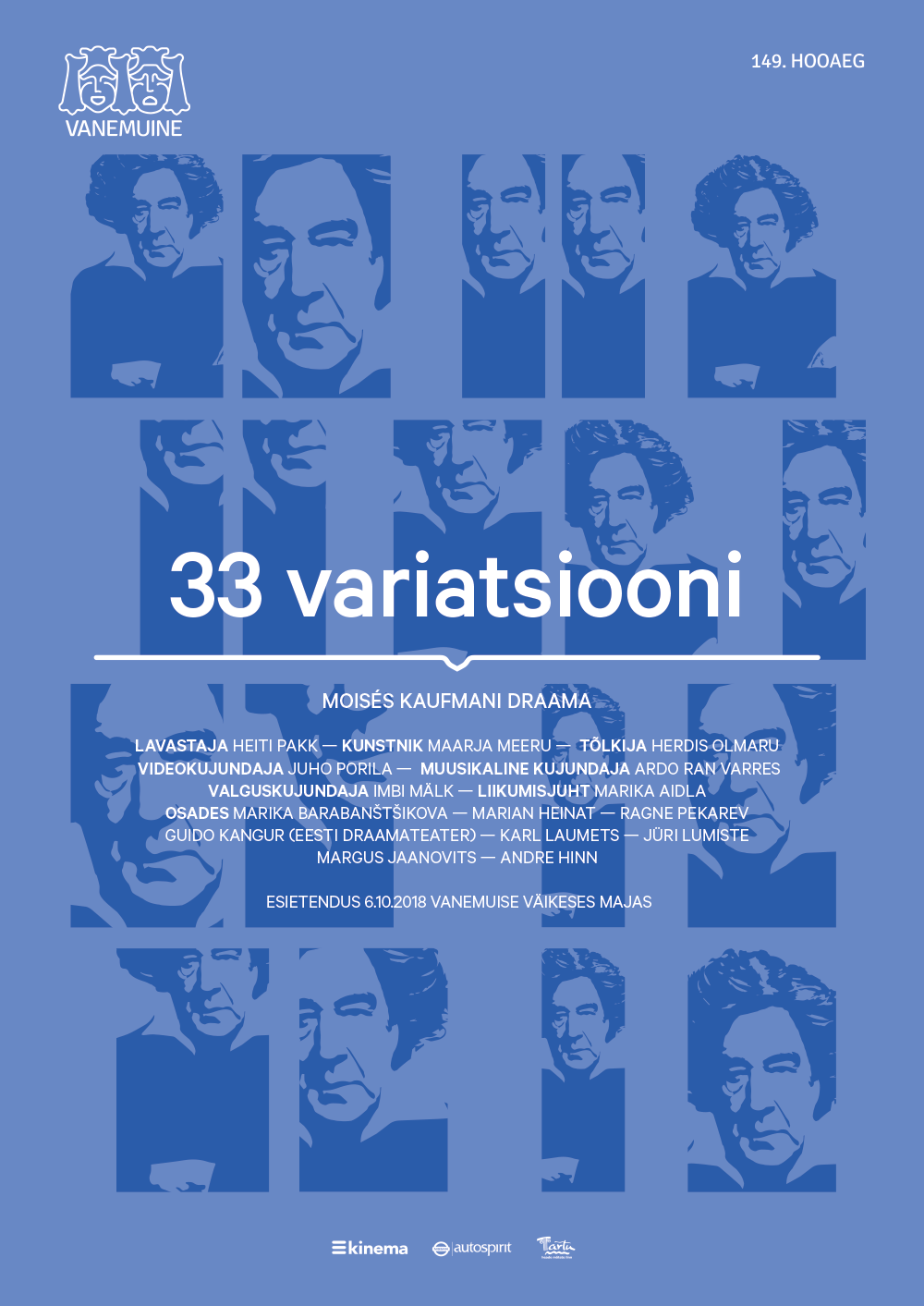 Drama by Moisés Kaufman
This award-winning play written by contemporary American playwright Moisés Kaufman in 2007 has two storylines, one of them 200 years ago, the other one in our own time.
It is 1819. Composer Ludwig van Beethoven becomes enthralled by a simple waltz strain and is obsessed with the desire to make every note perfect, stringing them like pearls into a necklace of 33 variations – a work that would be the crowning achievements of piano music. At the same time, he has to do battle with poor finances and worsening deafness.
It is 2009. Successful musicologist Katherine Brandt starts solving the puzzle surrounding the origins of the variations. Why did Beethoven "waste" the closing years of his life on a banal waltz? Only a vain desire to show the worlds that he could even turn mediocre material into a masterwork? The voyage undertaken by this independent minded woman to solve the mystery forces her to reappraise many things in her own life.
As they are interwoven, the two stories become variations on the question: what is art? how does art make everyday life transcendent? how does life supply material for art?
In the production, we hear excerpts from Beethoven's 33 Variations on a Waltz by Diabelli.
Premiere on 6 October 2018 at the Small Building/Vanemuine/Tartu
Translator Herdis Olmaru
Director Heiti Pakk
Designer Maarja Meeru
Video designer Juho Porila
Sounddesign Ardo Ran Varres
Lighting designer Imbi Mälk
In roles Marika Barabanštšikova, Marian Heinat, Ragne Pekarev, Guido Kangur (Estonian Drama Theatre), Karl Laumets, Jüri Lumiste, Margus Jaanovits, Andre Hinn

Ardo Ran Varres Film Music Band. 15 of September 7 PM TUT/Tartu New Theatre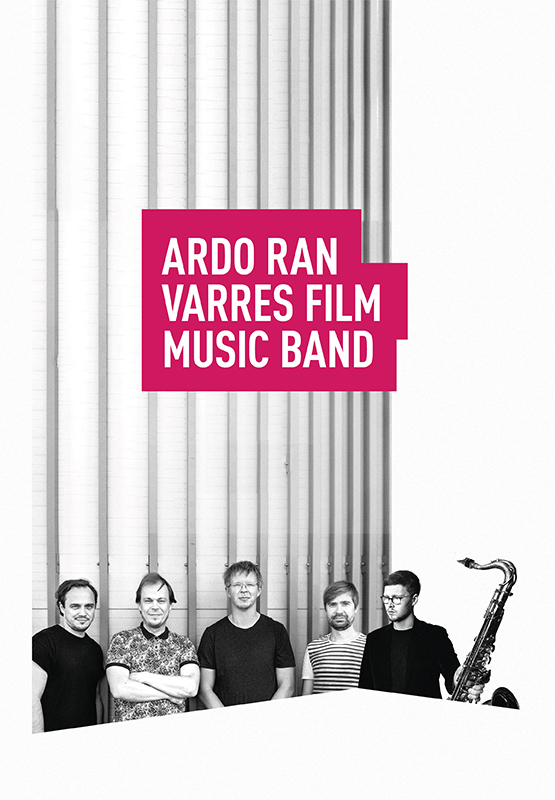 LIVE!

Ardo Ran Varres Film Music Band
Live: 12 of September 2018. Tallinn/Hobuveski
15 of September Tartu/Tartu Uus Teater
7 PM
Musicians: Jorma Toots, Andre Maaker, Ahto Abner, Lauri Kadalipp, Ardo Ran Varres.
Special guest: Liisi Koikson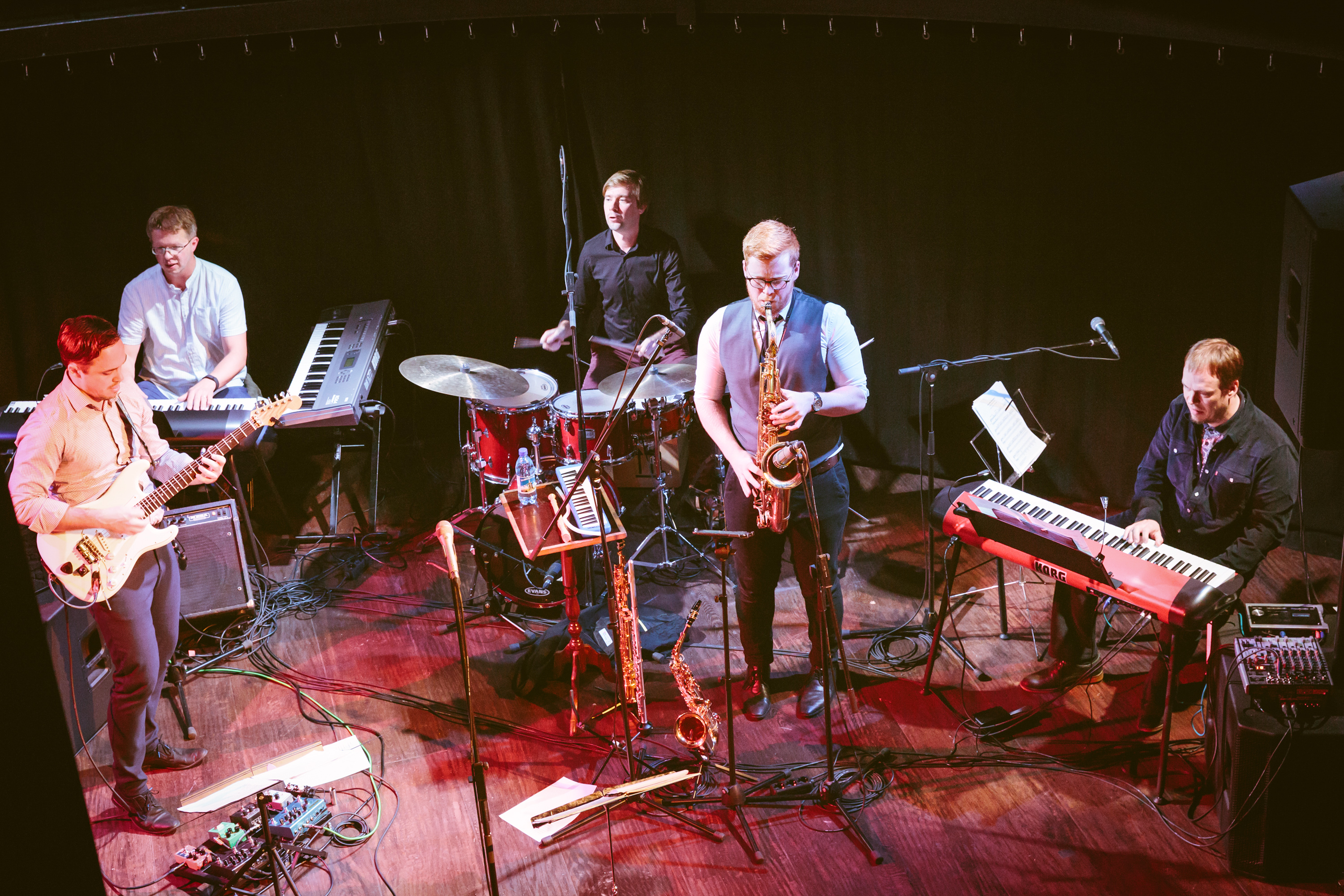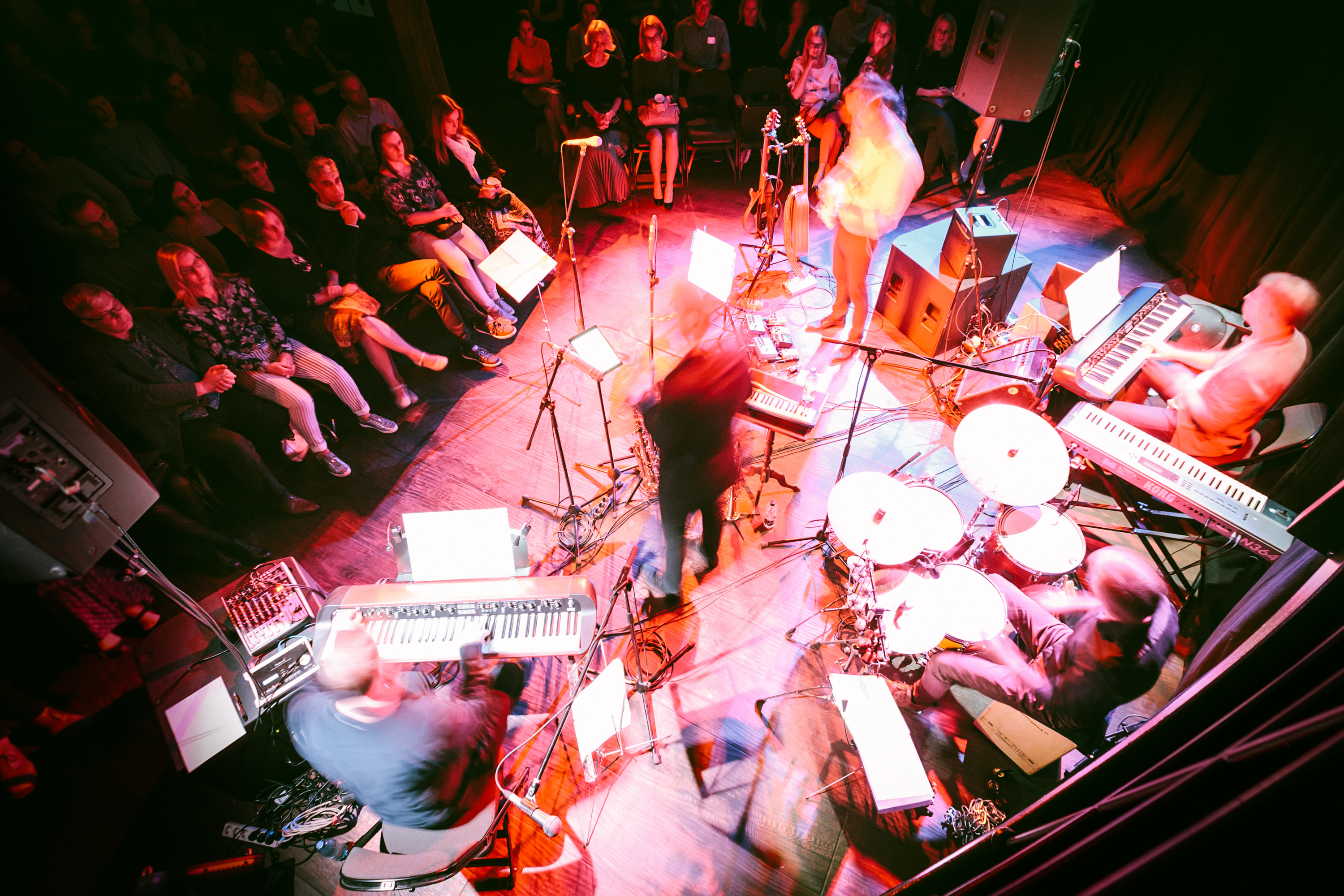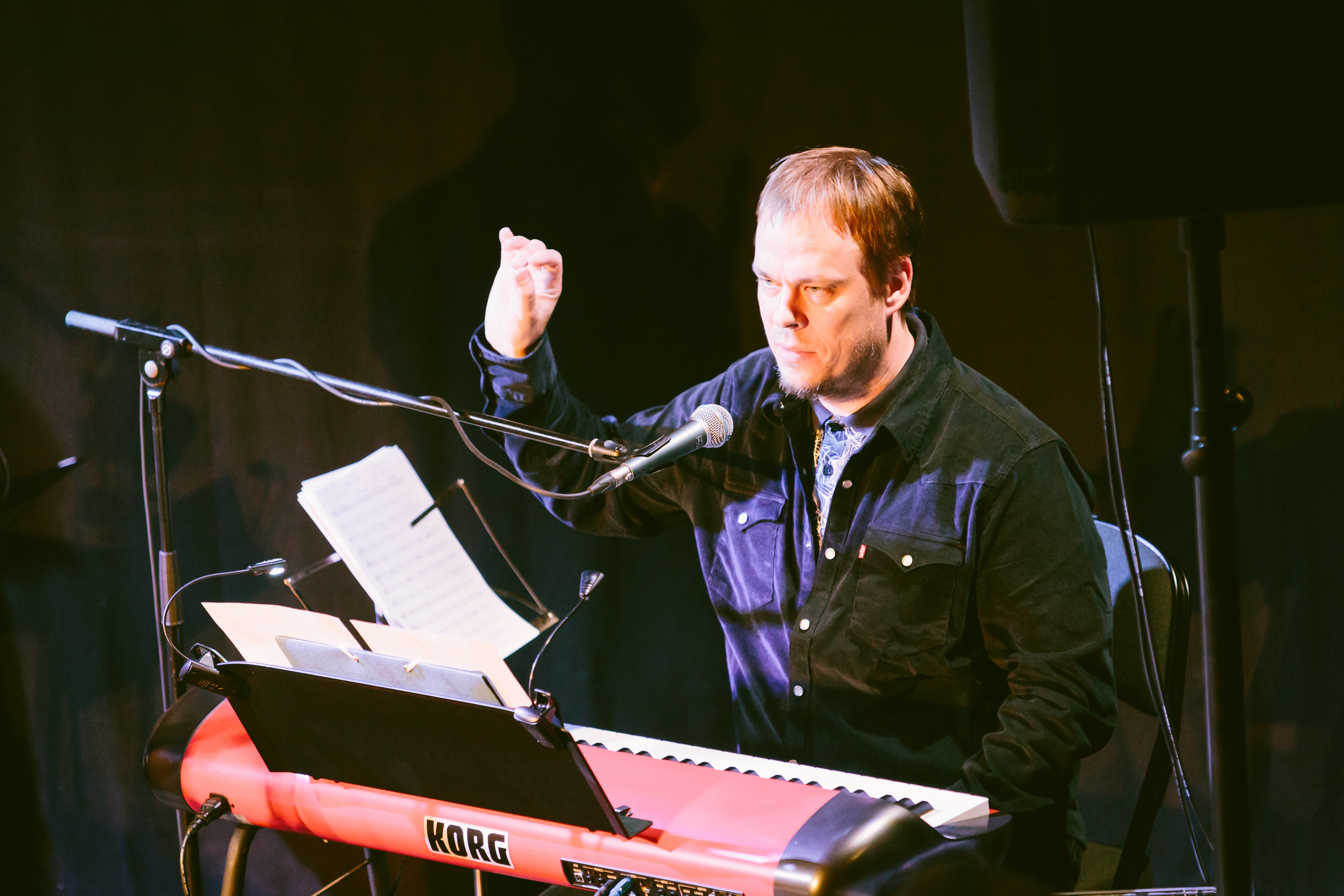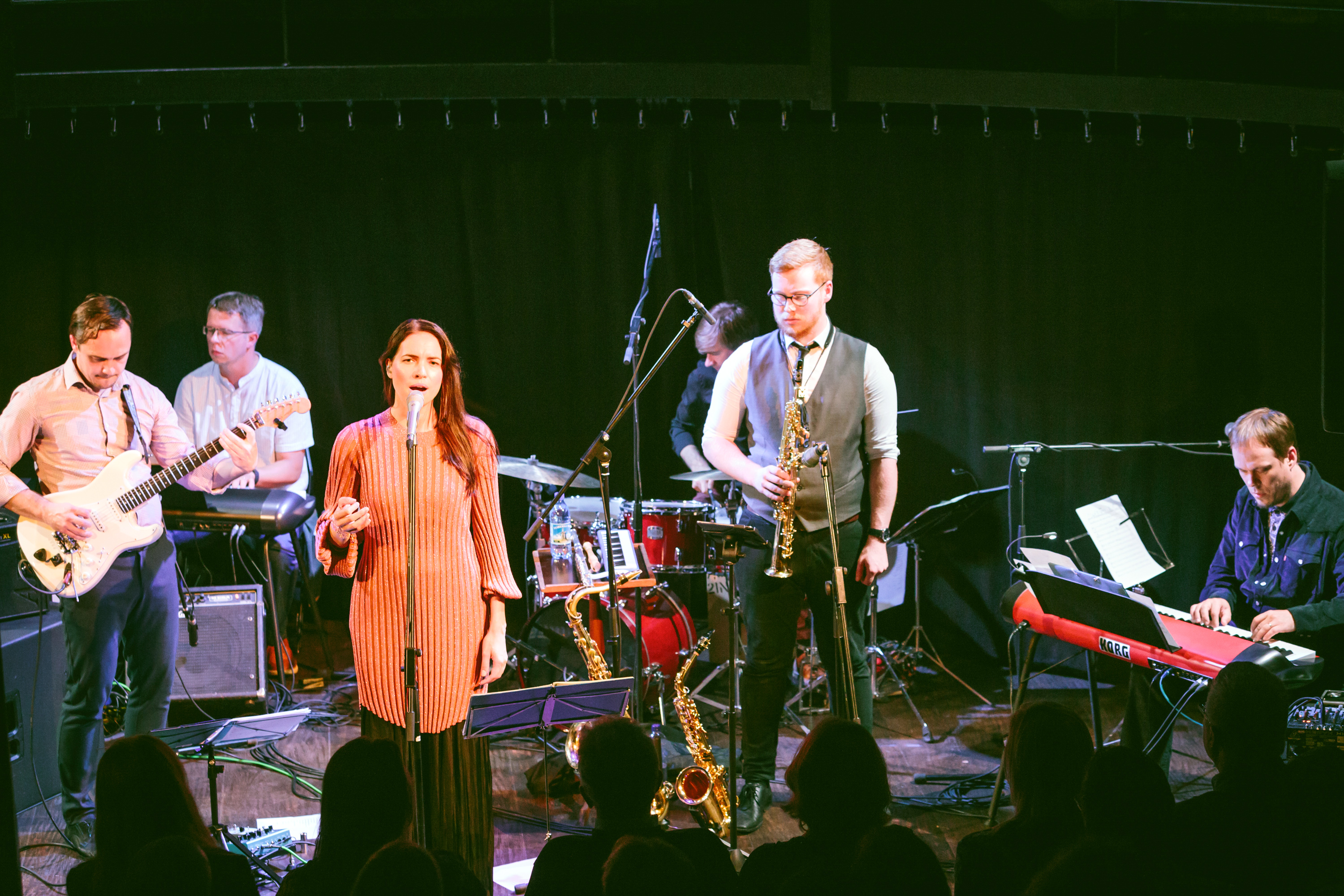 Photos: Siim Vahur

Music design for the play Kostja and the Giant (Theatre company RAAAM)
Author: Mart Kivastik Director: Aleksandr Ogarev
Premiere 25th of July 2018. Viinistu/Estonia www.raaam.ee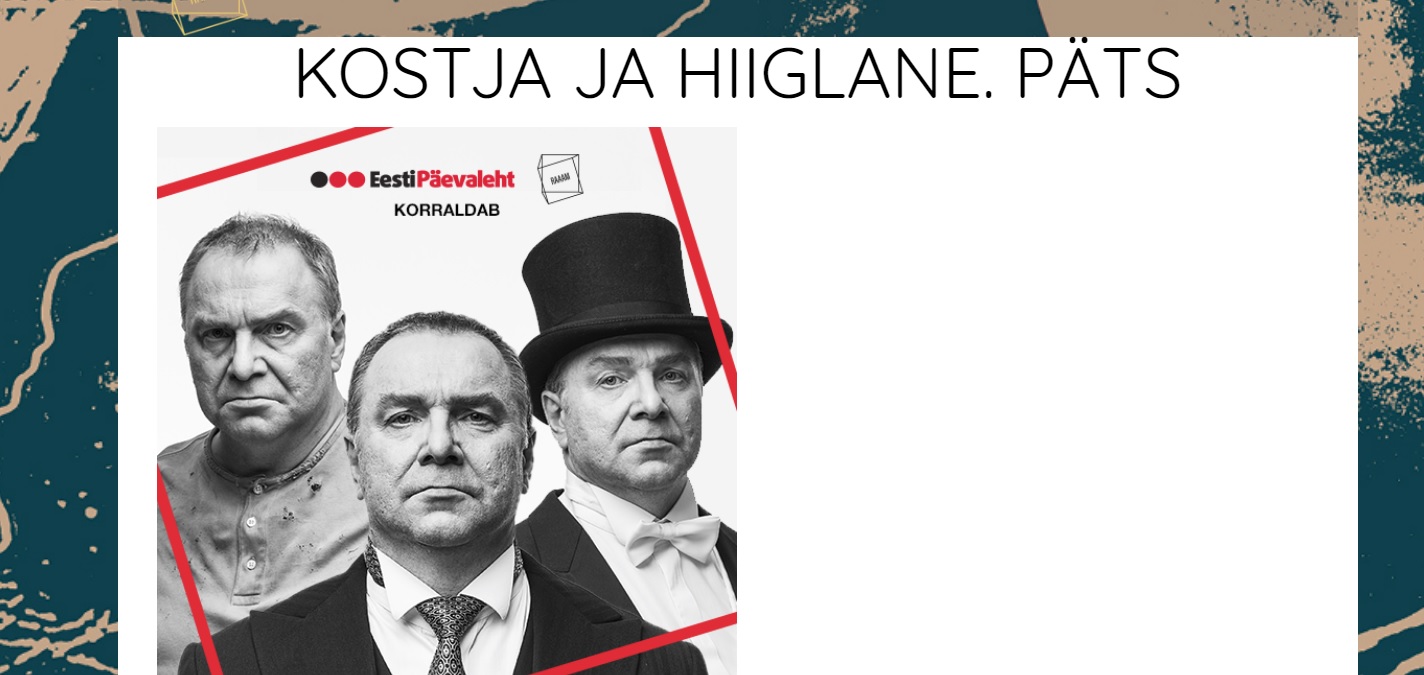 Student Festival Gaudeamus 2018. Dance performance: The Mystery of Midsummer Eve. Music design by Ardo Ran Varres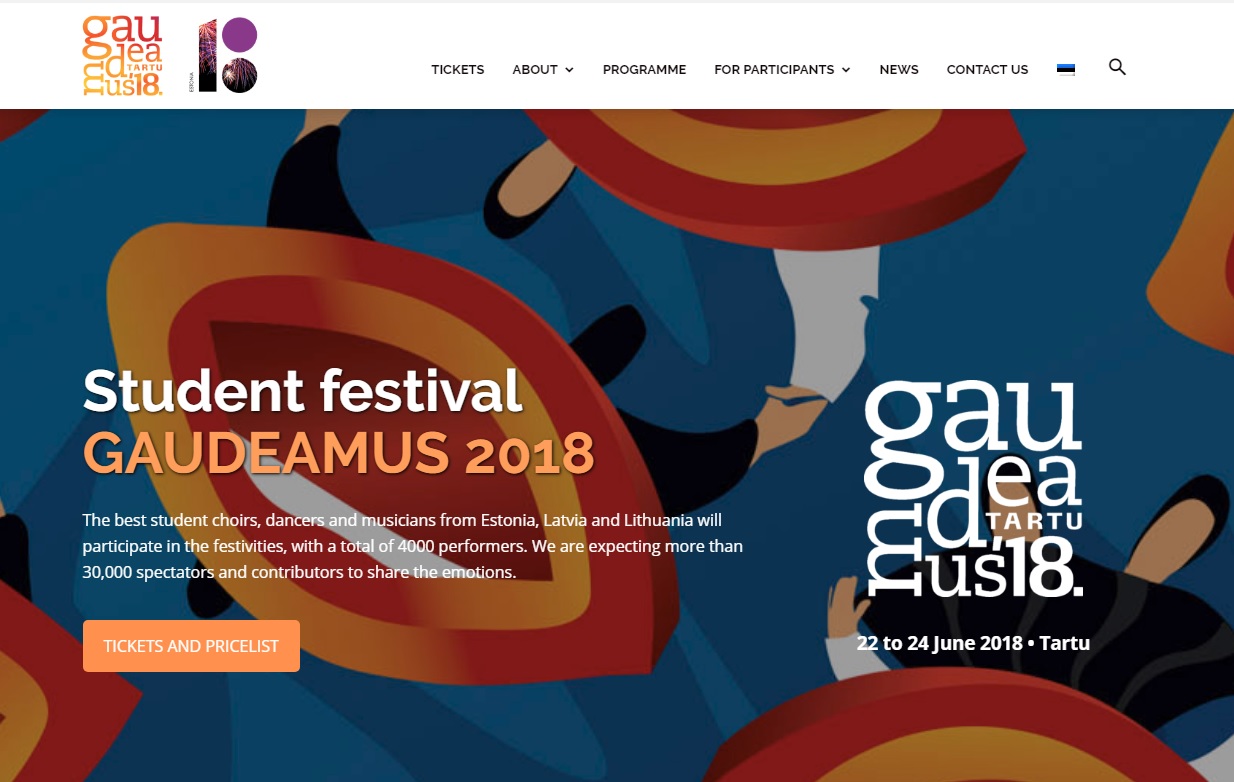 Introduction
Gaudeamus has turned into both a song and dance festival and is hosted, as a rule, every four years either by Estonia, Latvia or Lithuania. Moreover, there are always participants coming afar or from neighboring countries, from the United States to Novorossiysk in Russia. In 2006, when the 50th anniversary of the Students' Song Festival was celebrated, almost 6000 performers from the Baltic and Nordic countries gathered in Tartu, the celebrations were enjoyed by more than 30 000 spectators.
10 p.m. Dance performance: "The Mystery of Midsummer Eve"
Tartu's Tamme Stadium will fill with mystery and the spirit of blossoming love. At Estonia's first nocturnal dance celebration, folk dance will be combined with modern dance for the first time in the festival's long history. We will bring the mystery and mysticism inherent of Midsummer Eve and traditions of three small nations to the stadium.
The idea for the performance is inspired by Juhani Pütsepp's story, which tells us about a young man and woman who fall in love but are forbidden to be together. Their love brings about a series of adventurous and mysterious events, from which the tradition of Midsummer Eve bonfires is born. This is a romantic story filled with adventure, which seems like an old legend or a myth about the origins of the Midsummer Eve celebrations. The lighting at this performance is almost like an actor – an important and constantly changing character.
Renee Nõmmik is the director, Ardo Ran Varres, the musical designer, and Meelis Lusmägi, the lighting artist.

Original music for Drama. Tallinn City Theatre. Premiere: Vürst Gabriel.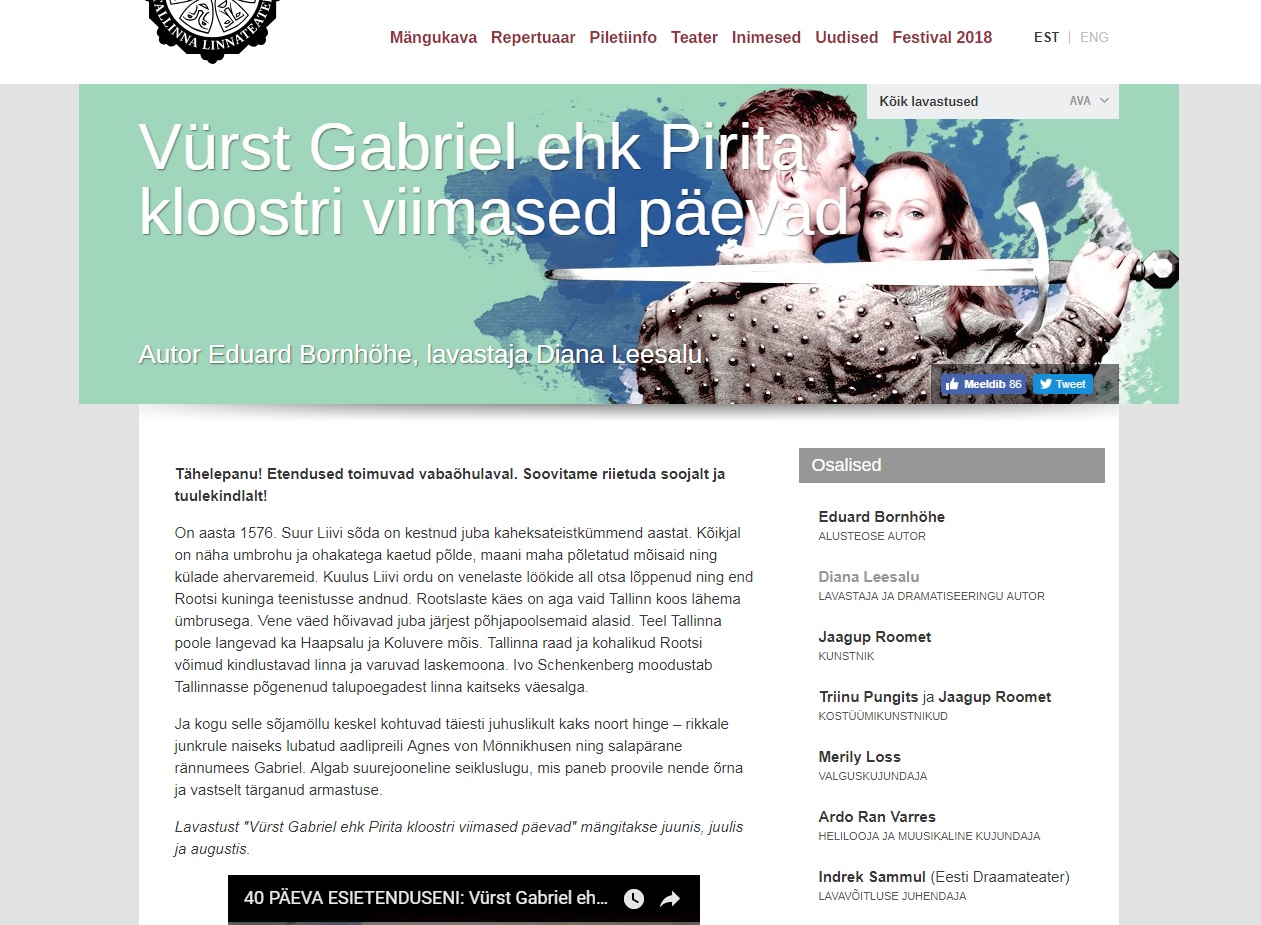 Introduction to Tallinn City Theatre
In 2016, Tallinn City Theatre celebrated its 50th anniversary. Starting out in Soviet times as Estonian Youth Theatre, a state-owned touring company, made up of an entire class of fresh drama school graduates and a small number of big names, it has transformed during five decades into an established, yet vibrant and dynamic repertory theatre, operating in one of the most remarkable theatre buildings in the world.

Electroacoustic music concert
June 5, 15:00. Tartu, Eller school.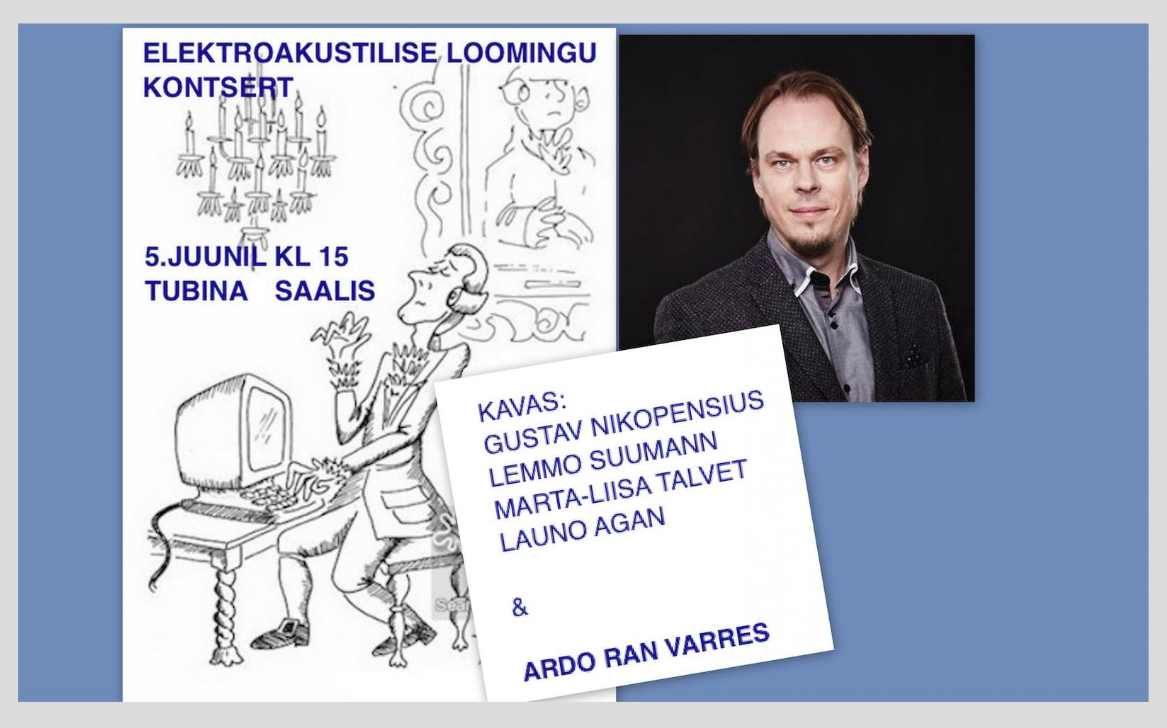 Ardo Ran Varres channsonnier Gruber Frankenstein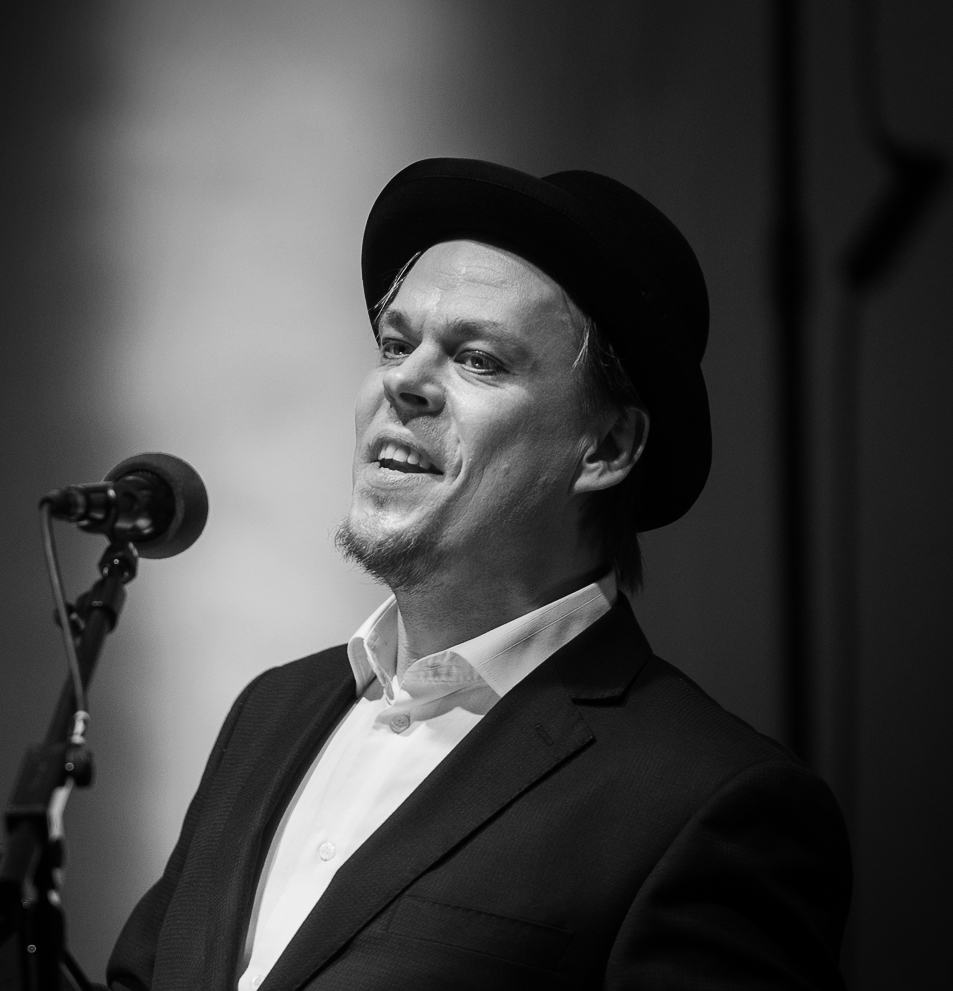 Photo: Rene Jakobson

Apis Mellifera for Cello, Accordion, live-electronics and phonogram. World premiere
Estonian Music Days 2018. Final Concert. The Horizon
Thursday
19.04
Time
19:00
Estonia Concert Hall
(Estonia pst 4)
Tickets
15/10
Yxus Ensemble
Conductor Kaspar Mänd
Robert Jürjendal (b. 1966)
"Raba" / "Bog" for string quintet, woodwind quintet and percussion (2018, premiere)
Jüri Reinvere (b. 1971)
"Ecotone" for percussion and fixed media (2007)
Helena Tulve (b. 1972)
"ligne d'horizon" for large ensemble (2005, Estonian premiere)
Erkki-Sven Tüür (b. 1959)
"Lichttürme" for violin, cello and piano (2016)
Pärt Uusberg (b. 1986)
"Inner Sound" for large ensemble (2018, premiere)
Ardo Ran Varres (b. 1974)
"Apis mellifera" for cello, accordion, live electronics and fixed media (2017, premiere)
It seems to me that one of the touch points of this concert to Estonian Music Days and also unconsciously a holy subject is nature and environment, worries about what might one day appear from behind the horizon. Concerning Yxus Ensemble, it is worth mentioning that this time we perform as a large sinfonietta. Since the end of Nyyd Ensemble about a decade ago, this is the first and hopefully not the last programme for Yxus with a conductor involved.
Leho Karin, Yxus Ensemble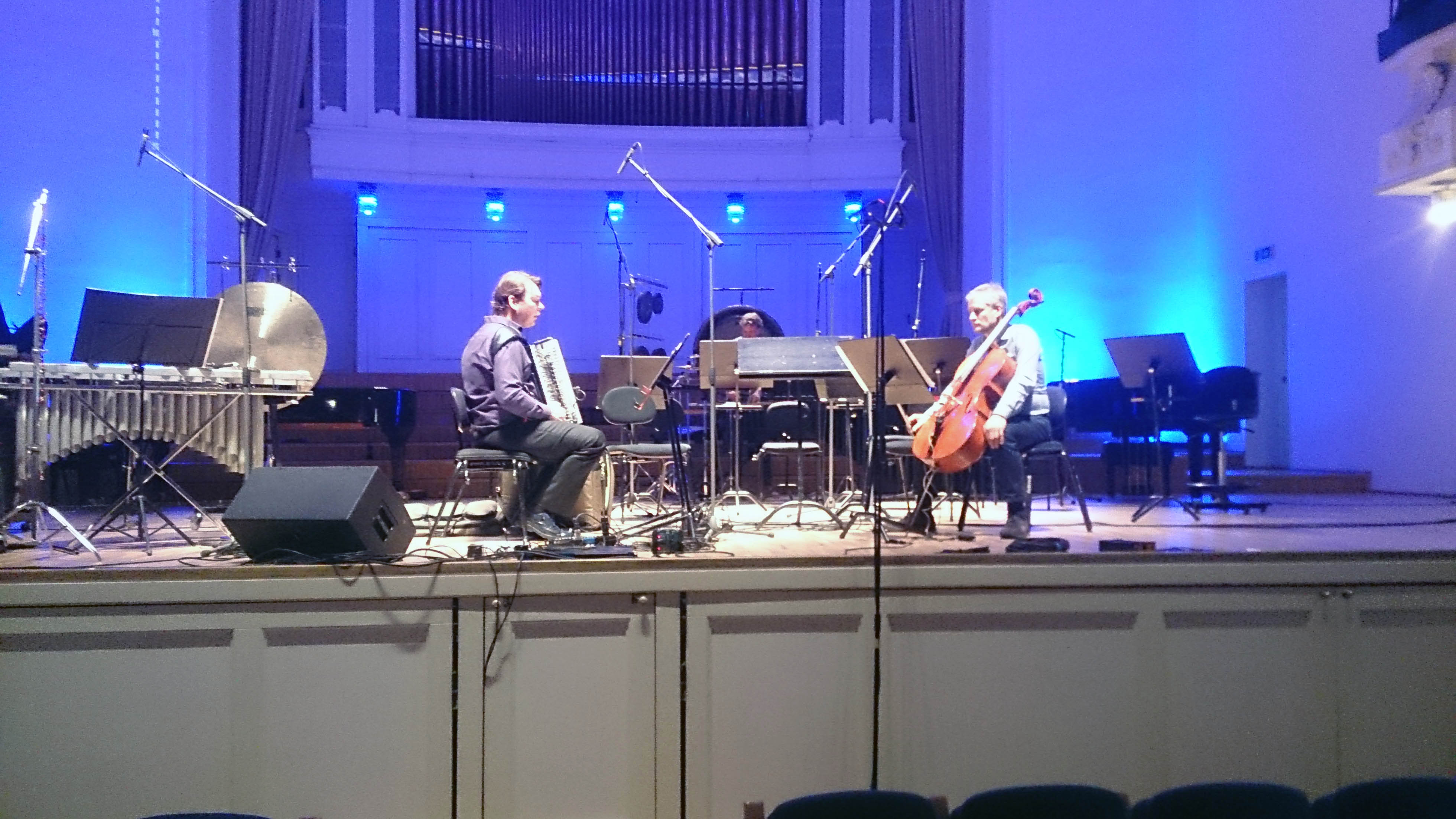 Ardo Ran Varres
TCO 25.
VENUETallinn Philharmonic Society House of Blackheads, White HallDATE04.04.2018TIME19:00TICKET20/15 €
ARDO RAN VARRES
TALLINN CHAMBER ORCHESTRA
Soloist ja conductor RISTO JOOST
Steve Reich Clapping Music
Erkki-Sven Tüür "Action"
Steve Reich Duo for Two Violins and String Orchestra (solistid Harry Traksmann ja Olga Voronova)
John Cage Water walk (solist Risto Joost)
Heinz Karl Gruber "Frankenstein" Chansonnier Ardo Ran Varres
Ardo Ran Varres "Concentra" for String Orchestra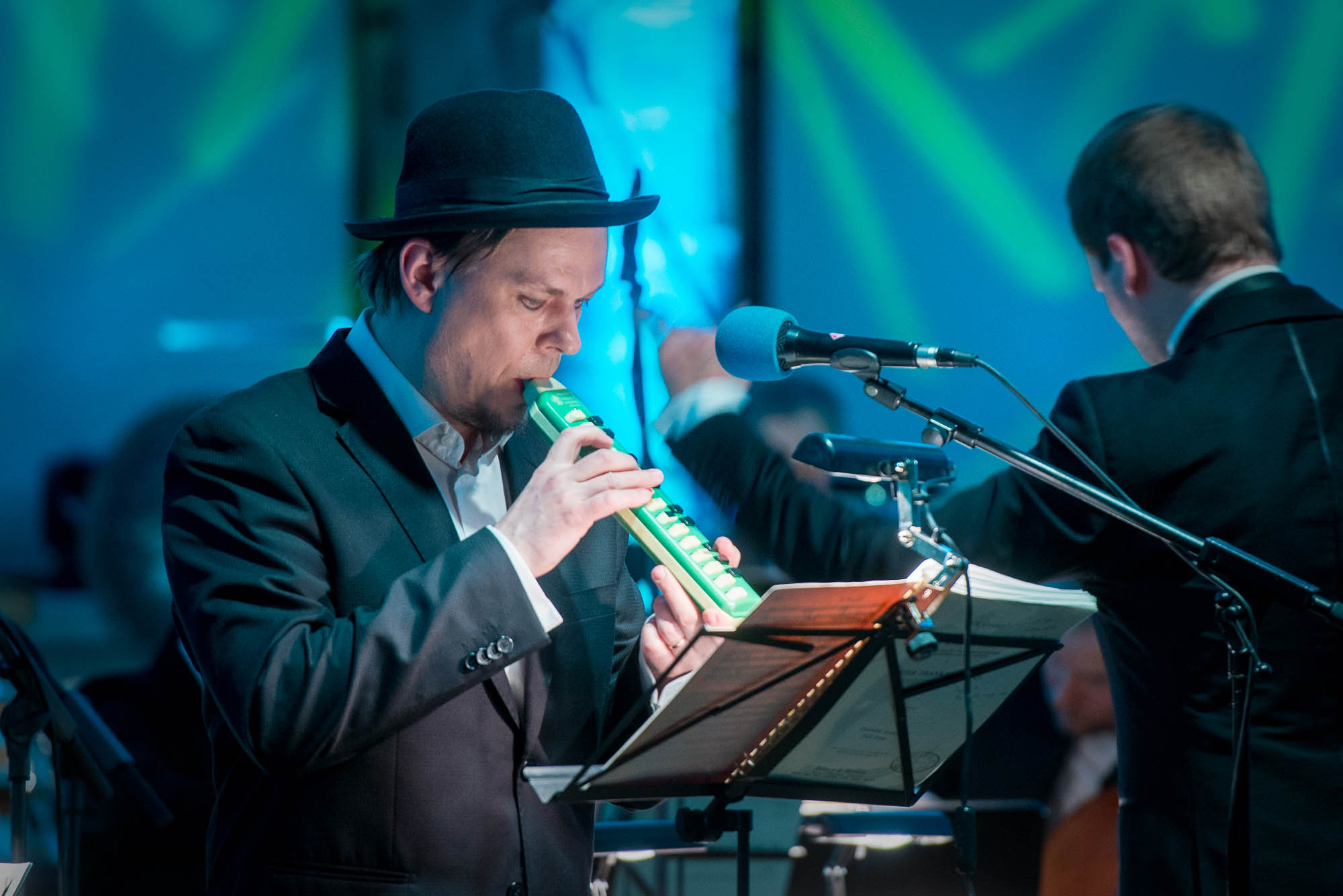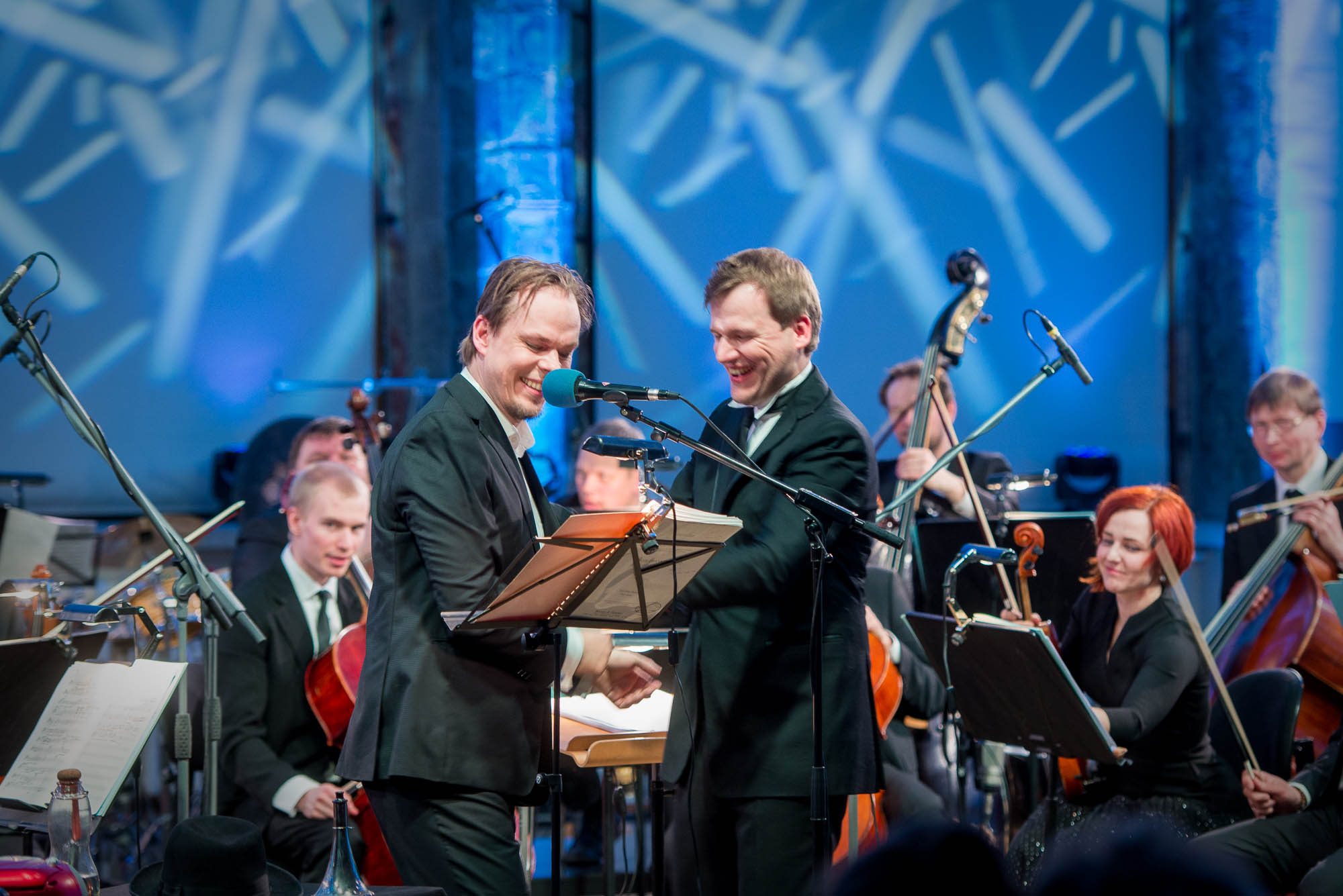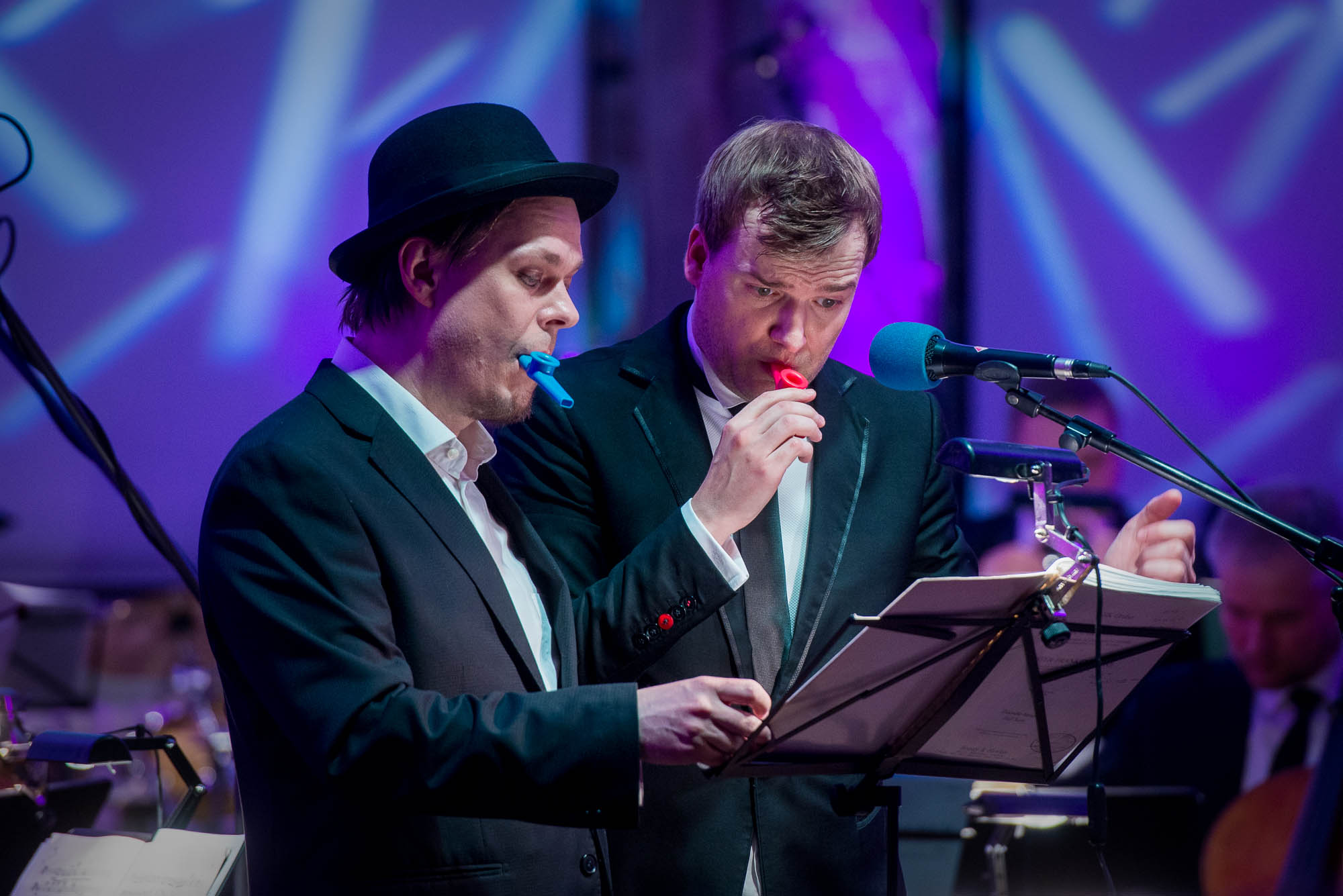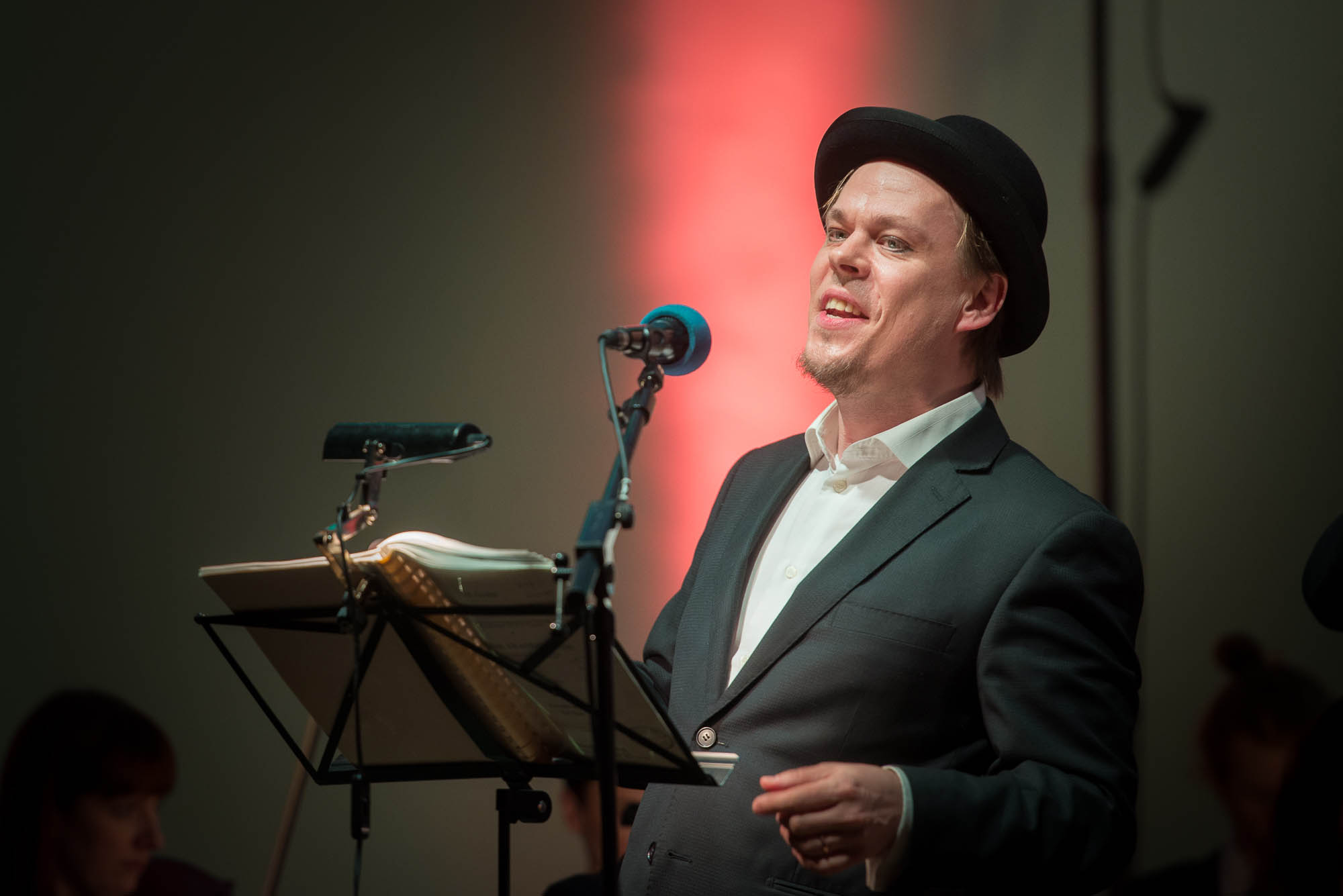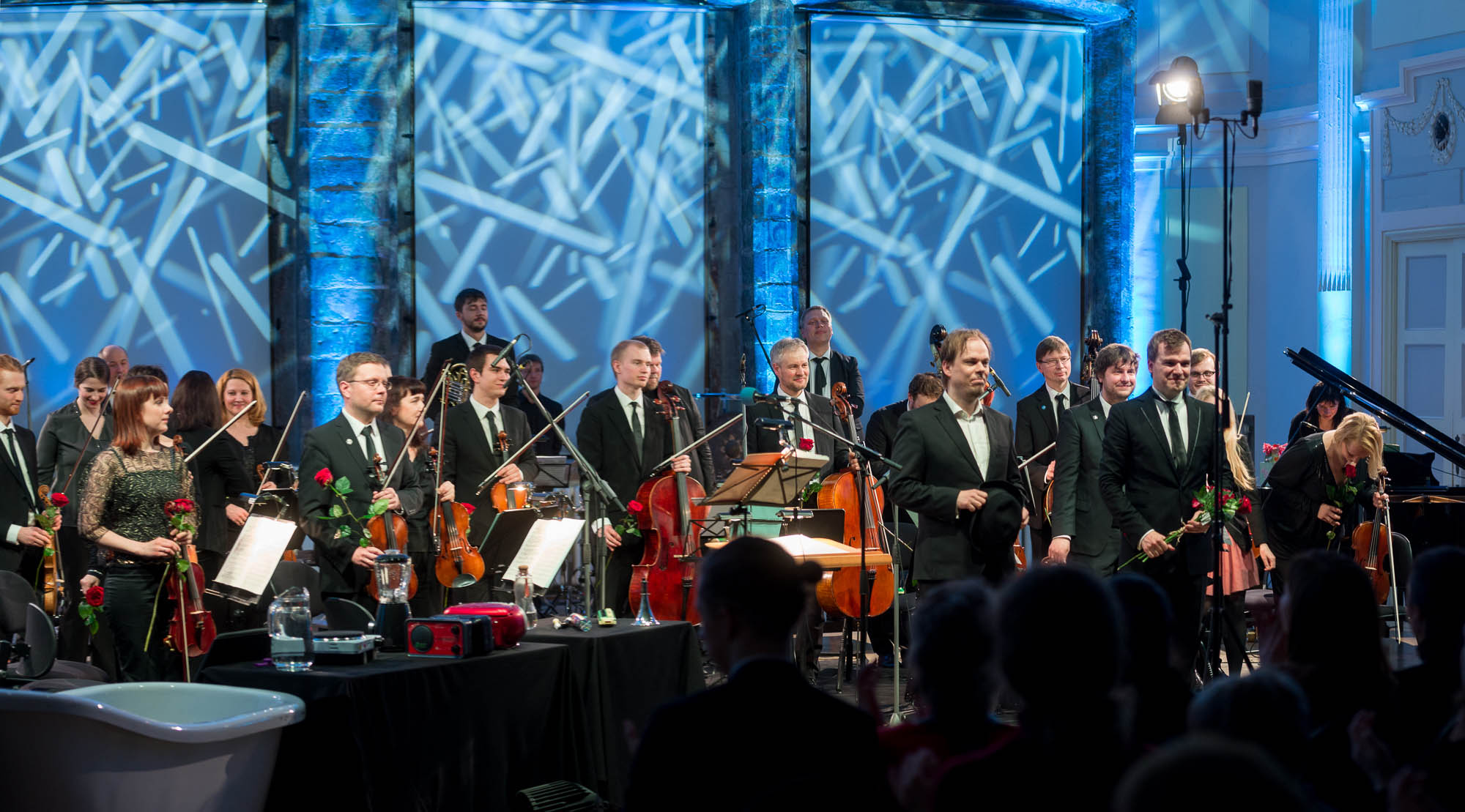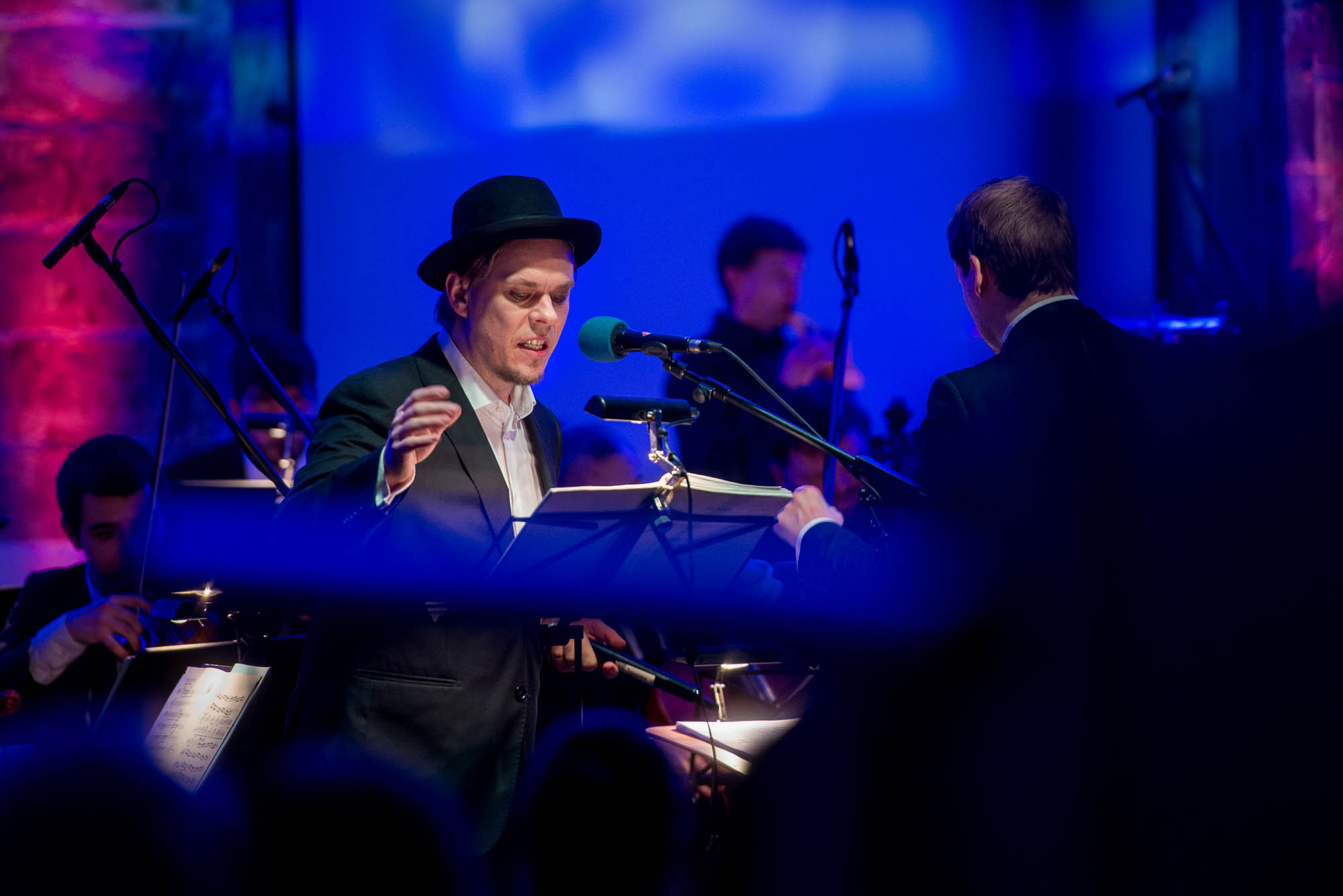 Photos: Rene Jakobson

New choral music concert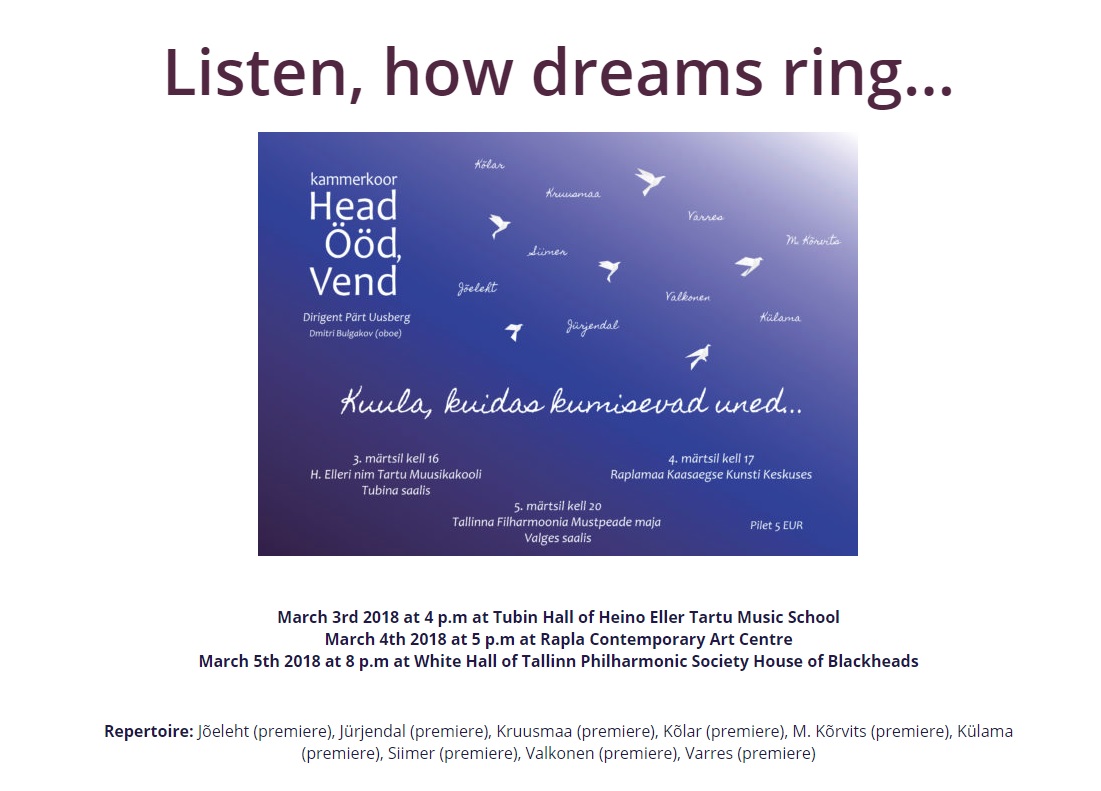 March 3rd 2018 at 4 p.m at Tubin Hall of Heino Eller Tartu Music School
March 4th 2018 at 5 p.m at Rapla Contemporary Art Centre
March 5th 2018 at 8 p.m at White Hall of Tallinn Philharmonic Society House of Blackheads
Repertoire: Jõeleht (premiere), Jürjendal (premiere), Kruusmaa (premiere), Kõlar (premiere), M. Kõrvits (premiere), Külama (premiere), Siimer (premiere), Valkonen (premiere), Varres (premiere)
Dmitri Bulgakov (oboe)
Conductor: Pärt Uusberg

Faust. Original music by Ardo Ran Varres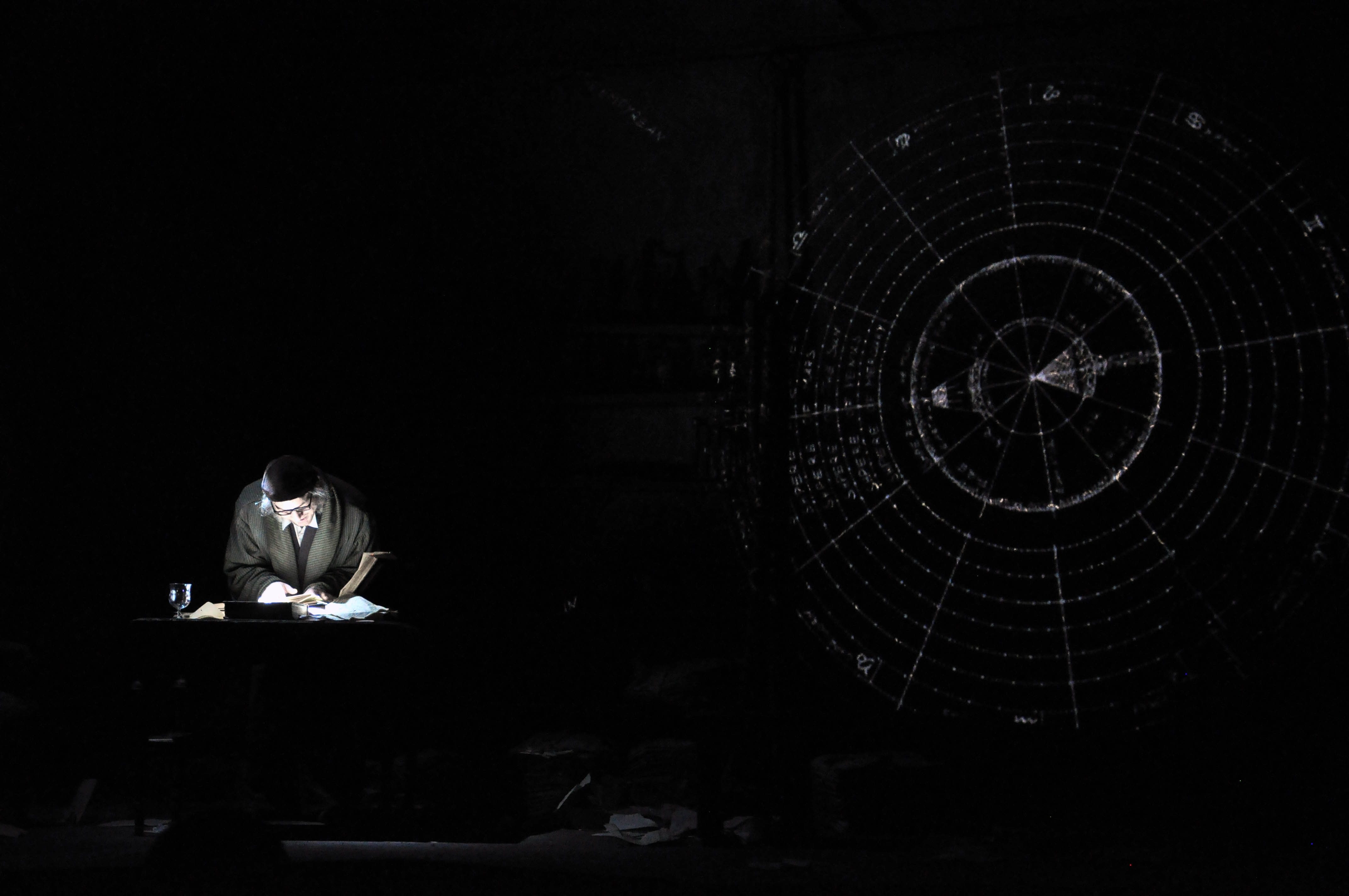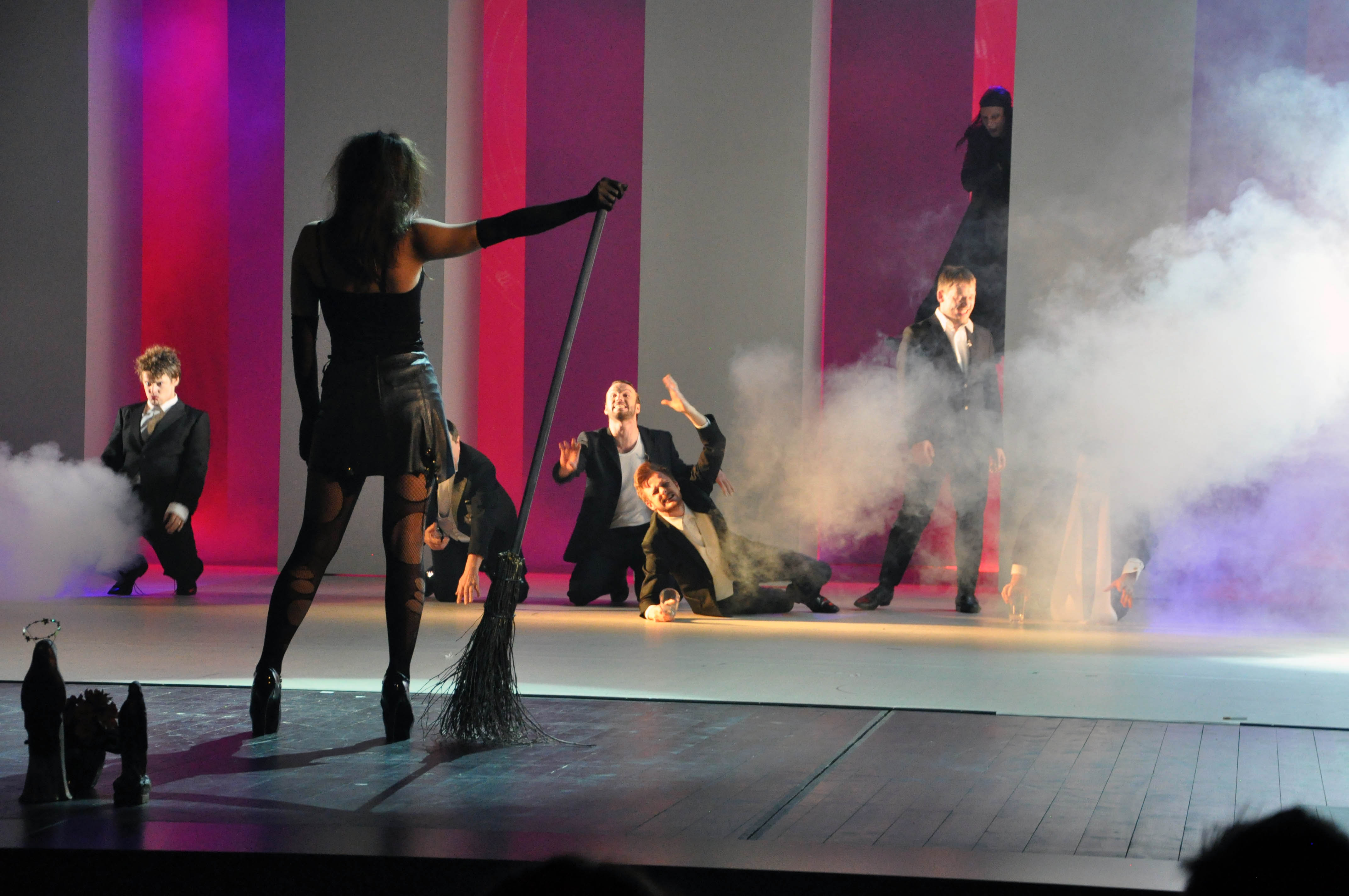 Faust
DRAMA
THE GRAND BUILDING OF VANEMUINE THEATRE
PREMIERE 03.02.2018 - 19:00
Johann Wolfgang von Goethe's philosophical novel Faust has many like-minded counterparts in world literature. These works are characterised by a powerful thematic vortex involving the search for the meaning of life and eternal youth, and the intricacies of a world shot with morality and ethics, sin and Hell, cravings and greed.
Director and dramatist Hendrik Toompere (Estonian Drama Theatre)
Scenographer and costume designer Pille Jänes
Composer Ardo Ran Varres
In roles Linda Kolde, Marian Heinat, Veiko Porkanen, Andres Mähar, Reimo Sagor, Priit Strandberg, Margus Jaanovits, Hannes Kaljujärv, Jüri Lumiste, Jaanus Tepomees

DocPoint Helsinki opening movie: Rodeo. Music composed by Ardo Ran Varres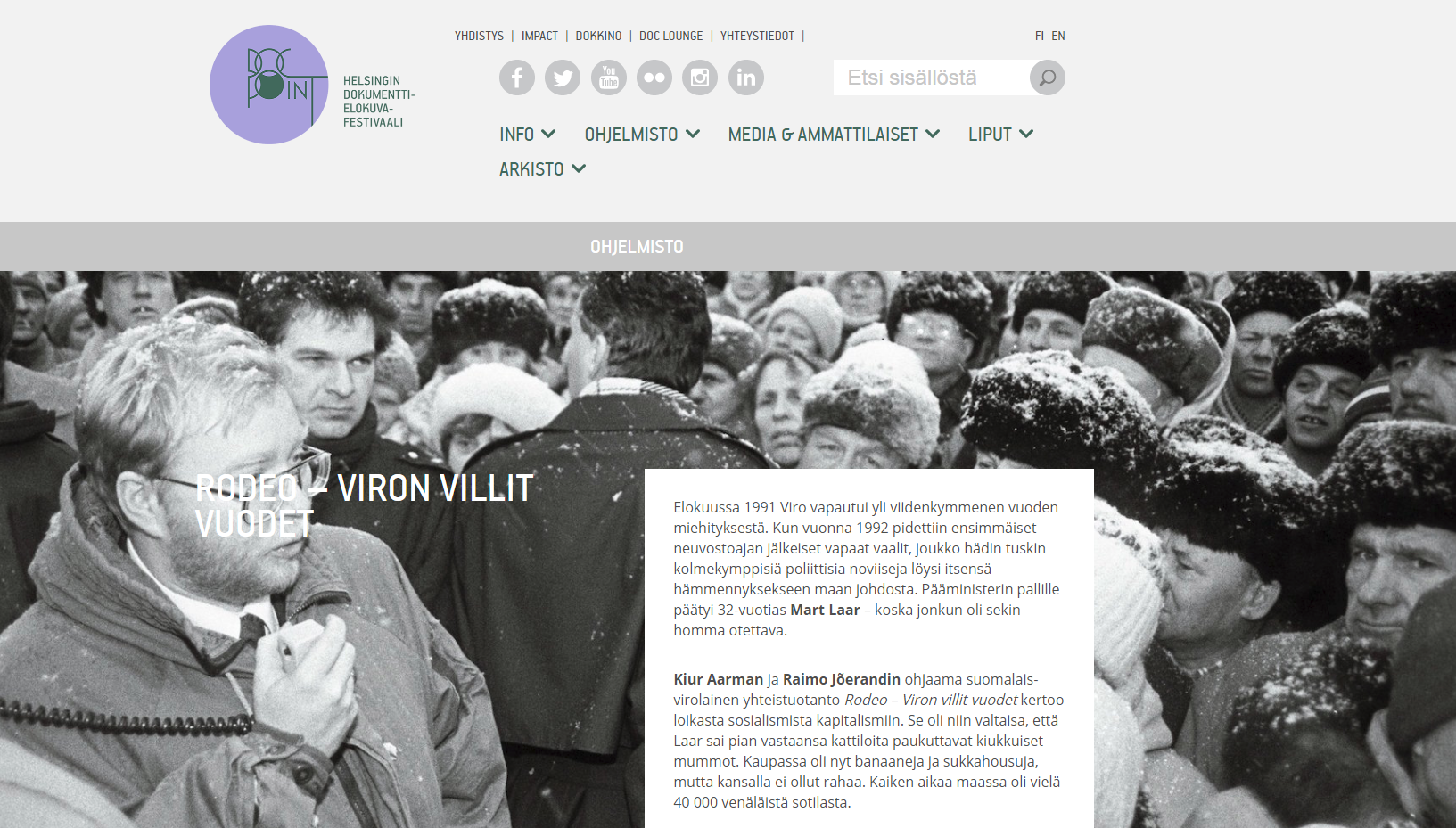 In 1992, Estonia saw its first free election since World War II. The young republic was in chaos. Still, a 32-year-old idealist called Mart Laar was elected into office and went on to become Europe's youngest Prime Minister.
Estonian-Finnish co-production tells of the first years of independence as the country traveled towards capitalism and out of the Soviet past. Suddenly you could get bananas and pantyhose from the store – if you had money.
Language: Estonian, English, Swedish, Finnish
Subtitles: English
The directors Kiur Aarma and Raimo Jõerand and producer Ari Matikainen will be present at Monday's and Saturday's screenings. After Friday's screening, at 18:45 at Savoy, a discussion will be held on the first years of Estonia's independence.
Director: Kiur Aarma, Raimo Jõerand

Country: Estonia

Year: 2017

Length: 75 min

Age limit: S

Format: DCP

Cinematography: Manfred Vainokivi

Editing: Matti Näränen

Audio: Horret Kuus

Music: Ardo Ran Varres

Production: Kiur Aarma, Ari Matikainen / Traumfabrik & Kinocompany

Showtimes:

Savoy-teatteri: Mon 29.1. klo 19.00, avajaisnäytös

Savoy-teatteri: Fri 2.2. klo 17.30

Kinopalatsi 7: Sat 3.2. klo 21.00

https://docpointfestival.fi/en/tapahtumat/films/rodeo-taming-a-wild-country/

Ohjaaja: Kiur Aarma, Raimo Jõerand

Valmistusmaa: Viro

Vuosi: 2017

Kesto: 75 min

Ikäraja: S

Esitysformaatti: DCP

Kuvaaja: Manfred Vainokivi

Leikkaus: Matti Näränen

Ääni: Horret Kuus

Musiikki: Ardo Ran Varres

Tuotanto: Kiur Aarma, Ari Matikainen / Traumfabrik & Kinocompany

Drama "Queen of the Night". Original music by Ardo Ran Varres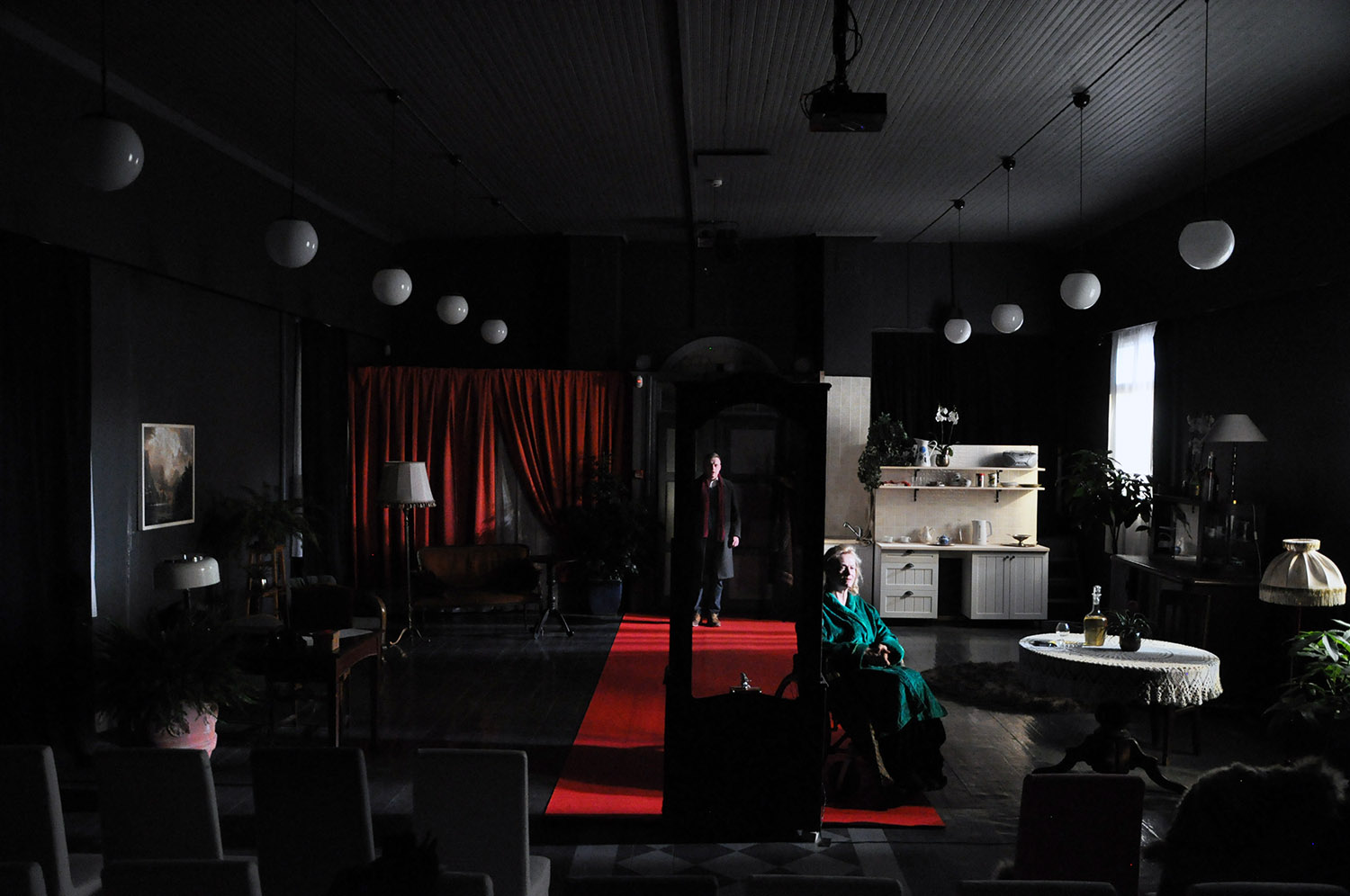 Director: Helen Rekkor
www.karlovateater.ee

Beatrice. (Drama) Original music and sounddesign by Ardo Ran Varres. Theatre Vanemuine
Beatrice
A romance about the future by Siret Campbell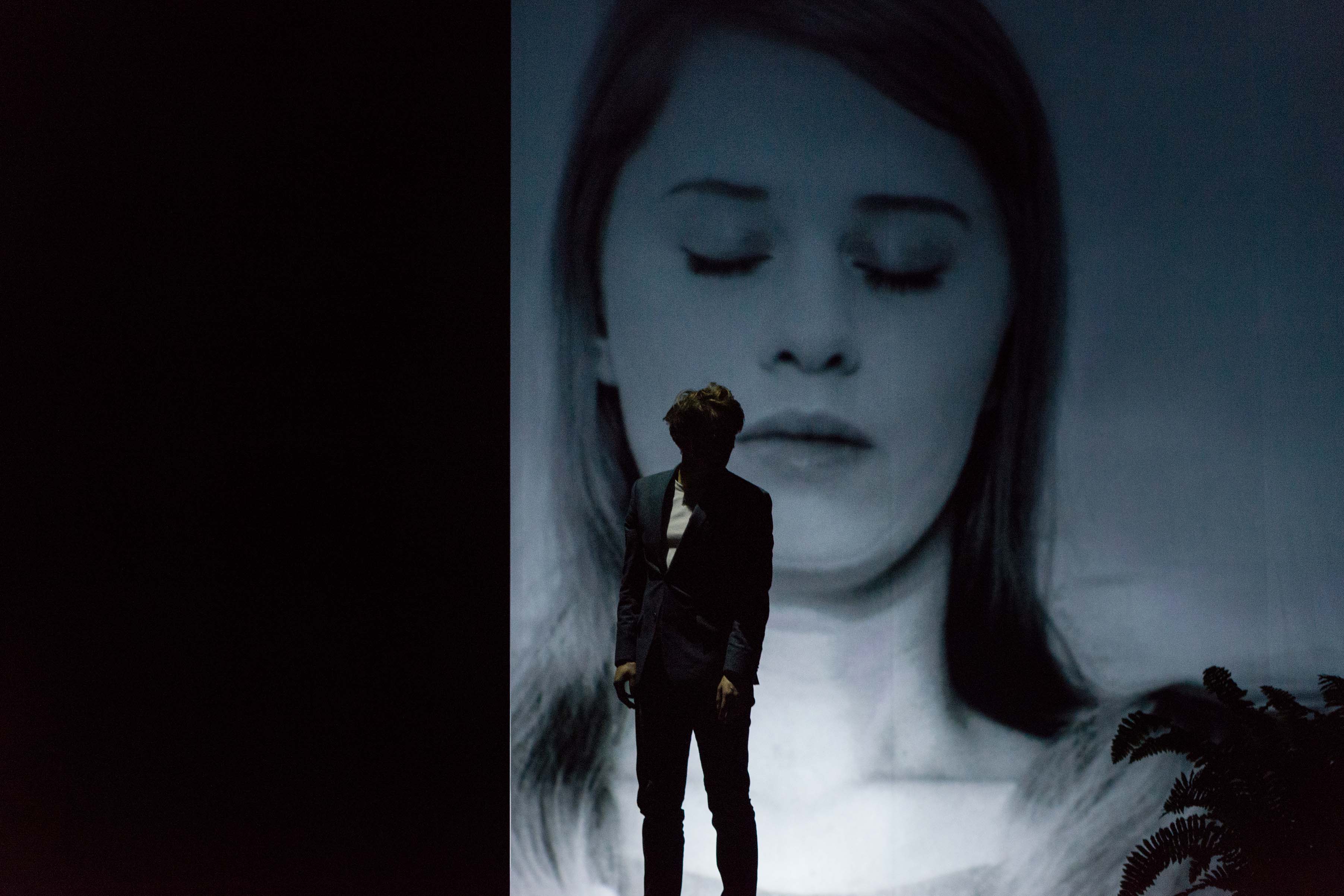 Beatrice looks at the future, using an engrossing format to examine the lives of people several decades from now at a time when technological progress has given humankind new and more beneficial possibilities for everyday life and entertainment. Who wouldn't want to live a better, more multifaceted and longer life? Immortality is something that has been sought since the dawn of time. Can technology develop an elixir that banishes our greatest fear and obstacle to enjoying life?
The characters in this play aren't inventors or superheroes – they don't travel to undiscovered planets or own laser weapons. Tom and Kristi are ordinary people who try to live their lives and love each other. When they lose it all, there's still a way to get it all back. Beatrice shows up and life can go on. However, the new life is something unprecedented and it isn't that easy to cope with it.
Director Ain Mäeots
Scenographer and costume designer Maarja Meeru
Composer and musical designer Ardo Ran Varres
Video designer and visual electronic solutions Emer Värk
Lighting designer Meelis Lusmägi
Coreographer Britt Kõrsmaa
In roles Priit Strandberg, Marian Heinat, Kärt Tammjärv, Veiko Porkanen, Linda Kolde, Karol Kuntsel, Silver Kaljula (Must Kast), Liina Tennosaar, Nora Ann Lunge or Eliise Mustkivi

Incidental music. VAT Theatre, historical play "Sirk's Estonia"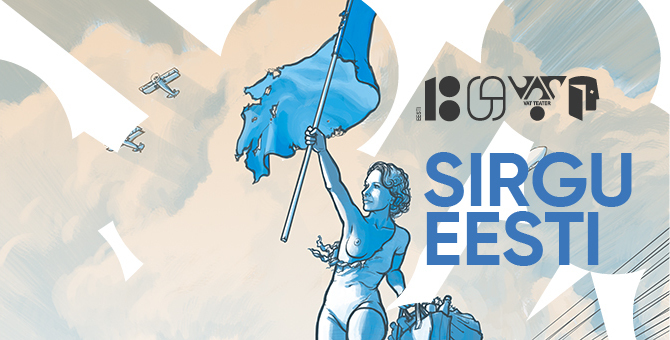 It could have gone differently
EV100 theatre project "Story of the century": co-production of National Library, labyrinth theatre group G9 and VAT Theatre
It is said, that history was written by the winners. Napoleon even said, that history is just bunch of lies, that people have agreed on. This gives us a feeling, that the past is something quite random and fragile. At the same time the understanding of own history influences national identity strongly.

G9 and VAT Theater lead audience through the maze of National Library in to an alternative reality – into Estonia, where history has a different meaning. New founding fathers have decided, that people should remember only positive and motivating details of our history. And when there isn´t enough positive in the past, then we should think out new epic stories ourselves.
But a young man, Eduard, emerges with a holy mission to tell people only the historical truth. He wants to tell a story about the revolutionary 1930ies. He wants to tell the story of Artur Sirk, a young statesman, who was caught in the crossfire of political corruption and power struggle. Eduard wants to tell about a time, when Estonians were forced to decide, what road to choose as a nation and country.

The new founding fathers aren´t happy with Eduard´s plan. It goes against their main rule: everything can always go differently. But can it? Can we question every historical event or do we have to accept some of it as unshakable facts. How should we remember our past? How should we talk about it? And by the way – who on earth was this Artur Sirk?!

Premiere: October 5th 2017 in National Library

NB! The first part of the production is an excursion through the National Library´s building. That means quite a lot of stairs.

Original idea: Indrek Hargla and Aare Toikka
General concept: Aare Toikka, Mihkel Seeder and G9

EXCURSION: Adele Thele Robam, Triin Aas, Kristo Kruusman, Kristel Maamägi, Henry Griin, Mari Mägi, Liis Viira, Keili Retter, Andra Aaloe, Juhan Vihterpal, Markus Robam, Joonatan Jürgenson and others

EXHIBITION: Keili Retter, Ave Tölpt, Tiiu Laur, Henry Griin, Mihkel Seeder, Tiiu Talvist

SHOW:
Authors Aare Toikka, Mihkel Seeder
Director: Aare Toikka
Designers: Henry Griin and Aare Toikka
Costume designer: Keili Retter
Lightning designer: Sander Põllu
Composer: Ardo Ran Varres
Choreograph: Marge Ehrenbusch
Choir: National Library´s women´s choir (conductor: Anneli Surva)
Cast: Katrin Saukas, Elina Reinold, Meelis Põdersoo, Tanel Saar, Margo Teder, Ago Soots

CD New Estonian Chamber Music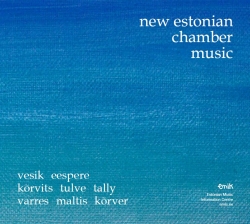 Vesik, Eespere, Kõrvits, Tulve, Tally, Varres, Maltis, Kõrver Estonian Music Information Centre 2017
http://emic.ee/cd-new-estonian-chamber-music-2
Ardo Ran Varres (1974) The Field Of Now [Praegu-väli]
for flute, clarinet/bass clarinet, viola, two pianos and live electronics (2013) 16.43
Tartu New Music Ensemble: Oksana Sinkova (flute), Tõnu Kalm (clarinet), Kadri Rehema (viola), Kadri-Ann Sumera (piano), Jaan Kapp (piano)

Ardo Ran Varres plays in The Name of the Rose
Role: Ubertino of Casale
Director Tanel Jonas. Theatre Vanemuine.
Premiere 13 July 2017 in the ruins of the Tartu Cathedral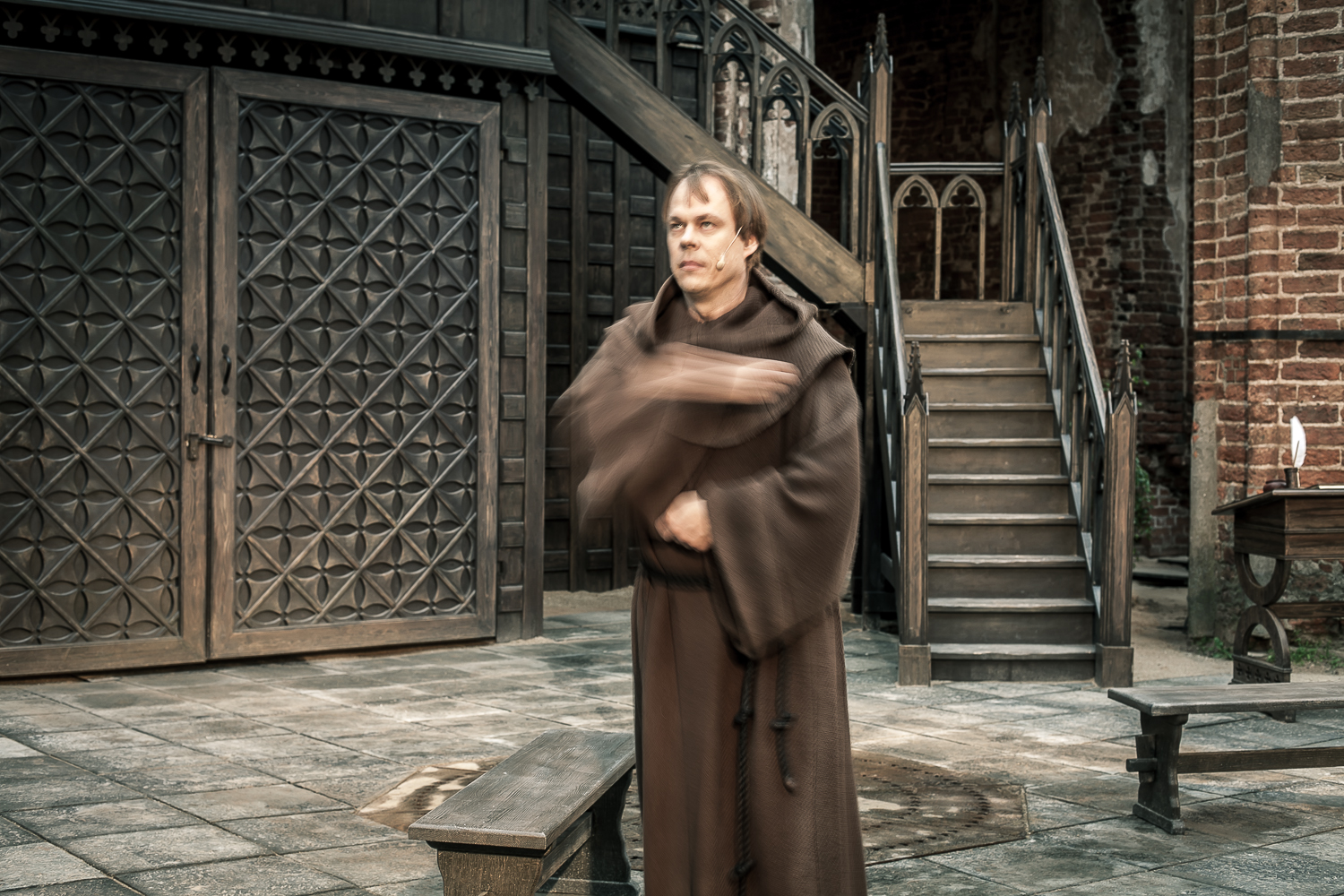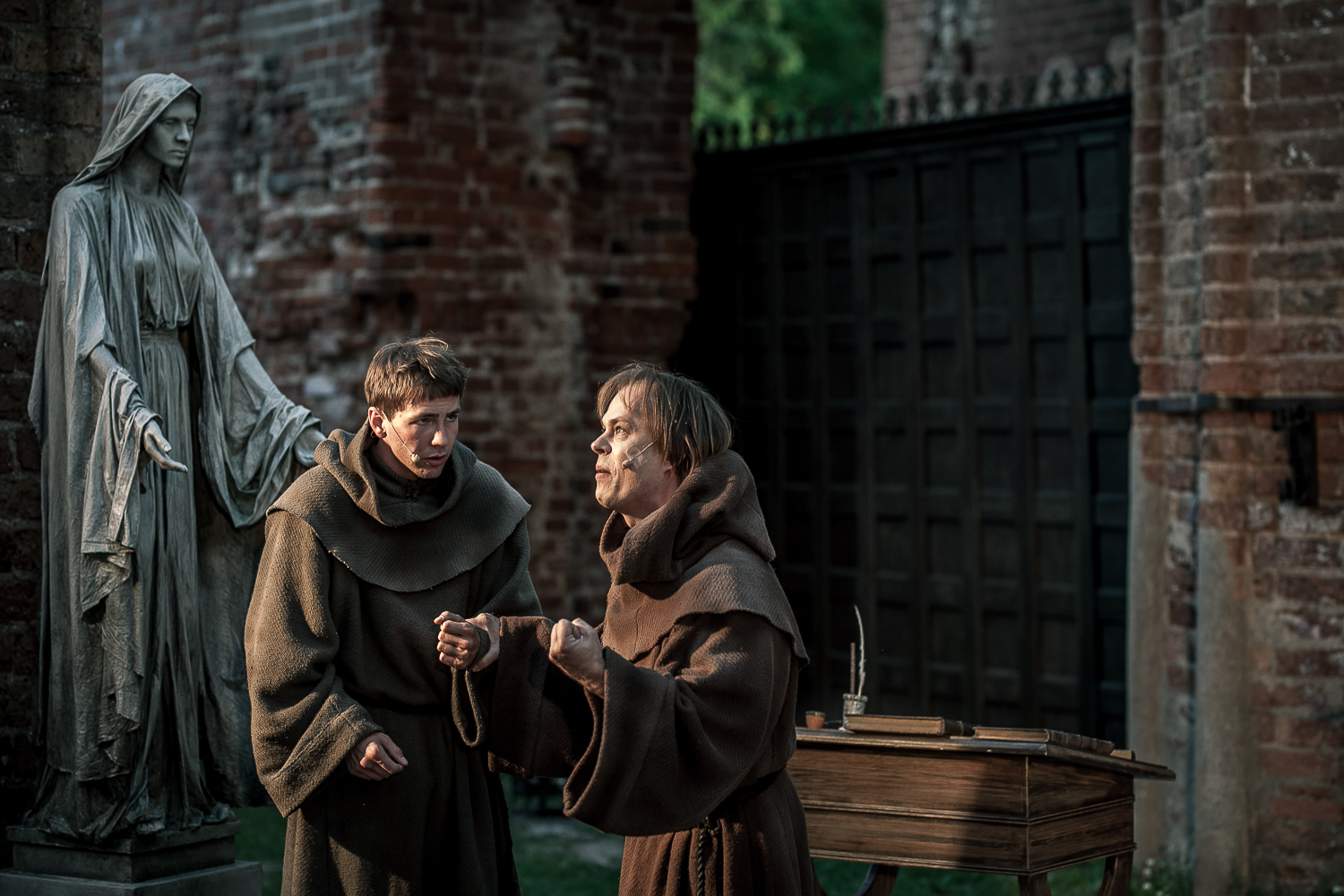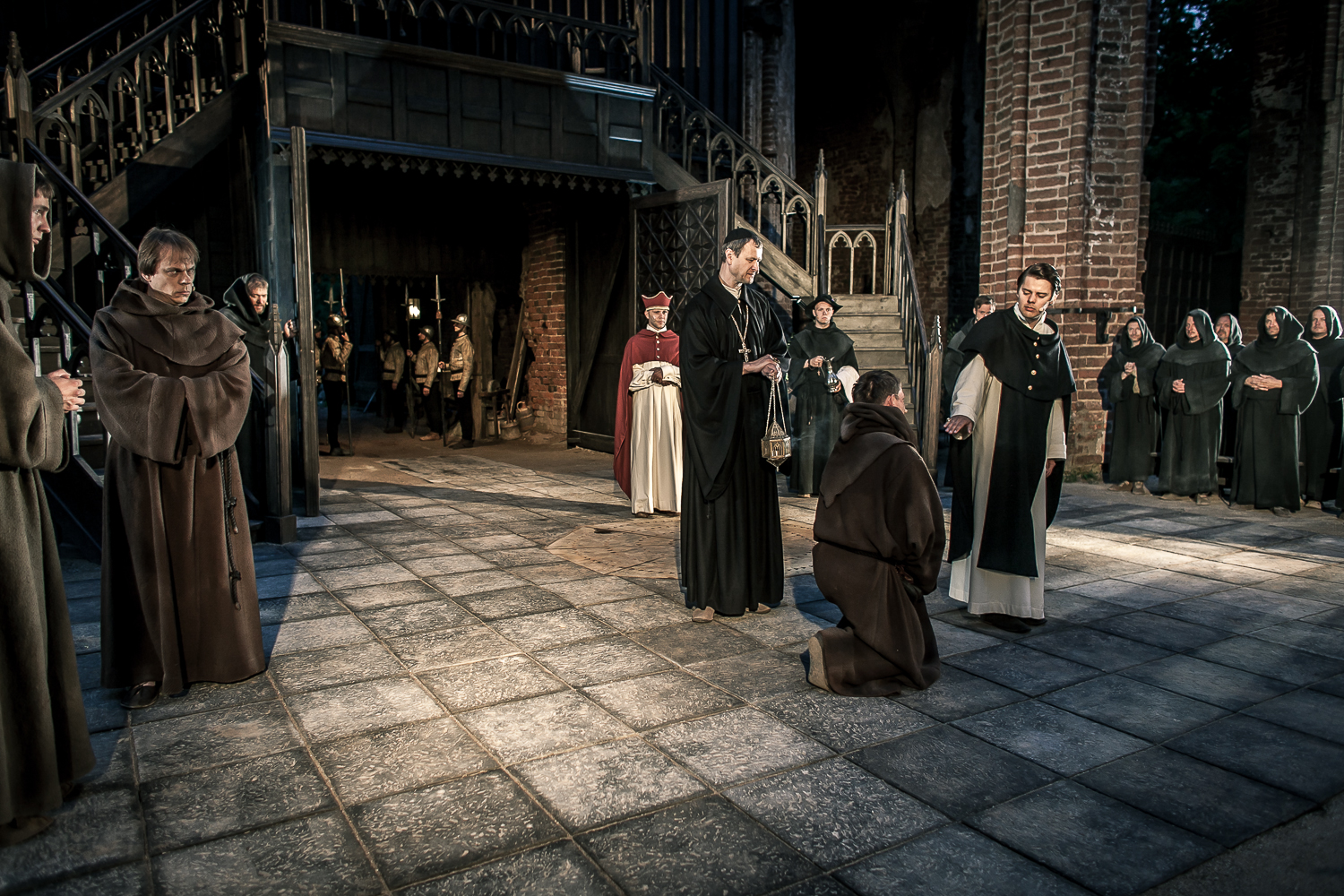 Photos: Heikki Leis

Original music for the play It`s Not Time For Making Love
Premiere 5th of July at Kolga Manor
Director: Damir Salimsjanov (Udmurtia)
www.raaam.ee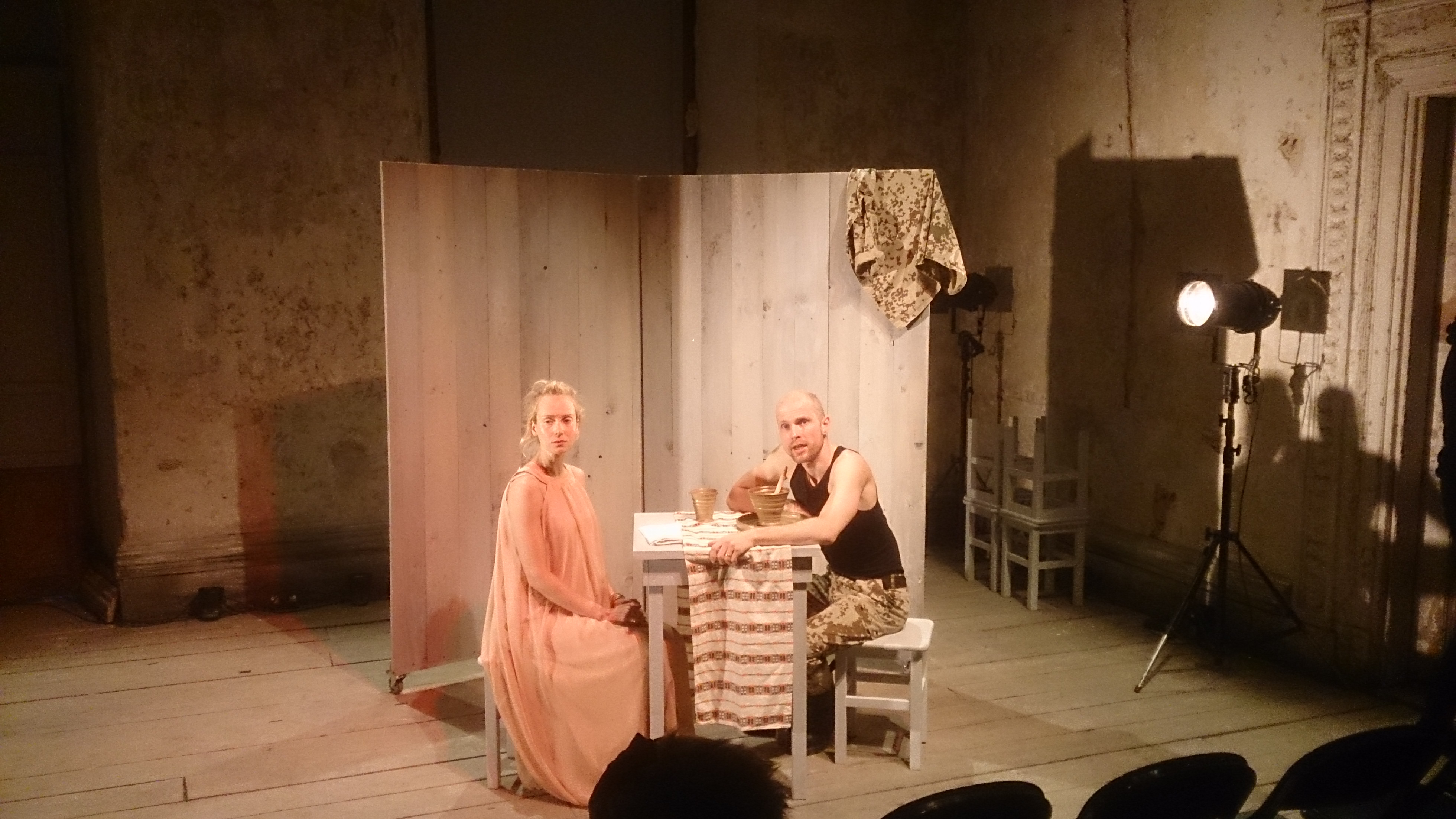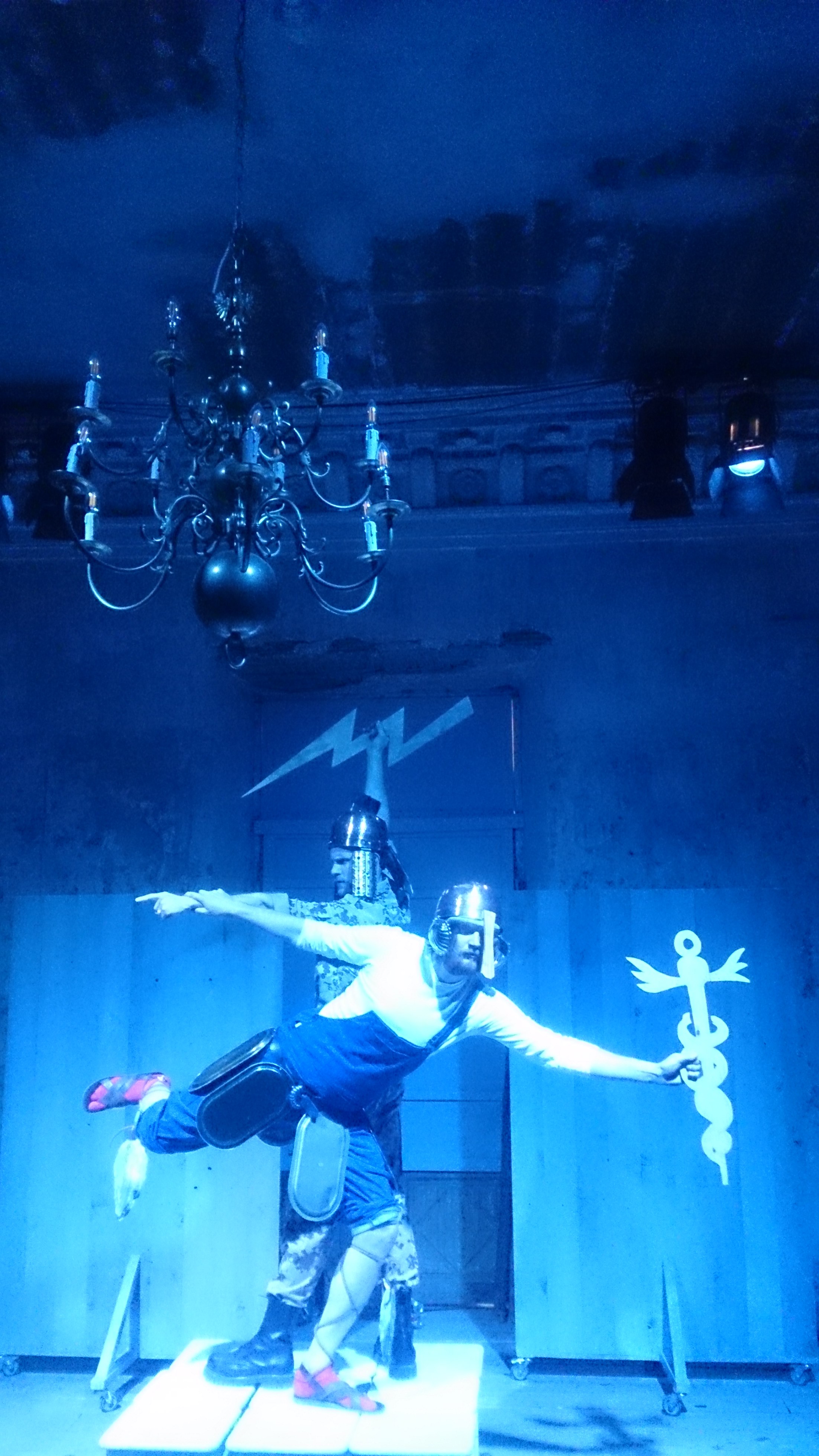 Original music for TV-documentary "A Moment in History" (40 series)
Estonian Public Broadcasting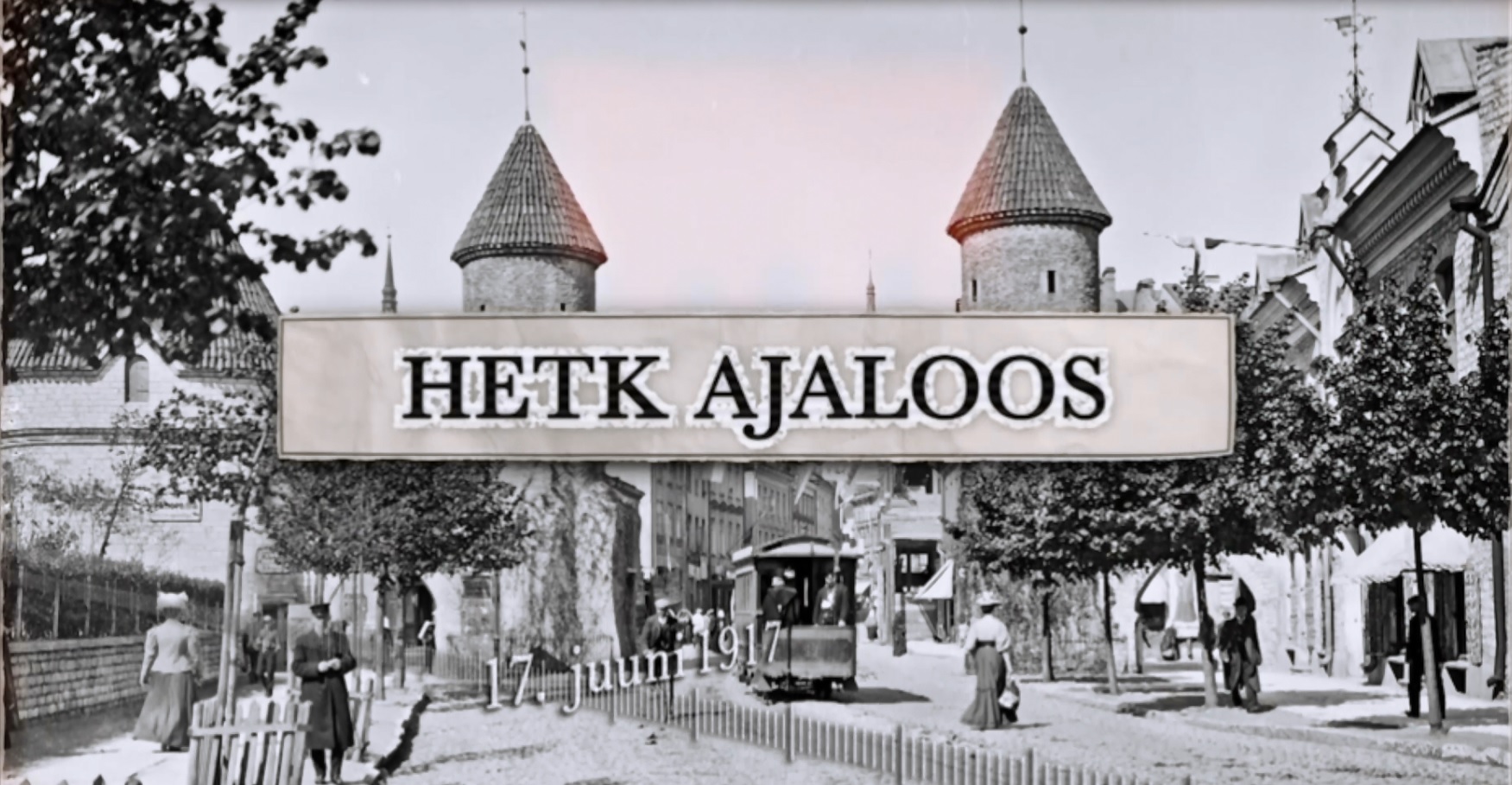 Director: A. Lepasar Author: R. Jõerand
etv.err.ee/listing/elusaated/hetk_ajaloos/

Symphony for One. Allegro con moto / Tartu Uus Teater. Premiere 21 of April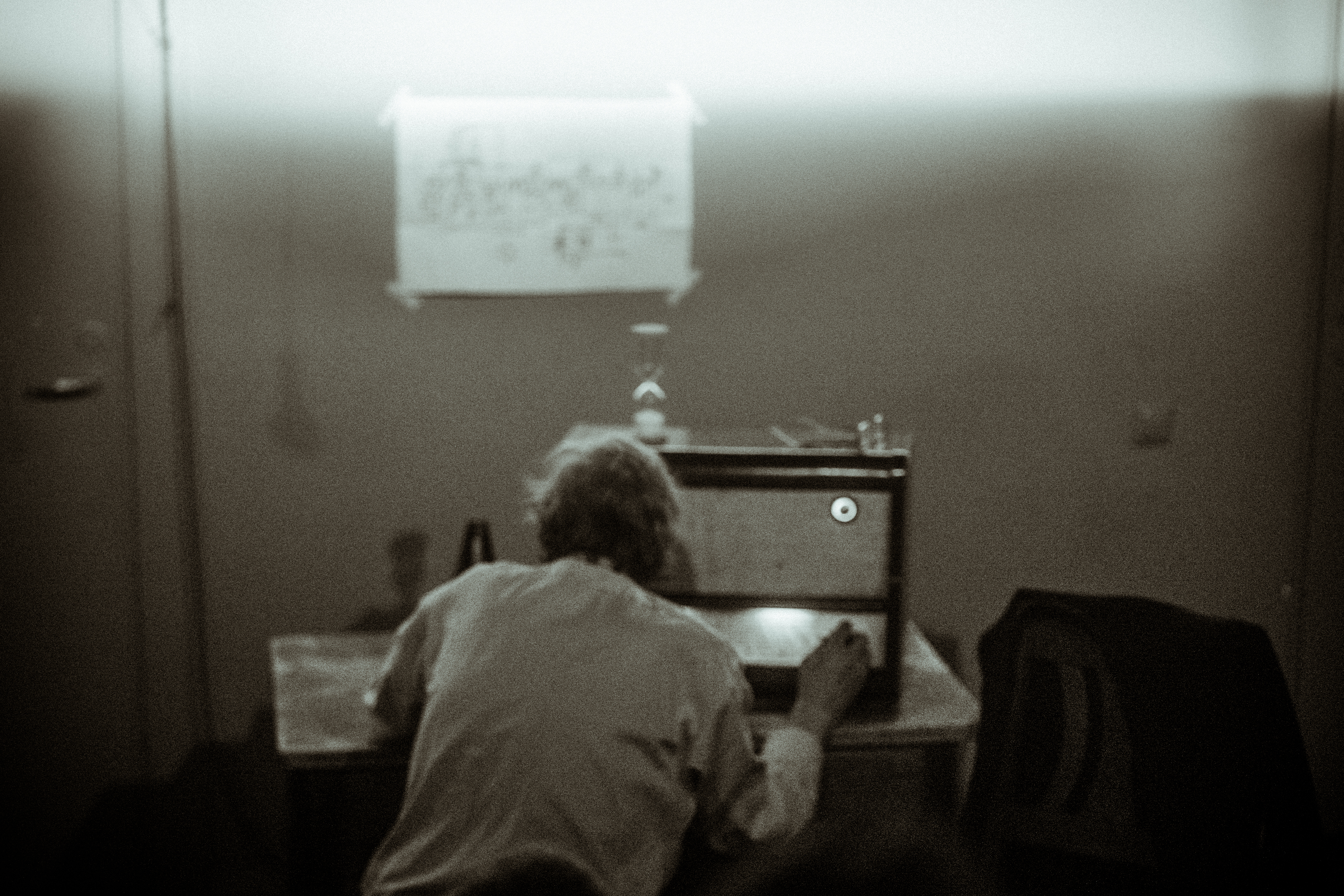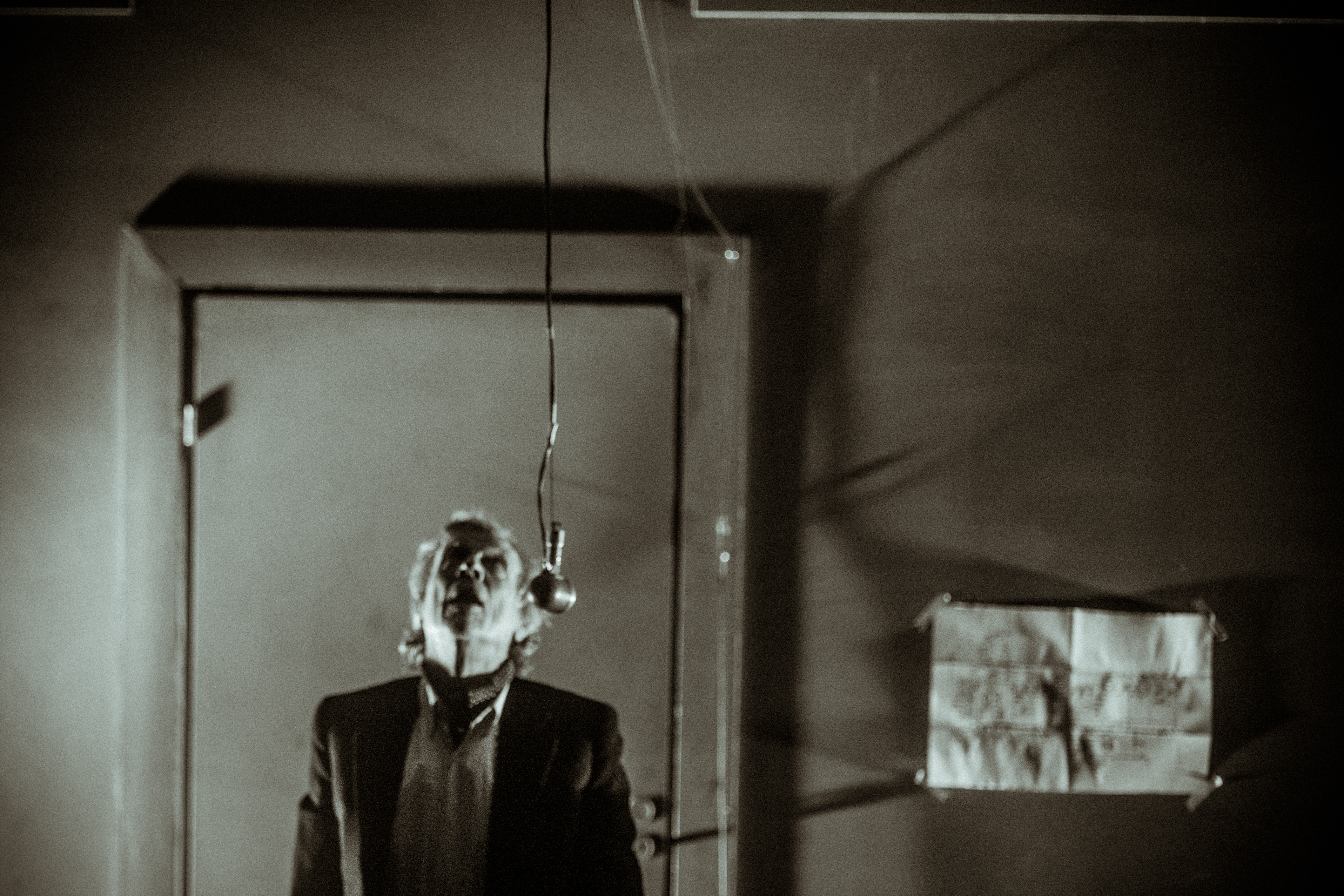 www.uusteater.ee

Ardo Ran Varres showcase at Tallinn Music Week
Klassikaraadio Contemporary Music Stage feat. C3 Festival
https://tmw.ee/schedule/klassikaraadio-contemporary-music-stage
https://tmw.ee/artists/ardo-ran-varres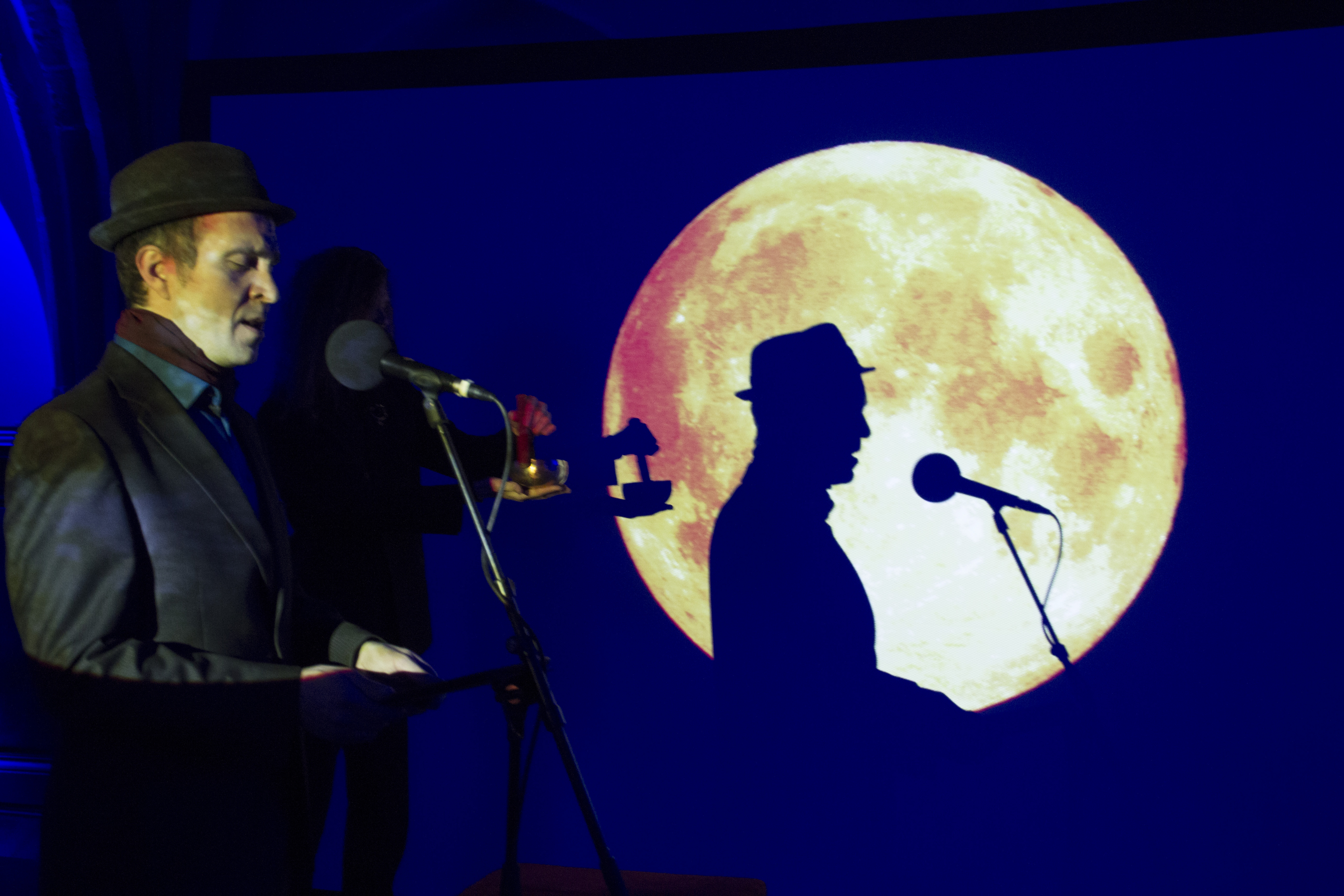 Originaalmuusika lavastusele MISTER GREEN, VAT teatris.
MISTER GREEN

Esietendus 29. märtsil 2017 Rahvusraamatukogu Teatrisaalis

Visuaalne lastelavastus metsast
Eestis on harukordselt palju metsa, aga sellegipoolest on see inimestele ajapikku võõraks ja isegi hirmutavaks paigaks muutunud. Tundmatusse rohelusse sattudes tunneb moodne inimene end õige pea üksikuna ja eksinuna. Ei oska ta enam märgata taimede hääletuid toimetusi ega sedagi, millise hämmastava võrgustiku, world wide woodi, üks mets on üles ehitanud. Oleks vaid võimalik seda kuidagimoodi näha ja mõista!
Väga kiiresti peab need trikid selgeks õppima Marco, kes eksib saatuse tahtel metsasügavusse ning peab seal üle elama pelutava öö. Kodust jõudis ta kaasa haarata vaid kiiresti tühjeneva mobiili ja kalli potitaime. Marco mõistab, et ellujäämiseks on tal vaja tugevamaid abilisi. Kuidas aga võita puid enda poolele? Kas nende keelt on võimalik kuidagi kõneleda? Ja kas ta saab ikka lõpuni kindel olla, et puud ei suhtu hoopis temasse kui sissetungijasse?
Lavastaja Helen Rekkor ("Üle vee" ja "Süüria rahvalood" Vabal Laval, "See kõik on tema" Rakvere Teatris) loob VAT Teatri laval visuaalselt haarava keskkonna, paiga, kus Marco digitaalne maailm ja looduse müstiline reaalsus omavahel lootusetult segamini lähevad.
Idee autorid ja dramaturgid: Mihkel Seeder, Giuditta Mingucci (teater Elsinor, Itaalia)
Lavastaja: Helen Rekkor (Teatriühendus Misanzen)
Kunstnik: Annamaria Cattaneo (teater Elsinor, Itaalia)
Videokunstnik: Henry Griin
Helilooja: Ardo Ran Varres
Näitleja: Rauno Kaibiainen (Improteater IMPEERIUM)

Lavastus sünnib projekti Platform Shift+ raames VAT Teatri ja teater Elsinori (Itaalia) koostööna.

CD They Went And Planted...an overview at Classical Radio

New CD released. They Went And Planted...

Original music for shadow play: The Star-Child by Oscar Wilde
Director: Leino Rei
www.karlovateater.ee

Ardo Ran Varres interviews mr. Heiner Goebbels
http://www.sirp.ee/s1-artiklid/c5-muusika/muusikateater-on-koige-keerulisem-kunstivorm/

Tallinn Music High School 55. Concert 12th of November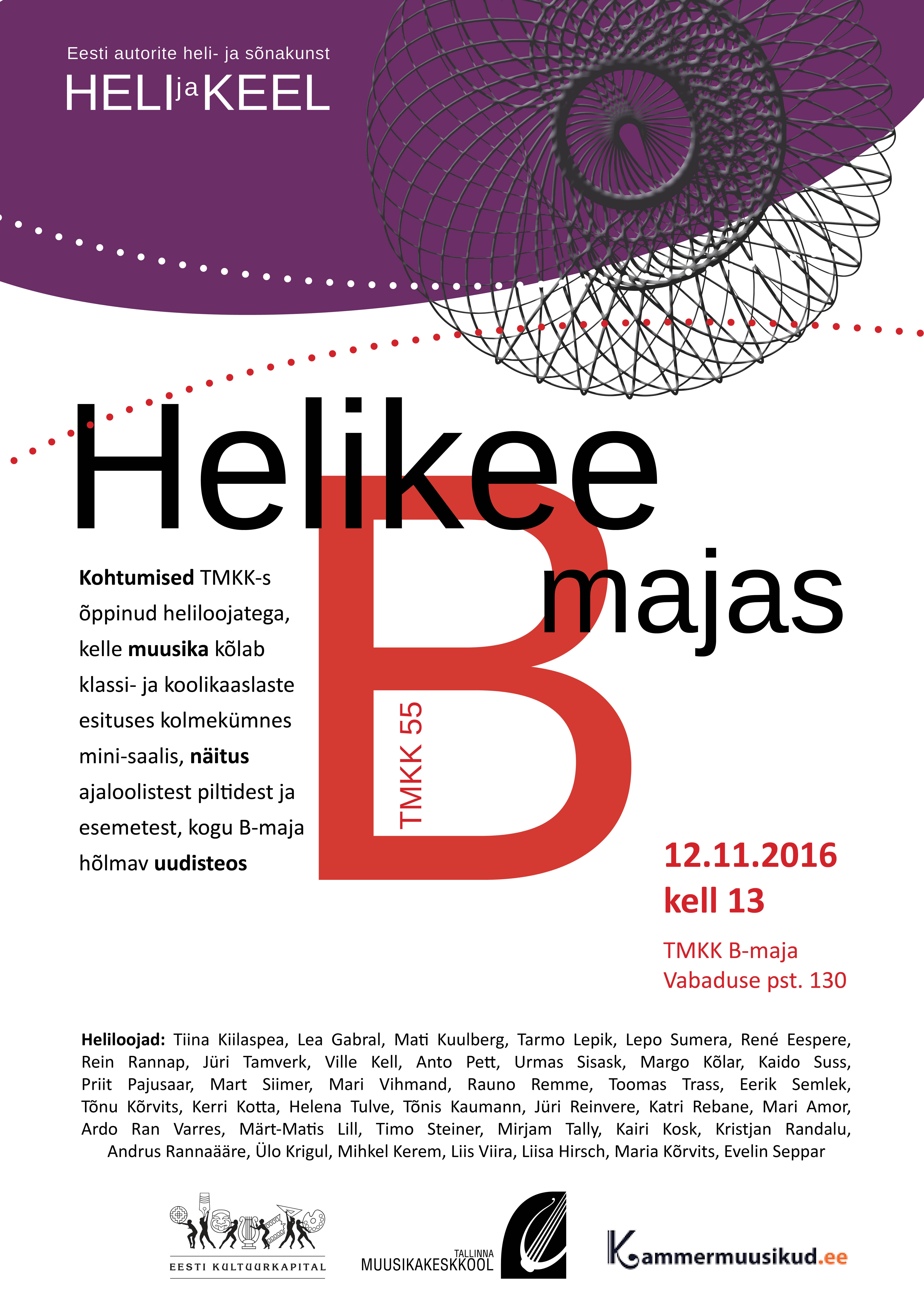 Composers: Tiina Kiilaspea, Lea Gabral, Mati Kuulberg, Tarmo Lepik, Lepo Sumera, René Eespere,
Rein Rannap, Jüri Tamverk, Ville Kell, Anto Pett , Urmas Sisask, Margo Kõlar, Kaido Suss,
Priit Pajusaar, Mart Siimer, Mari Vihmand, Rauno Remme, Toomas Trass, Eerik Semlek,
Tõnu Kõrvits, Kerri Kott a, Helena Tulve, Tõnis Kaumann, Jüri Reinvere, Katri Rebane, Mari Amor,
Ardo Ran Varres, Märt-Matis Lill, Timo Steiner, Mirjam Tally, Kairi Kosk, Kristjan Randalu,
Andrus Rannaääre, Ülo Krigul, Mihkel Kerem, Liis Viira, Liisa Hirsch, Maria Kõrvits, Evelin Seppar

Original music for drama The Linden Tree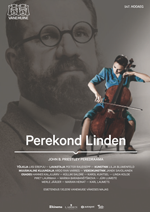 Drama by John B. Priestley
The novels and plays of the classic British writer and playwright J. B. Priestley (1894-1984) has long been known in the Estonian cultural sphere as well. The author's works were most recently on the stage of the Vanemuine in 1991, when Jaan Tooming produced his play I Have Been Here Before. The Linden Tree is one of Priestley's later works (1947) and is being performed in Estonia for the first time.
Like many a Priestley play, the events unfold in a middle-class family in England, this time in the home of Robert Linden, a history professor in a small university town. Family members who have gathered to celebrate his 65th birthday involuntarily bring their own troubles and problems, which tie in with issues confronting all of society. The end of World War II has injected a new drive, ideas and dreams into every generation, but it has also brought fears and the need to change values, not unlike today's era.
In a more universal sense, this realistically wrought family drama talks about changing times, reconciliation with the past and ways of shaping the future.
Premiere 01.10.2016 at the Vanemuine Small Building
Director Peeter Raudsepp
Designer Lilja Blumenfeld
Music Ardo Ran Varres
Lighting designer Imbi Mälk
Cast Hannes Kaljujärv, Külliki Saldre, Karol Kuntsel, Marika Barabanštšikova, Piret Laurimaa, Linda Kolde, Jüri Lumiste, Merle Jääger, Marian Heinat, Karl Laumets

Music design for exhibition "Question of Faith". Voronja gallery 2016
Exhibition by Sandra Jõgeva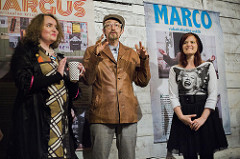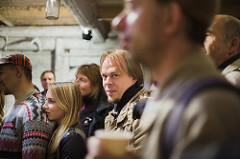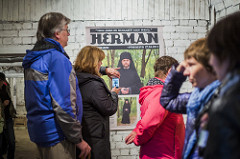 Photos: Ruudu Rahumaru

Incidental music. "Katarina mõrsjalinik. Risti ja kivi tee" Emajõe Suveteater, Tartu.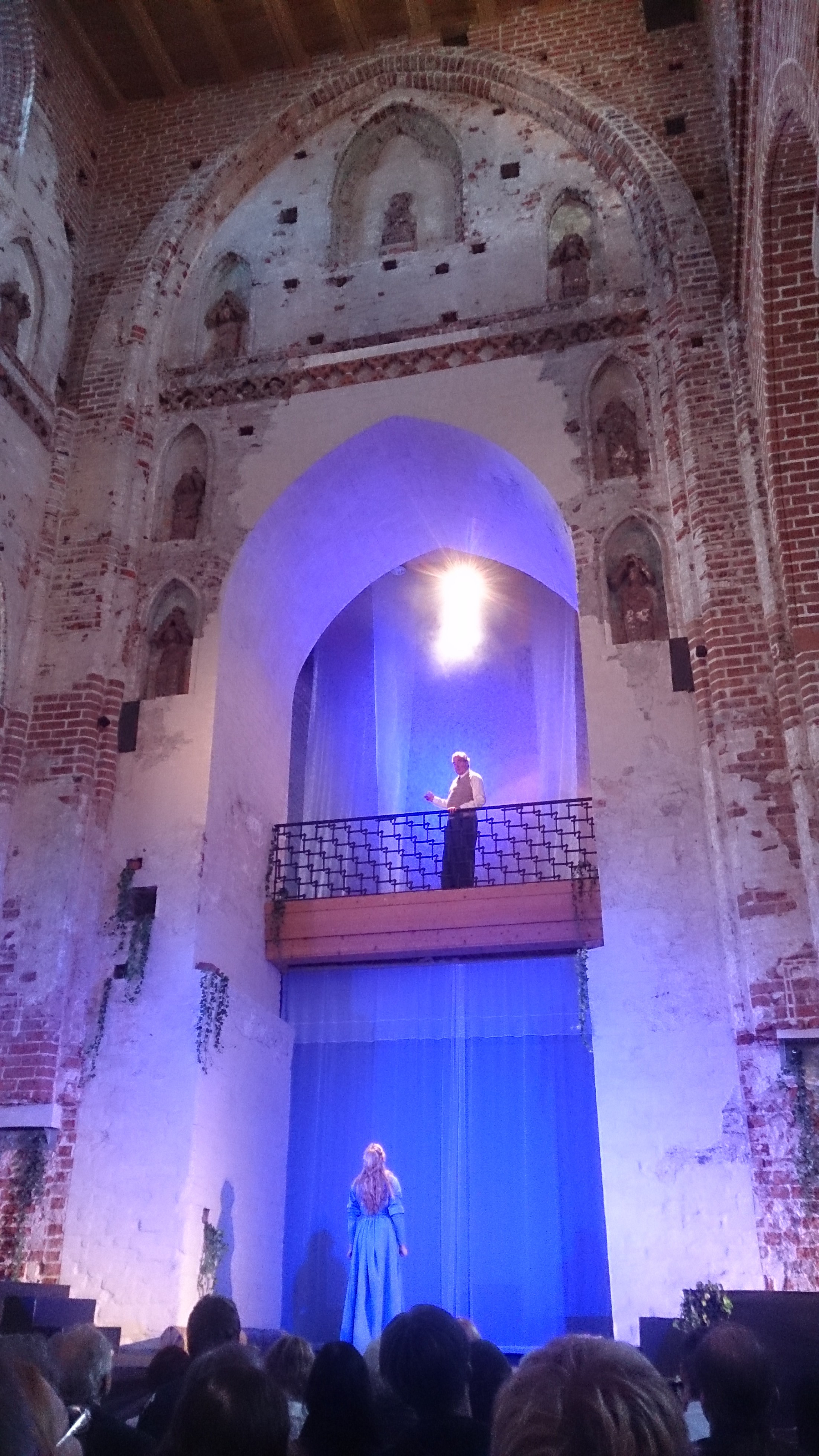 Hums of Tallinn. Premiere in Wrocław, Poland.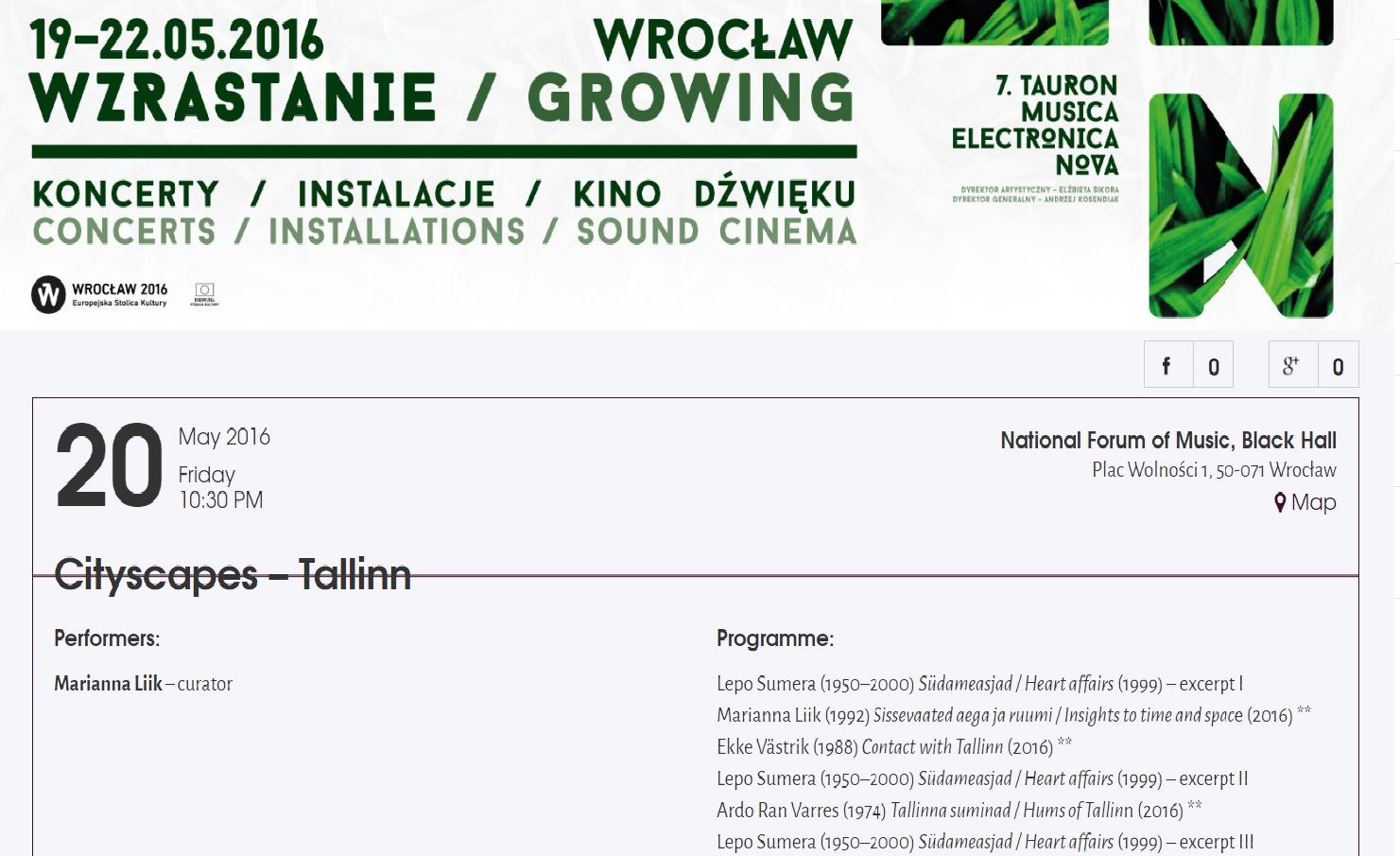 http://www.nfm.wroclaw.pl/en/component/nfmcalendar/event/3454
Sound portrait of Tallinn offers insights to different places, ages, people. Compositions based on sounds that are recorded in Tallinn, inherit from years 1999–2016.
Program introduces Tallinn through diverse places: hospitals, churches of old town, cafes, ports, parks. These are the places where people of different ages, in different times have socialized with each other and themselves.
City's hums, bongs, beats, rustles have become the source of Estonian composers' pieces. Through different composers' eyes the pieces are an insight into a person, literally and figuratively.
Programme:
Lepo Sumera (1950–2000) Südameasjad / Heart affairs (1999) – excerpt I
Marianna Liik (1992) Sissevaated aega ja ruumi / Insights to time and space (2016) **
Ekke Västrik (1988) Contact with Tallinn (2016) **
Lepo Sumera (1950–2000) Südameasjad / Heart affairs (1999) – excerpt II
Ardo Ran Varres (1974) Tallinna suminad / Hums of Tallinn (2016) **
Lepo Sumera (1950–2000) Südameasjad / Heart affairs (1999) – excerpt III
Margo Kõlar (1961) Beebisümfoonia / Baby Symphony (2015) – excerpt
Margo Kõlar (1961) Tornikellade laul / Song of Tower Bells (2011)
Lepo Sumera (1950–2000) Südameasjad / Heart affairs (1999) – excerpt IV

They Went and Planted..Trailer
They Went and Planted...Photos by Gabriela Liivamägi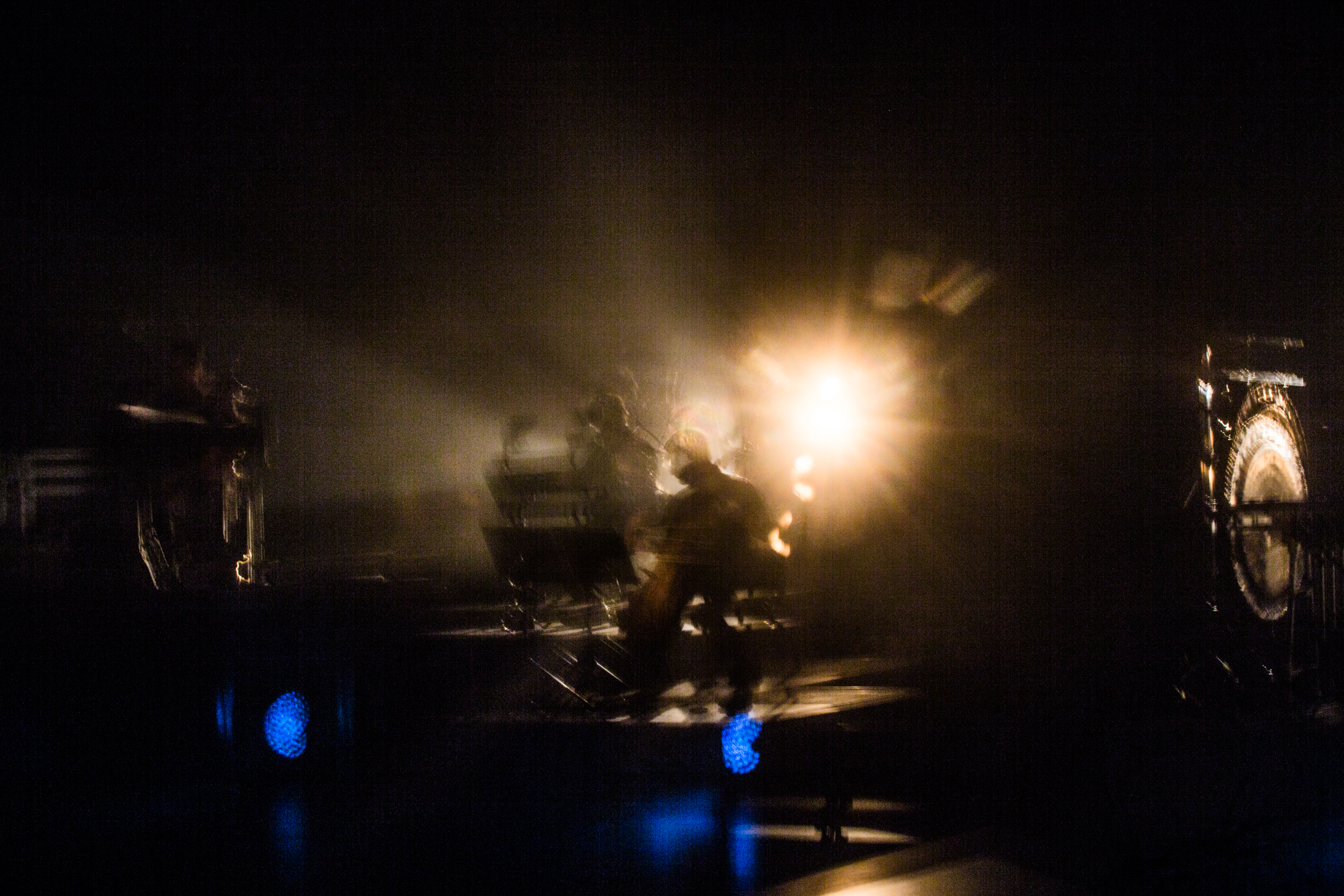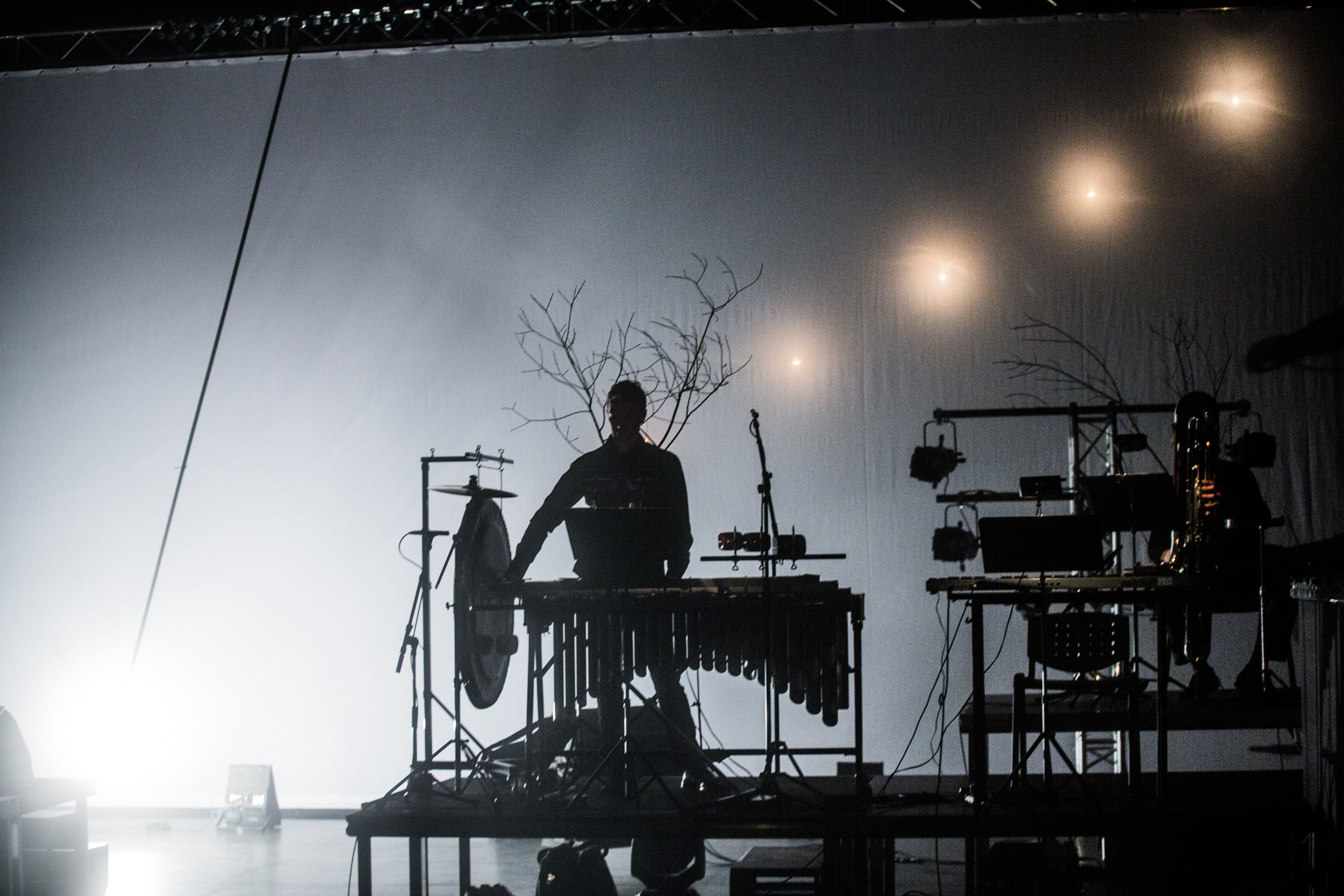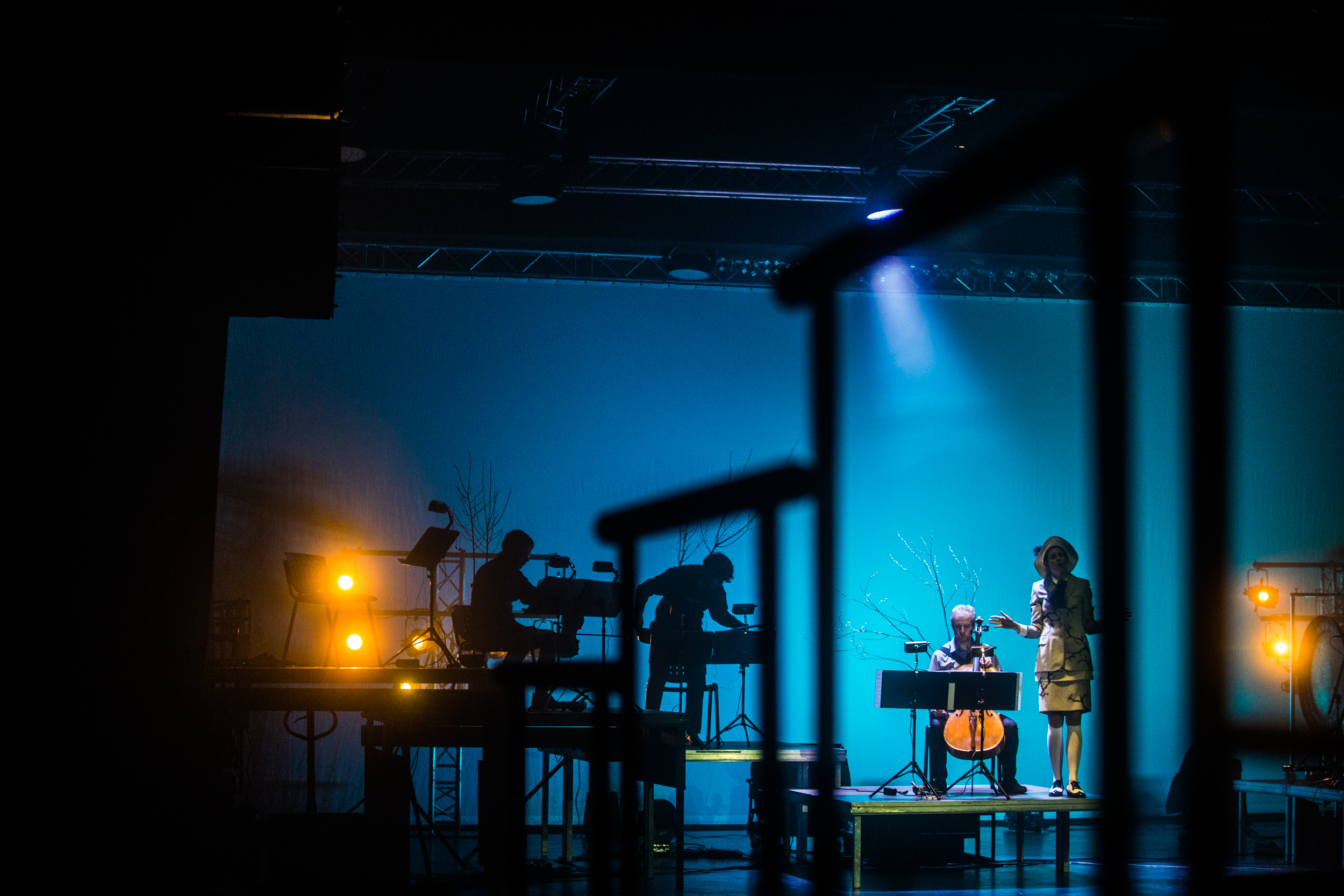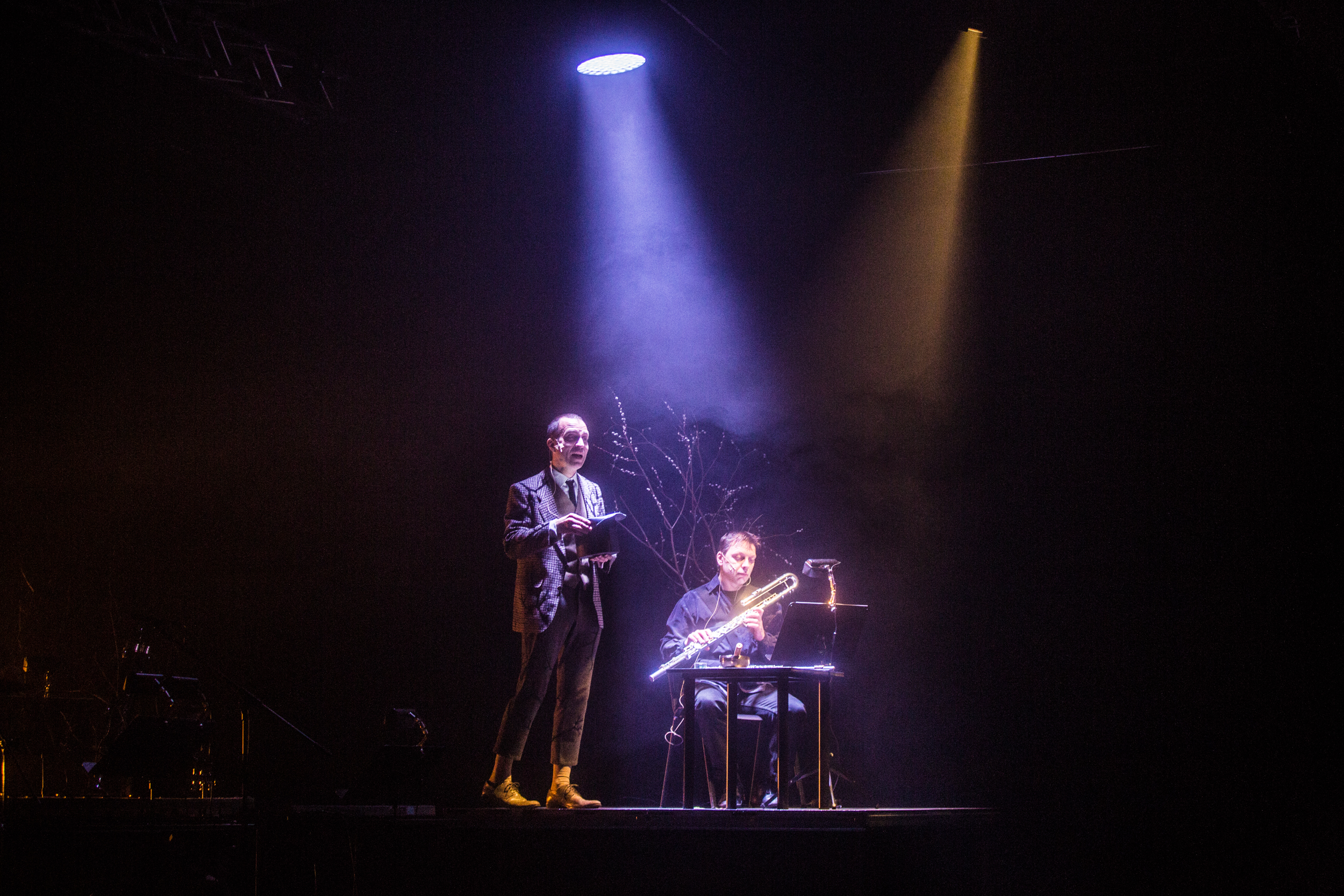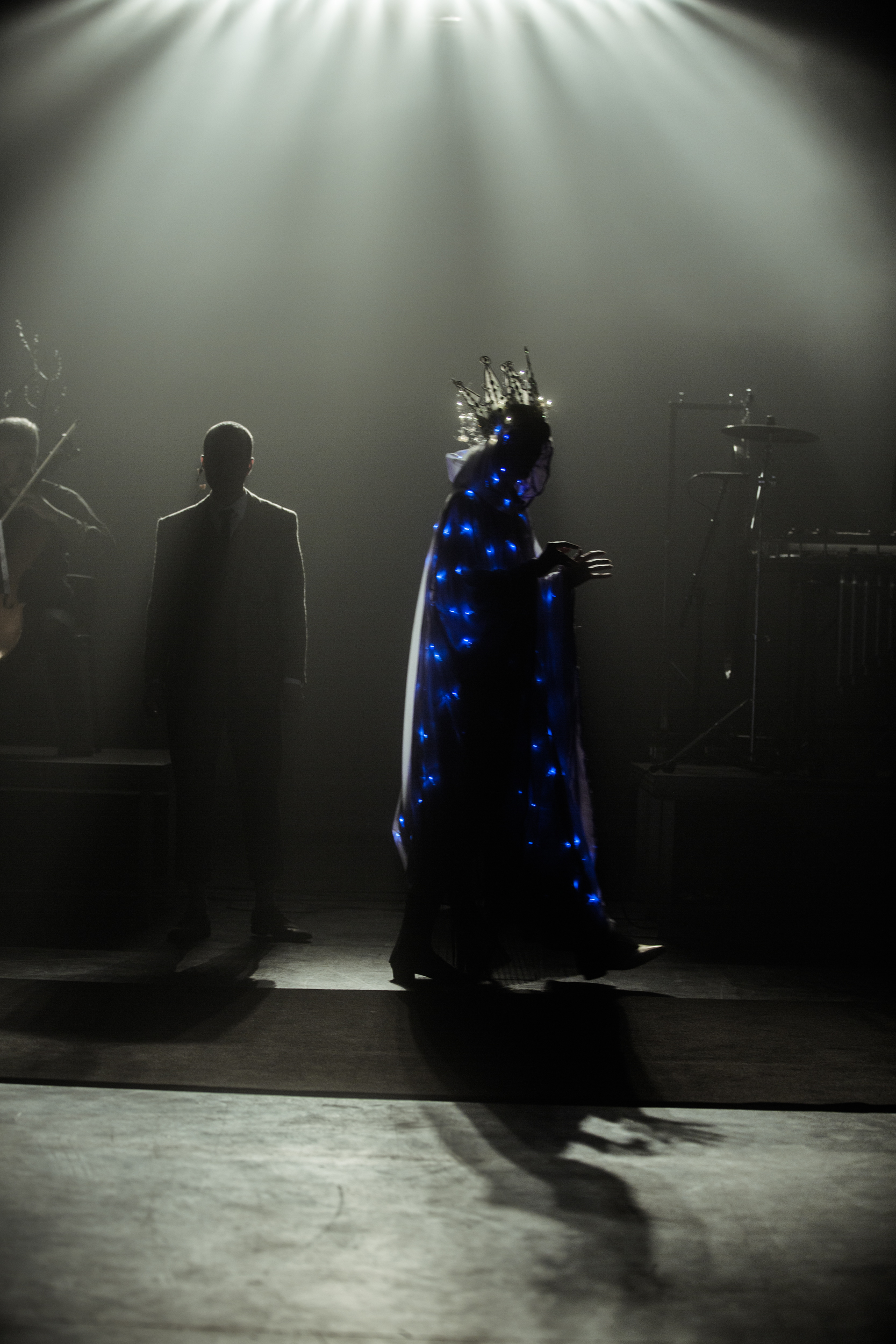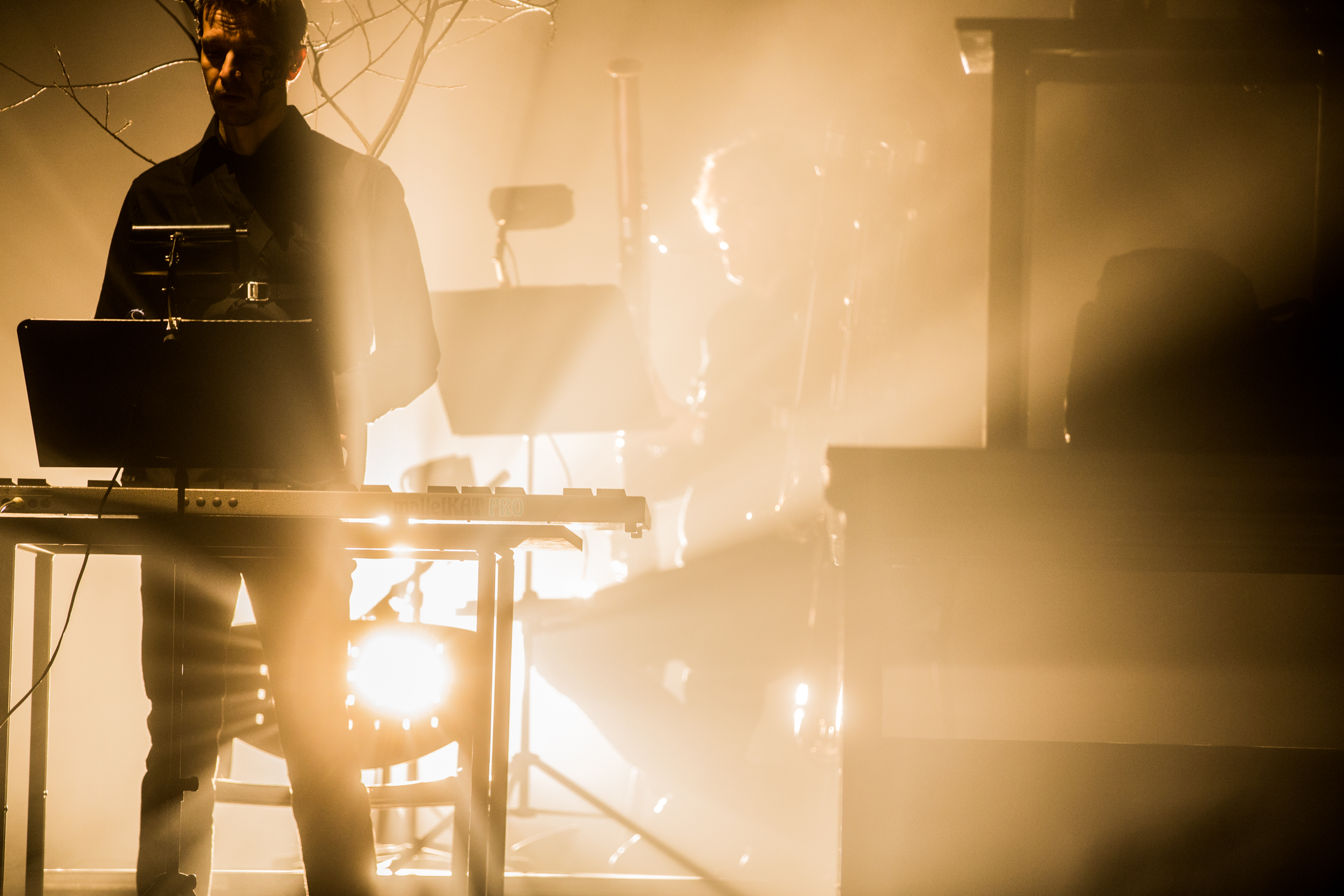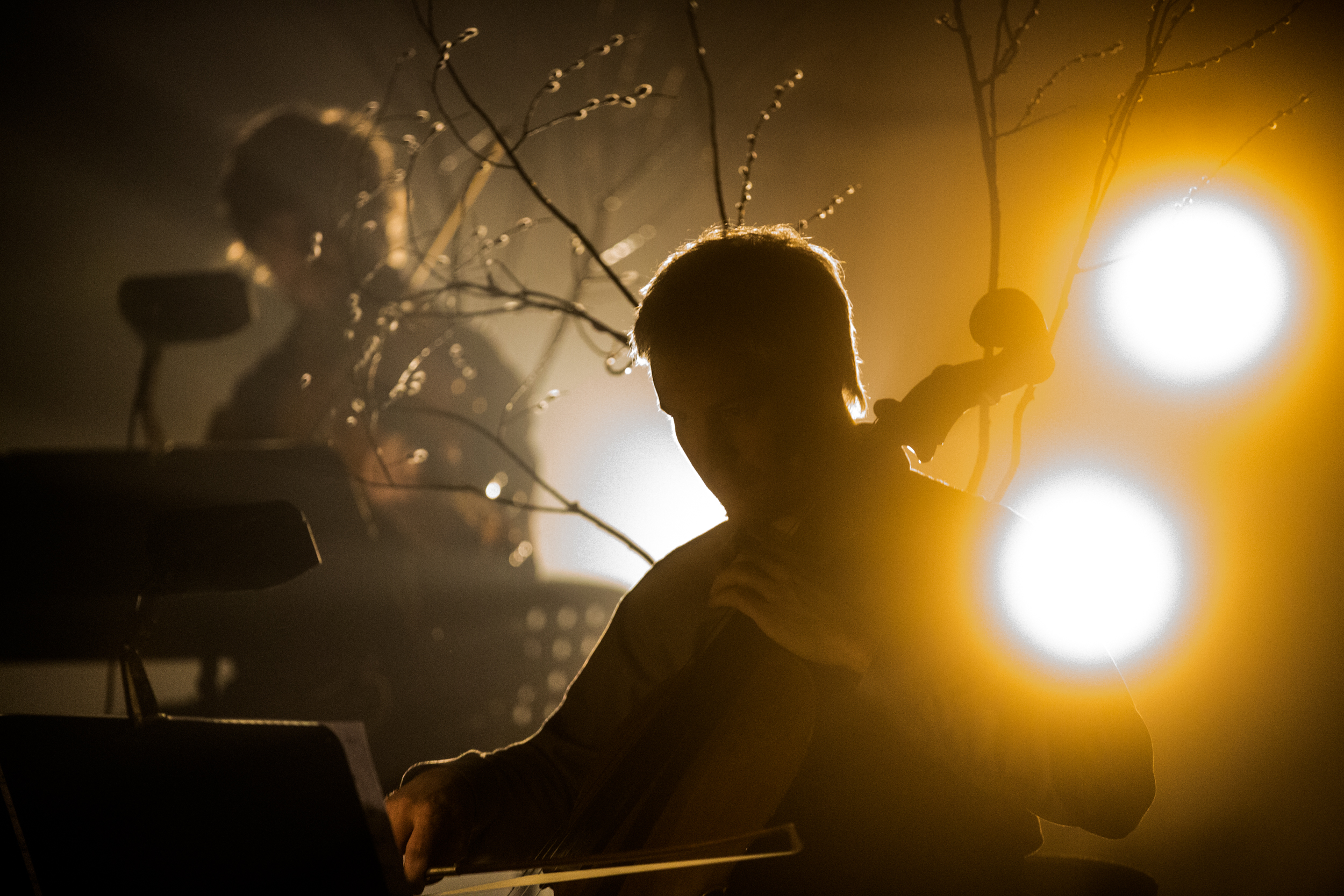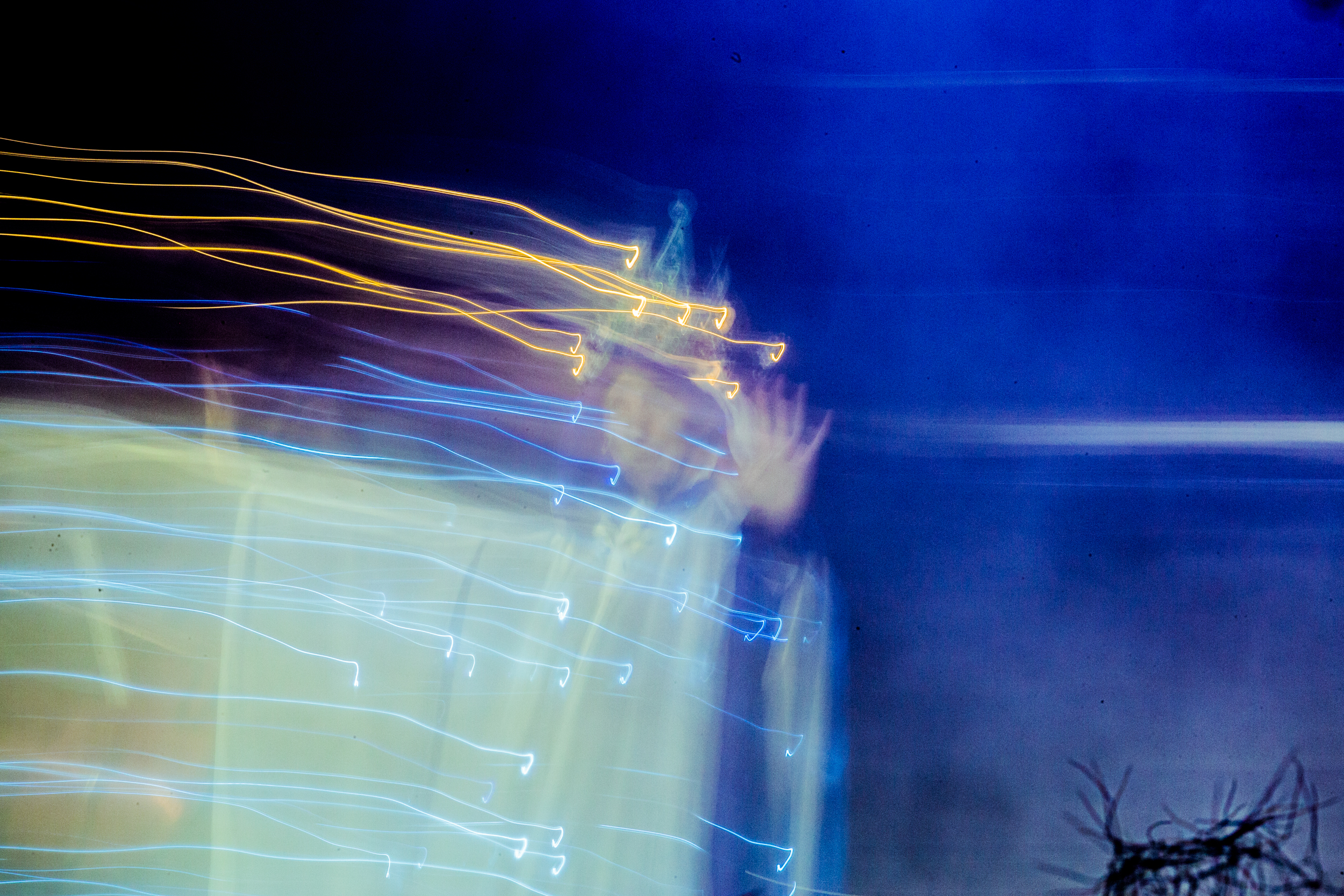 Estonian Authors Society prize for original music in theatre 2016: Krabat. (Tallinn Town Theatre) Original music Ardo Ran Varres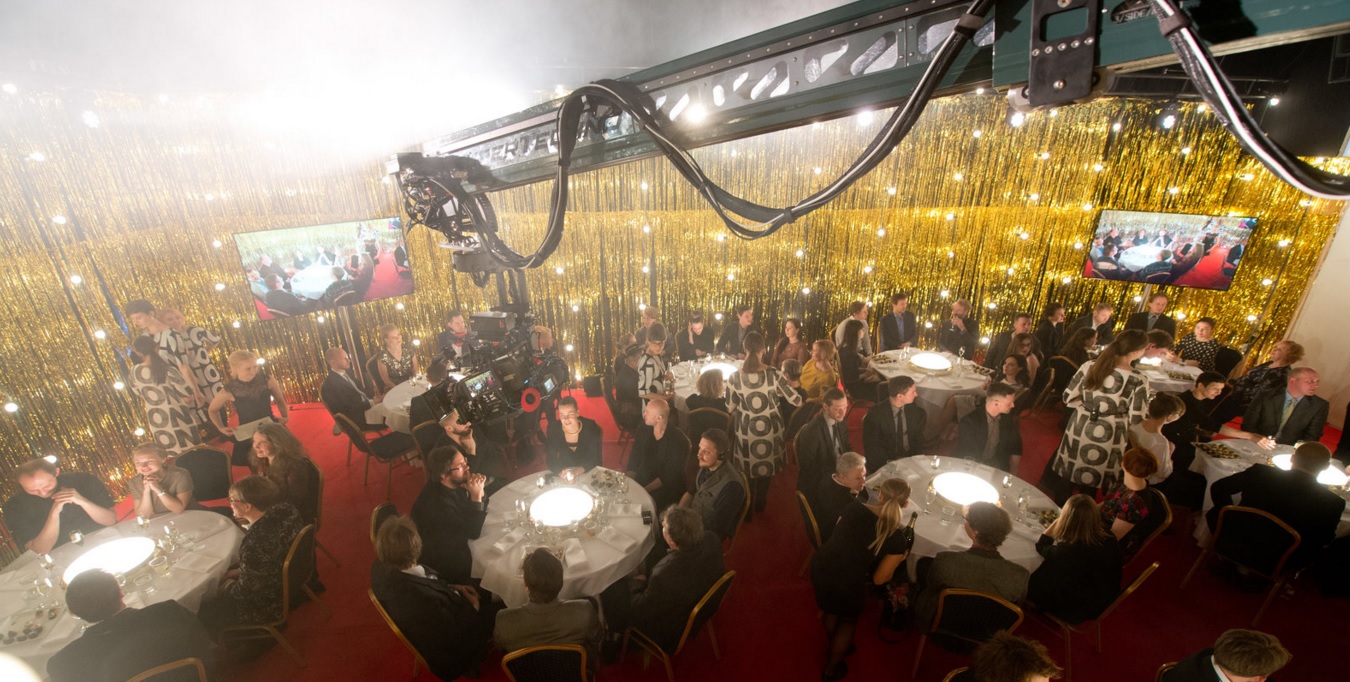 Good Theatre prize 2016
http://kultuur.postimees.ee/3606405/kriitikud-tunnustasid-ardo-ran-varrest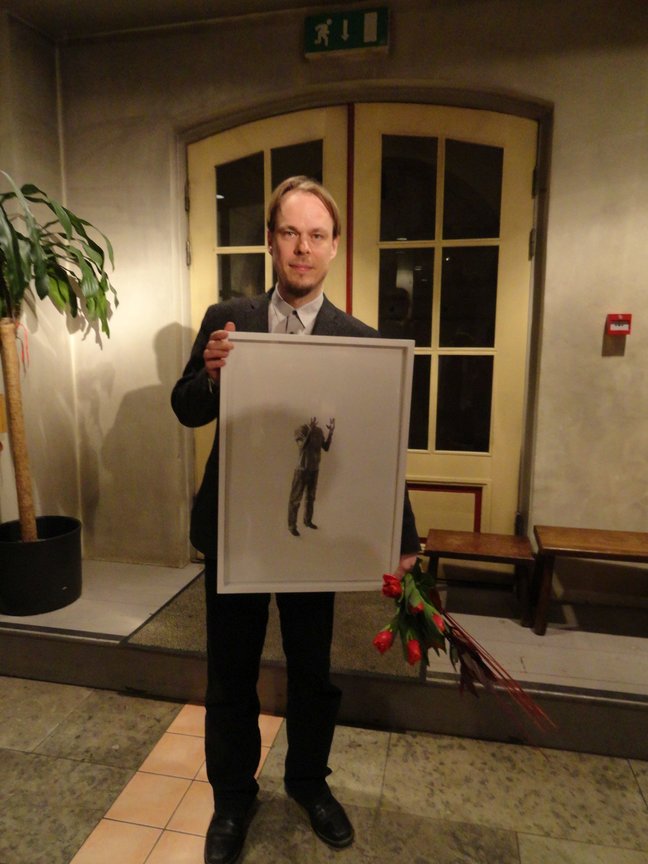 They Went and Planted the Seeds of Shadows Because the Light Started to Sprout
A staged serenade in one act for texts by Artur Alliksaar
First public event at Black Box Studio. (Rohuneeme tee 1/7, Viimsi))
World premiere: 9.apr. 2016
They Went and Planted the Seeds of Shadows Because the Light Started to Sprout is a theatre piece of music and light inspired by the night with its ntightmares, visions, delusions, shadows, colours, fears, sleepwalking and sleep talking, discovery of new worlds, letting go of the old, desire for renewal and awakening. Sleep unites us. We are all equal in sleep. During the night we are forming a community: a sleep community. At night the endless corridors of our subconsciousness process what we saw and heard during the day. There are two things certain in life: sleep and death.
The composer and the director have selected poems about the night by Artur Alliksaar. His metaphorical, playful use of the Estonian language is extremely musical and inspirational. In Alliksaar's texts, the sound associations and sound symbolism are in the foreground and his poetry has been characterized as having "the sonic primacy."
They Went and Planted the Seeds of Shadows Because the Light Started to Sprout is not an opera. It is a stream of dream-like, freely structured scenes that begins in the evening and ends at dawn. What is happening to us when we are not awake? Are we all connected as an invisible community or do we completely disconnect from each other and wander into infinite loneliness?
They Went and Planted the Seeds of Shadows Because the Light Started to Sprout is an hour-long concert-performance of sound and lights, shadows, shades, and light flashes. The lighting design is an integral part of the work, which will be performed by seven instrumentalists and two singers.
In collaboration with YXUS Ensemble
Ardo Ran Varres (composer)
Liis Kolle (stage director)
Oliver Kulpsoo (lighting designer)
Reili Evart (costume designer)
Tammo Sumera (sound engineer)
Jaanika Kilgi (soprano)
Taniel Kirikal (baritone/countertenor)
YXUS Ensemble:
Mihkel Peäske (flute / bass flute)
Toomas Vavilov (clarinet / bass clarinet)
Peeter Sarapuu (bassoon / contra bassoon)
Harry Traksmann (violin)
Laur Eensalu (viola)
Leho Karin (cello, artistic director)
Madis Metsamart (percussion)
http://www.eestimuusikapaevad.ee/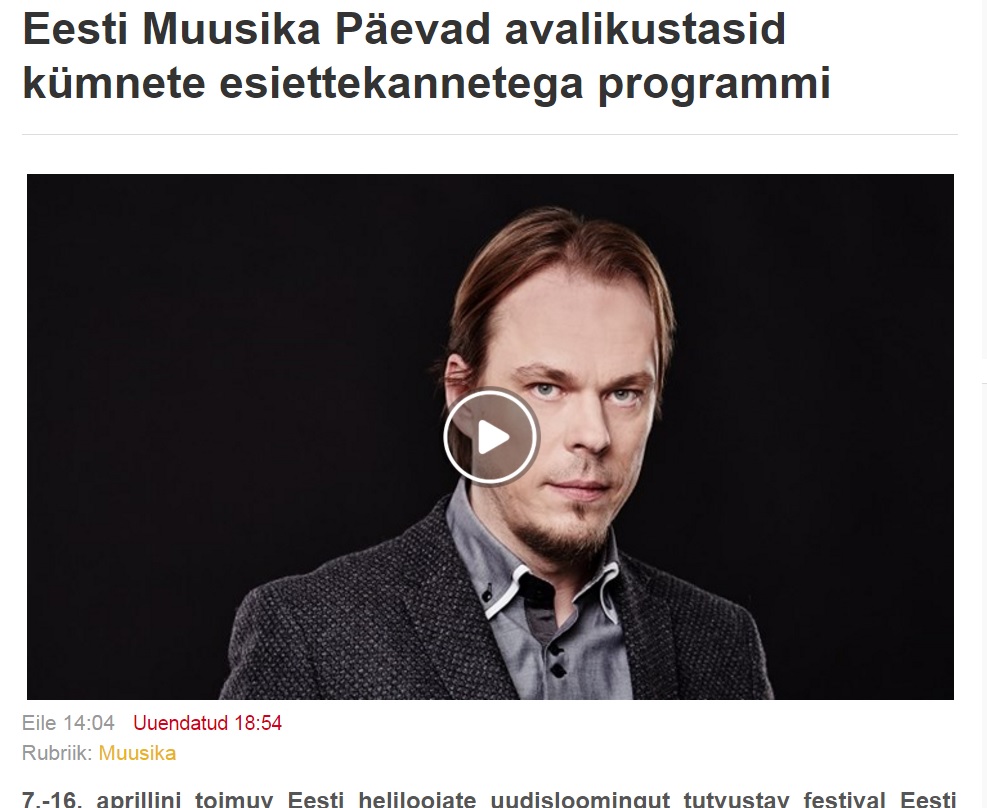 Lightfestival at Tõravere Observatory.
Ardo Ran composed original music and made sounddesign for the Lightfestival (end of october 2015)
Director: Jaan Ulst
More information:
www.valgusefestival.to.ee

Original music for TV-drama "The Black Widows"
Director: A. Puustusmaa
Paprika/ERR 2015

Original music for the play EKKE MOOR by A. Gailit
Director: Aare Toikka
Design: Iir Hermeliin
Music: Ardo Ran Varres
Choreographer: Kristjan Rohioja
The production is a collaboration between Estonian Academy of Music and Drama, Kuressaare City Theatre and VAT Theatre.
Premiere: July 30, 2015 in Kuressaare Sadamaait
Performances in Kanuti Gildi SAAL (Tallinn) take place in October and November 2015.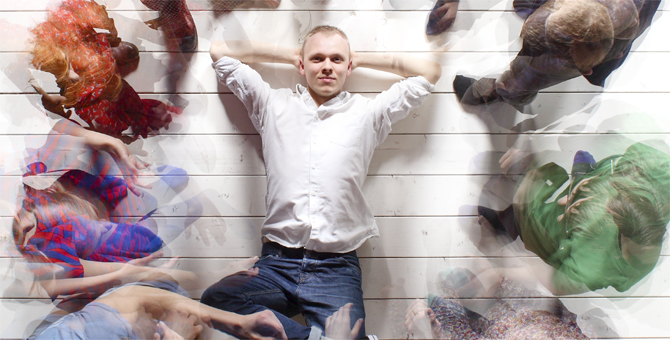 Music design for the play LIBAHUNT (The Werewolf) by A. Kitzberg
Director Sergey Potapov (Sahha republik. Jakutia)
Set-Design Ervin Õunapuu
Music design Ardo Ran Varres
Light design Priidu Adlas
Actors: Kristiina Hortensia Port, Liisa Pulk, Martin Kõiv, Ivo Uukkivi, Kristo Viiding, Mari Lill, Piret Simson
Produced by NGO R.A.A.A.M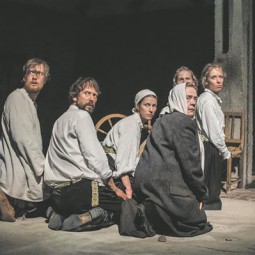 Cymatics and live-music
Duo Toivo Sõmer and Ardo Ran Varres. "Helimustrid"

Overture "Citizens of the Republic" world premiere
Performed by Estonian National Symphony Orchestra.
Conducted by Risto Joost

Original music for the play Krabat. Tallinn City Theatre
Krabat by O. Preussler. Directed by D. Leesalu
Premiere: 31 of January 2015
http://www.linnateater.ee/lavastused/lavastuste-nimekiri/krabat-1
https://www.flickr.com/photos/linnateater/sets/72157650145539068/
"Krabat" is a play for grown-ups who love magic, adventures and fairy tales, as well as for the younger viewers. Because of certain sombre elements it is not advisable for children under seven years of age.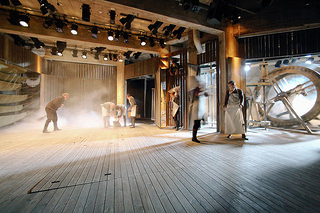 Photo: Siim Vahur

Original music for Kosmos IMAX trailer
Video: Bassclarinet Concerto premiere
Meelis Vind, Mikk Murdvee and Glasperlenspiel Sinfonietta plays Ardo Ran's Bassclarinet Concerto "Awakening Bell"

Undiscovered Soundscapes. Showcase of Estonian Composers
Ardo`s music was played in a Showcase of Estonian (filmmusic) composers.
http://kultuur.err.ee/v/poff/e87af1b8-2808-4681-928a-7162d4604e23

Original music for the silent-film Bear Hunt in Pärnumaa
Composition competition third place winner

Opening of the Vaba Lava Venue. Friday, 19. Sept. 2014
Circle Mirror Transformation, Written by Annie Baker, Directed by Adrian Giurgea, Composer Ardo Ran Varres, Produced by NGO R.A.A.A.M.
http://vabalava.ee/en/
http://www.raaam.ee

Original music for new documentary
Ardo Ran composed music for documentary "The Sun is a good Child"
Film by mr. Vahur Laiapea
http://www.efis.ee/et/filmiliigid/film/id/16672

Bass Clarinet Concerto
World premiere:
Fri, July 11th at 7 pm St John's church Tartu, Estonia
Glasperlenspiel Sinfonietta, Meelis Vind (bass clarinet), conductor Mikk Murdvee
Bach, Pärt, Kerem, Varres (première − Concerto for Bass Clarinet and Chamber Orchestra)
http://erpmusic.com/festival-glasperlenspiel/glasperlenspiel-2014

New Clarinet duo premiered

Original music for new documentary The Gold Spinners
The Gold Spinners tells the story of the birth, glory and downfall of a peculiar, invisible and mighty business empire. It's a story of the film studio Eesti Reklaamfilm – the only enterprise producing commercials in the Soviet Union. It might have been born in the head of one man, but during its heyday the studio provided employment for hundreds of people and its clips won over millions. And all this in the 'socialist empire', under the conditions of planned economy and universal lack of everything. With no actual goods to advertise, marketing rules did not apply and even the word advertisement sounded almost as horrible as 'the CIA', 'the saxophone' or 'Coca-Cola' to the thousands of concerned officials.

Kristo Kampus has made a video from the festival Ankunft: Neue Musik

Ardo Ran`s compositions for cello and electronics will be performed in Berlin 7. of Sept. 2013 starting at 19:30
Festival for new music
Ankunft: Neue Musik
http://www.ankunftneuemusik.de/2013/live-programm/070913/

Force Majeure (for cello and phonogram 2012) at Estonian Composers Festival, tuesday 4. of June
Ardo Ran`s composition Force Majeure will be performed at St John`s Church, Tartu, tuesd. 4. of June, 21.00
Performers:
Aare Tammesalu cello http://www.tammesalu.com
Ardo Ran Varres phonogram
About the festival:
http://kultuuriaken.tartu.ee/?event=1367893003

Carrrmen!
Living Images
Angulated
Yxus Ensemble performs Berlin Hauptbahnhof by Ardo Ran Varres

Original music for feature film A Friend Of Mine. (Exitfilm 2011)